Welcome to

Maldives Tour Guide
Maldives Tour Guide is an inbound travel and tour company, specializing in managing travel packages throughout the islands. Maldives holiday packages vary from resorts, hotels, and local island guesthouses, depending on your budget, interests, and preferences. We strongly believe in continuous improvements of processes to provide the best travel services to our Guests and make us flexible in a dynamic environment to serve them better.
(Topics covered in this guide)
MALDIVES TOUR
Make sure before you start the Maldives tour, you obtain a map displaying the most popular attractions to visit. They make sure that you are seduced by the orchestration of delicate, subtle sounds accompanying nature's theatre. It wouldn't be the Maldives if diving didn't get a mention and in this respect. Land sports of course get a look-in with beach volleyball and tennis (regular and table variety) amongst the favorite pastimes on the island. Get familiar with manta rays, turtles, sharks by doing snorkeling. Hundreds and thousands of turtles, lobsters, rays, dolphins, and sharks, provide a sea of tranquility unmatched anywhere else in the world. All in all, Maldives Tourism takes its CSR responsibilities seriously, and this, in all likelihood, is the major reason for its longevity as a top drawer tourist destination in this part of the world. Above the waves, a wide range of water sports activities for tourists can be accessed on just about all of the islands with windsurfing being a particular attraction.
How much does a Maldives Vacation package cost?
There are numerous Maldives Vacation packages to choose from; it all depends on the flights, hotels, tours, and other factors. Depending on the holiday you desire, you can choose to travel by spending fewer nights for a longer vacation. Depending on your choice it can take up to 1000-4000USD
What should I bring with me to the Maldives?
The Maldives is a tropical destination, which means you will be exposed to the sun for the duration of your stay. It is bordered by the most magnificent beaches, with pleasant sunshine and a variety of watersports. For your trip to the Maldives, it's a good idea to bring the following items: Carry a sun hat with good coverage to protect yourself from the harmful UV rays. Light cotton garments - preferably light colors, evening wear, sandals or flip flops, swimwear, insect repellant, sunscreen, and sunglasses
Which is the cheapest month to book Maldives tour packages?
The cheapest months for a Maldives tour are August to October, when the cost of visiting the Maldives is less than the typical cost of visiting the Maldives. The peak season begins in December and lasts through February or March of the following year. If you're looking for a low-cost Maldives vacantion packages, August to October is the best time to go. The temperature is not as humid as it is in the summer, and you can locate a convenient accommodation at a lower cost than luxury resorts.
How far in advance should I book my Maldives holiday packages?
Depending on the airline, you may normally search for foreign flights on Expedia up to a year in advance. While it's generally a good idea to book ahead of time, lucky consumers may find a cheaper seat only a few weeks before departure.
What should I know before booking a Maldives vacation package?
Locking in all the parts of your trip together is a terrific way to save. Combine your airfares, rental cars and hotels into one little package. But it's not just hotels. Expedia has all sorts of properties, including vacation rentals such as beachside villas and city apartments. Your choices are almost endless!
What are the places to visit on the Maldives tour packages?
Paradise Island Resort, Kuredu Island Resort, Hulhumale Island, Utheemu, Male national museum, Maafushi Island, and many other islands are among the most popular Maldives tour finest locations to visit The Maldives. Hulhumale Beach, Shereton Full Moon Resort, Centara Ras Fushi Resort, Sun Island Beach, and Dhigurah Beach are among the most well-known beaches. You can visit any of these gorgeous sites depending on the style of vacation you choose.
Which is the cheapest month for Maldives holidays?
The months of August through October are the cheapest months for a Maldives vacation, with the cost of visiting the Maldives being less than the regular cost of visiting the Maldives. The peak season begins in December and continues until February or March. If you're looking for a low-cost Maldives holiday, August to October is the ideal time to go. The weather isn't as damp as it is in the summer, and you'll be able to choose a handy hotel that is less expensive than luxury resorts.
---
---
MALDIVES TOURISM
The mere mention of Maldives Tourism brings to mind turquoise blue seas bordered by warm sandy beaches and potted palm trees and these Maldivian seas are filled with fun activities designed to thrill you and tickle your sense of adventure. The Maldives had a successful year in 2019, with over 1.7 million international arrivals, a significant increase of +14.7 percent over the previous year. Tourist bed nights totaled 10.7 million, up 12.8 percent from the previous year. With a total of 49,854 beds in operation, the occupancy rate for the year was 62.3 percent. In addition, the average length of stay was 6.3 days.
The Maldives closed its border to international tourists on March 27, 2020, due to the worsening global situation. The Maldives received a total of 382,760 tourists at the period of the border closure, a decrease of 20.8 percent. While bed nights were recorded at 2.7 million, down 10.6% from the previous year, occupancy was estimated at 58.6%. The total number of beds available at the end of this time period was 45,216.
On July 15, 2020, the Maldives reopened its border to international tourists, greeting 1,752 visitors by July 31, with 40 facilities with a total bed capacity of 7,690 providing tourist accommodation. Tourists began to arrive in greater numbers gradually, with 7,628 arriving in August and 7,076 arriving as of September 23rd. Maldives has received a total of 16,405 tourists since the opening of the border on July 15th through September 23rd.
The Maldives is an archipelago on India's coast famed for its gorgeous water villas. The tropical paradise of white beaches sits south of Sri Lanka and is ideal for an active vacation, honeymoon, or peaceful vacation. The Maldives is a coral island archipelago comprised of 1.219 coral island groupings organized into natural atolls. There are now 400 islands in existence. In general, all resorts take up a whole atoll. Imagine having a room on a pier that protrudes from the beach, with glass walls behind which manta rays may swim, and stepping from your overwater bungalow into blue waters.
INDIAN OCEAN
The Maldives is an island nation in the Indian Ocean. The Indian Ocean is the world's third-largest oceanic division, encompassing 70,560,000 km2 or 19.8 percent of the water on Earth's surface. It is limited to the north by Asia, to the west by Africa, and to the east by Australia. To the south, it is surrounded by the Southern Ocean or, depending on the term used, Antarctica. The Indian Ocean features several significant marginal or regional seas along its center, including the Arabian Sea, the Laccadive Sea, the Somali Sea, the Bay of Bengal, and the Andaman Sea.
Maldives vacations and honeymoons
The Maldives is a world-renowned island resort known for its golden pearls. Consider turquoise water surrounded by moon-shaped islands with white sand beaches. You'll have a hard time meeting another soul if they don't appear to be you. The towns of the nation provide short and scenic seaplane and boat tours just outside Male, the country's principal airport and tourism hub. It is the world's most isolated island, hidden inside a vast mountain range in the seas. Goway offers a variety of Maldives vacation packages.
Best time to visit Maldives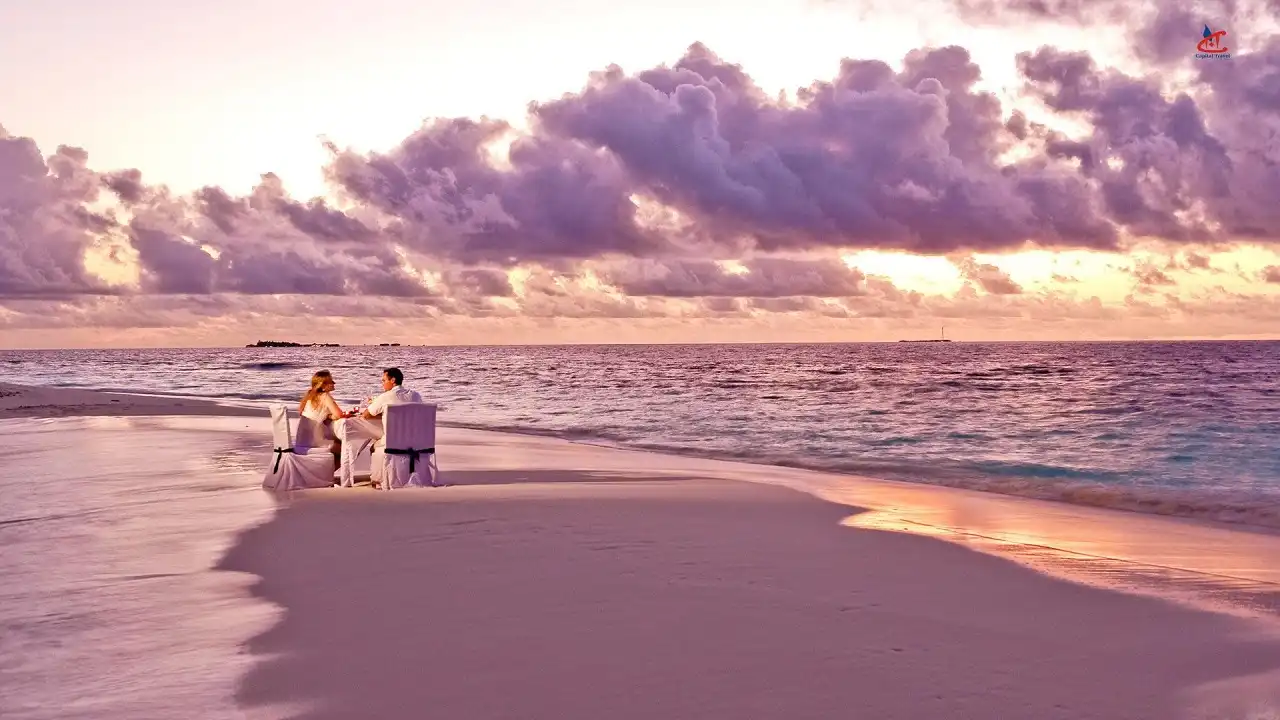 It is recommended that you visit  Maldives once a month. It is pleasant and bright all year, yet has both dry and wet weather. Visits are helpful and convenient at different times of the year. The best time to visit Maldives is from November to April, when there is little to no rain and high, tolerable temperatures. However, because the summer months are also the busiest, hotel rates are slightly higher than regular rates for rooms. Despite the fact that most hotels have their own islands, they will not draw as many people as they do during peak seasons.
Maldives Beaches and Lagoons
The Maldives has some of the most spectacular beaches in the world, and those enticing sands can be found on practically every island. They can appear to be continuously immaculate, with whiter-than-white powder sand and a vivid blue water that creates a contrast found practically nowhere else on the planet. The Maldives are made up of 99 percent water and 1 percent land. As a result, the sea naturally supplies the majority of the finest natural attractions. The nation is made up of 26 natural atolls connected by navigable canals. A lagoon with crystal-clear seas surrounds all of the islands. These islands are protected by coral reefs, which support a diverse diversity of aquatic life.
Scuba diving in beautiful Coral Reefs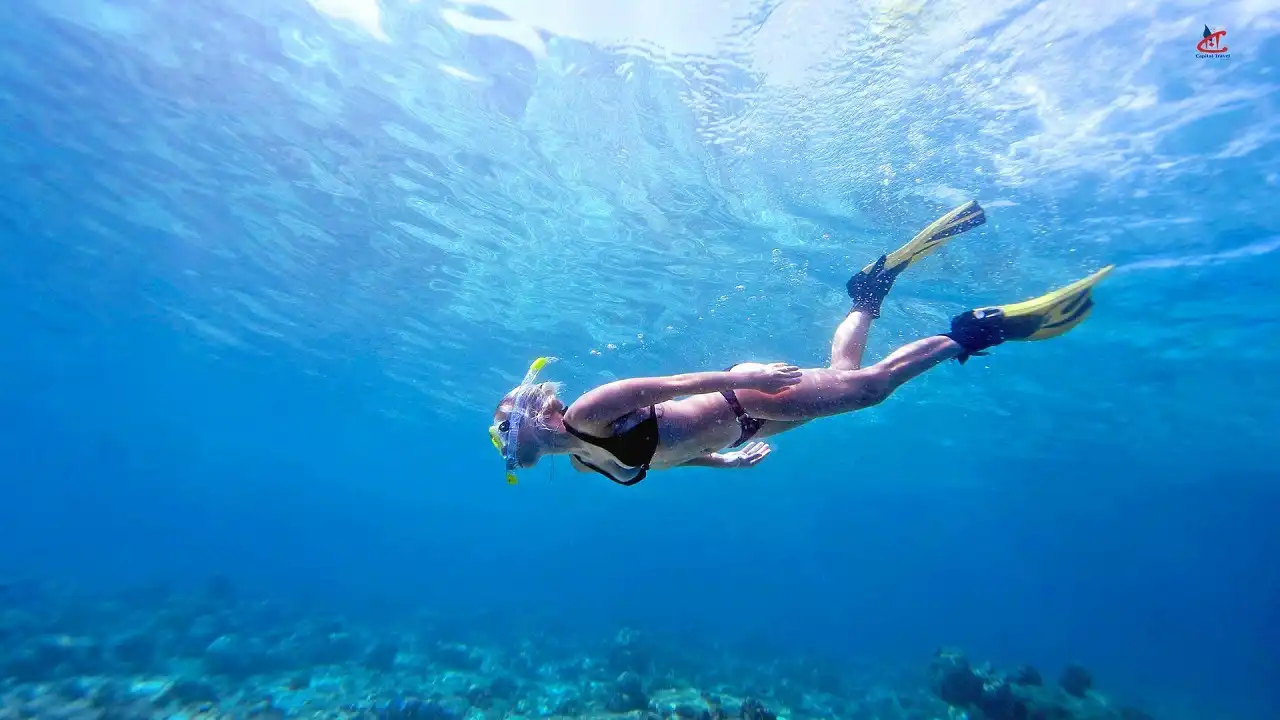 Discover the underwater life of the banana reef located in Male atoll. It is one of the famous major attractions for Scuba diving. Sea turtles, reef sharks, and whale sharks are can be seen in this area.
Maldives Trip Experience
BOOKING
A confirmed reservation at a registered tourist establishment is required.
The entire stay must be booked at a single location. Those who require travel arrangements, however, will be exempted.
ON ARRIVAL VISA PROCEDURES
The visa requires a confirmed pre-booking at a recognized tourist facility.
Long-stay tourists and tourists who may require visa extensions owing to quarantine procedures will be able to do so without paying any additional expenses.
During the visa application procedure, tourists must submit emergency contact information.
ENTRY AT AIRPORT
AIRPORT ARRIVAL
Tourists will be subjected to temperature checks and screening measures at the first point of entry, with specific care paid to those who exhibit COVID-19 symptoms such as cough, runny nose, or shortness of breath.
Those who show signs of COVID-19 when they arrive will be subjected to a PCR test. When one member of a group traveling together exhibits symptoms, the entire group must be checked. The PCR test conducted on symptomatic tourists will be paid for the tourists or the tourist facility where the tourist has registered to stay in the Maldives.
Individuals arriving in the Maldives may be subjected to randomized PCR tests by health authorities. Random tests will be paid for by the government.
In the event of a positive PCR result, the tourist facility where the tourist is booked to stay in the Maldives will be given the option of either transferring the tourist to their booked accommodation to isolate in their designated room or transferring the tourist to a government-run facility to isolate. The medical state of the individual will also influence these choices. Individuals who seek treatment in a government-run facility must be transported and accommodated at the expense of tourist facilities.
On inhabited islands, vessels, guest homes, and hotels may refuse to accommodate travelers who have tested positive for COVID-19. The tourist establishment where the traveler is scheduled to stay in the Maldives will be responsible for all connected fees.
Tourists will be separated at the airport whenever symptoms are identified or positive test results are obtained.
Tourists who require PCR testing upon arrival will be housed in a transit center until their results arrive.
At all times, tourists, travelers, and airport personnel must maintain a distance of at least 1 meter.
Face masks are required for tourists and travellers.
It is recommended that you exercise proper hand hygiene by washing your hands and/or using hand sanitizer.
All tourists to the Maldives are recommended to download the 'Trace Ekee' contact tracing application upon or before their arrival.
LUGGAGE COLLECTION
At luggage collection sites, tourists and travellers must keep a safe distance of at least 1 meter.
Luggage carts will be disinfected after each usage, according to airport officials. Users will be able to distinguish between clean trolleys and trolleys that have been used.
RECEIVING OF TOURIST BY TOURIST FACILITY STAFF
At the arrival airport, all tourists must be received by an authorised representative from a tourist establishment.
At this stage, the basic information needed to check into the accommodation will be obtained.
To make management easier, luggage must be identified and tagged.
Gloves will be used to handle bags to ensure minimal contact.
Masks and sanitizer must be provided to the receiving crew. The facilities being represented by the staff are responsible for providing the needed PPE.
Representatives of tourist facilities commuting from inhabited islands to airports will be prohibited from visiting resorts.
The 'Trace Ekee' application must be installed and used by all tourist facility representatives.
LUGGAGE HANDLING
RECEIVING OF TOURIST BY TOURIST FACILITY STAFF
When handling the luggage of tourists, luggage handlers should wear gloves.
When transferring bags, extreme caution should be exercised to ensure minimal contact.
After luggage transportation is complete, gloves should be discarded in a foot-operated lidded container.
At the end of each duty shift, personal disinfection measures must be completed.
DOMESTIC TRANSPORTATION
AIRPORT TRANSFERS
Only pre-booked tourist facilities will be able to pick up passengers from the airport.
Before boarding a transfer vessel or aircraft, masks must be worn and hand sanitizer must be used.
During communication, a safe distance of at least 1 meter must be maintained.
After passenger disembarkation, HPA has allowed infection and disinfection protocols to be carried out on vessels and aircraft.
All of the criteria in this guideline regarding transfers apply to all passengers.
Tourists who have positive PCR test results will be transported to their destinations separately, according to HPA standards.
TRANSIT MOVEMENTS
Until tourism facilities on inhabited islands are officially allowed to begin operations, the Ministry of Tourism may enable guest houses and hotels on inhabited islands to host travelers for overnight stays under special arrangements.
Tourists will be transported to these guest houses or hotels in vehicles that follow HPA safety rules.
Tourists must adhere to the movement limitations in effect on the island at the time.
During this time, food and beverages must be available on the premises of guest homes or hotels.
At all times, staff must maintain a physical distance of at least 1 meter from guests.
While serving guests, staff must wear masks at all times.
Section D2 will remain in effect until all guest houses have reopened.
RESORTS
STANDARDS FOR REOPENING
When reopening, resorts must adhere to all applicable legislation as well as the following set of requirements.
As directed by HPA, resorts must assign facilities and make provisions for personnel to self-isolate when appropriate.
Personal protective equipment (PPE) must be taught to guest service personnel (PPE).
Disinfection measures should be taught to employees.
In enclosed public venues and in situations where social separation is impossible, employees must wear face masks.
To cope with suspected instances of COVID-19, emergency protocols, including isolation procedures, must be put in place. These processes must be taught to all employees.
The resort must keep an adequate stock of medically certified PPE (masks, gloves, face shields, gowns, caps, and boots or boot covers).
On-site medical officers who have received HPA-certified training on COVID-19 management, isolation procedures, and sampling will be present at the resort.
Resort clinics must adhere to the basic criteria set forth in existing rules.
Resorts must select a safety manager who will be in charge of communicating and ensuring compliance with COVID-19 measures and concerns.
While complying to the basic principles outlined in this paper, resorts are free to define their own internal norms.
Prior to reopening, resorts must submit a health and safety plan to the Ministry of Tourism for approval. This plan will outline how the resort expects to provide separate housing and other amenities for workers that engage directly with guests, as well as staff who must travel off-site frequently.
STAFFING
All employees arriving from outside the country before July 15, 2020, will be quarantined for 14 days.
All employees coming at the resort from islands that are not under surveillance or have no recorded instances are free to report to work.
Prior to reporting to work, staff arriving from monitored islands must undergo a 14-day quarantine period in the resort.
Employees will be permitted to leave resorts in accordance with national norms, as advised by HPA (staff travelling exclusively to airports for the purpose of escorting arriving or departing tourists will be exempted from this procedure). Exemptions will be granted in the event of an emergency, with HPA's permission and supervision. This procedure will be waived for airline crews.
Employees must adhere to HPA's social distancing and personal hygiene rules.
From the date of establishment of guest houses and hotels on inhabited islands, daily employees, performers, and artists may work or perform in resorts without further limitations, subject to the same testing standards as tourists.
From the date of the opening of the guest homes, movement between resorts and islands will be permitted without the need for quarantine.
CHECK-IN PROCEDURES
Tourists transferred to the resort with a positive PCR result shall be escorted directly to their rooms upon arrival at the resort and isolated in the room as outlined by HPA guidelines.
Minimal staff shall be involved with receiving tourists at the resort.
A safe distance of at least 1 meter shall be maintained between tourists and staff at all times.
Tourists who are being held in isolation should remain in their rooms until the HPA gives them permission.
COMMON FACILITIES
Social distancing guidelines shall be followed in common areas of the resorts.
Frequently contacted surfaces shall be disinfected regularly.
Staff must practice good hand hygiene while on duty.
Food and beverage services must be provided at tourist facilities using HPA-approved safety measures to prevent the spread of COVID-19. The use of all communal places must adhere to HPA rules.
Utilisation of all common areas shall be subject to HPA guidelines.
EMERGENCY PROCEDURES
Any COVID-19 symptoms reported by personnel or visitors must be reported immediately to the medical staff on site.
Anyone exhibiting COVID-19 symptoms will be immediately quarantined until additional instructions from the HPA and the Ministry of Tourism are received.
Isolation rooms must be maintained and serviced in accordance with HPA guidelines.
Tourists and employees who exhibit symptoms will be exposed to a COVID-19 PCR test. If the test results are negative, tourists will be allowed to leave isolation with restrictions on using the resort's communal amenities until all symptoms have resolved. Staff will be isolated until all symptoms have subsided.
Any visitor who has a positive PCR test result must remain in the room.
If the requirements for suitable medical facilities and personnel as mentioned in Section E1 are met, the resort will be given the option of accommodating the tourist. Even if the resort chooses to host the individual, the individual's condition must be notified to HPA and the Ministry of Tourism on a regular basis. Should the need arise, HPA will decide whether or not to transfer the individual for additional observation and treatment.
If a member of the resort's staff tests positive for COVID-19, HPA will send them to a government-run institution, and the resort will be responsible for all associated expenditures.
CHECKOUT FROM TOURIST FACILITIES
CHECKOUT PROCEDURES
If no symptoms are present or a positive PCR test is recorded, there will be no limits on guest checkouts. During transfers, however, masks will be used.
Tourists in isolation will only be permitted to check out according to HPA's national criteria. Tourists who need to be transferred to a government-run institution under the Ministry of Tourism's supervision will be excluded. The facility is responsible for ensuring that all associated costs are covered in these cases.
Luggage handling should follow the guidelines outlined in Section.
ROOM CLEANING
When cleaning and sanitizing rooms used for quarantine or isolation, HPA recommendations must be observed. The yacht must be cleansed according to HPA guidelines once visitors have left and before new passengers can board..
TOURIST VESSELS
PROCEDURES FOR TOURIST VESSELS
Luggage should be handled according to the guidelines outlined in Section HPA rules must be followed while cleaning and sanitizing quarantine or isolation rooms. The yacht must be cleansed according to HPA guidelines once visitors have left and before new passengers can board.
After visitors have left and before fresh guests can embark, the vessel must be disinfected according to HPA rules.
Tourist ship crews going ashore on inhabited islands must follow HPA quarantine and COVID-19 screening procedures.
Supplies must be loaded or bunkered at specified jetties, with social distancing protocols in place.
When in direct touch with tourists in enclosed locations, crew members must wear masks.
If a guest exhibits COVID-19 signs, the vessel operator must assist in his or her isolation.
Before resuming operations, tourist vessels must submit a health and safety plan to the Ministry of Tourism for approval.
EMERGENCY PROCEDURES
Any flu-like symptoms in workers or tourists must be reported to the captain right once.
Anyone exhibiting flu-like symptoms will be immediately quarantined until additional instructions from HPA are received.
The captain must report the symptoms to HPA and the Ministry of Tourism, and make plans for sample and testing with HPA's assistance.
Tourists and employees who exhibit symptoms will be tested for COVID-19. If the test is negative, tourists and workers will be removed from isolation with the condition that they wear masks at all times when in contact with other people until all symptoms have subsided.
Isolation rooms must be maintained and serviced in accordance with HPA guidelines.
Anyone with a positive PCR test result (tourist or staff) will be transported to a government-run institution for monitoring and treatment.
CRUISE SHIPS AND FOREIGN FLAGGED YACHTS
Cruise ships and yachts arriving in the Maldives are exempt from these basic restrictions and must follow the International Maritime Organization's guidelines (IMO)
Until August 1, 2020, cruise ships and yachts will not be allowed to embark or disembark passengers on or off populated islands. Passengers and staff will be allowed to board and disembark at foreign airports (provided they have valid plane tickets if disembarking). Additionally, vessels that do not come under IMO requirements will be excluded from this restriction and will be allowed to unload on islands with Port Health certification.
At the point of disembarkation, the entire crew and passenger complement must report any symptoms to the local health authority or responsible person. If any passenger or crew member is experiencing symptoms, disembarkation requires prior approval from HPA.
The crew and passengers must be screened and their symptoms declared at the first port of call or clearance.
The vessel's agent is responsible for ensuring that all costs related to isolating or treating a passenger or crew member at a government-run facility are covered. If no agent has been chosen, the vessel's operator will be responsible for any associated financial obligations.
GUEST HOUSES
PROCEDURES FOR TOURIST VESSELS
The tentative start date for tourist guest houses is August 1, 2020; however, this may vary depending on the national COVID-19 status.
Before the guest homes in the jurisdiction can reopen, the resident doctor on the island must have completed HPA certified training on COVID-19 management, isolation measures, and sampling.
As per HPA regulations, the guest house must allow for isolation of the guest in the guest's resident room.
Any watercraft transporting tourists must keep contact tracing logs during their stay.
Places of business that serve tourists (such as restaurants, cafes, and shops) must keep contact tracing data.
Places of business that cater to tourists must adhere to social distancing norms.
Tourists visiting nearby islands must keep their social distance.
Before resuming operations, guest houses must submit a health and safety plan to the Ministry of Tourism for approval.
EMERGENCY PROCEDURES
Any flu-like symptoms among employees or visitors must be notified to the local health authorities and the HPA as away.
GENERAL
EASING OF RESTRICTIONS
Unless prolonged by the government, the entry processes and restrictions applied to resorts and vessels in lodging visitors as set forth by this regulation will be removed on September 1, 2020.
Following the review of the guideline, operators will be notified of any changes.
Every 14 days, this policy will be reviewed.
RECREATION ACTIVITIES
Additional diving and water sports safety precautions will be governed by HPA-approved comprehensive regulations.
Tourists who are sick but have tested negative for COVID-19 will be barred from participating in activities such as diving or excursions. They will only be allowed to dive once their symptoms have completely subsided.
RESPONSIBILITY FOR ISOLATION AND QUARANTINE
If a visitor is quarantined, isolated, or treated at a Government-run facility, the tourist facility where the traveler booked his or her stay upon arrival in the Maldives is responsible for any financial obligations.
COMPLIANCE WITH THIS GUIDELINE
Before welcoming any new guests, all tourist facilities, including those currently in operation, must meet the requirements outlined in this regulation.
HOTELS
On uninhabited islands, hotels must follow the same procedure as resorts, whereas on populated islands, hotels must follow the same procedure as guest homes.
---