Maldives Surfing
Quick Navigation (Topics covered)
---
Maldives Surfing Trips
Surf Packages
Surf Charter Boat Trips
---
Maldives Surfing Videos
---
Maldives Surfing Map
The Southern Hemisphere winter, which lasts from March to October, is the optimum season for Maldives surfing excursions. The roaring forties create storms that bring the biggest seas to the archipelago during this time. The most powerful waves are expected in June, July, and August. During this time, the wind is mostly offshore all day. This paradise is exposed to the same swells as Indonesia, but its higher latitude and South-East exposure provide milder and less challenging surfing. Like most point breaks, the classic Madivian wave rolls up with usable corners, interesting pockets, and extended rides. The sets seldom wall up or seal off the waterways. The waves break on largely dead reef, and you'll only see them on rare occasions.
The North-East and South-West monsoons temper surfing in the Maldives. Conditions in the Southern Atolls are ideal during the North-East monsoon (March to April). During the South-West monsoon, the finest surfing areas are in the Northern or Central atolls from May to October. One of the finest ways to enjoy the many varied waves and breaks in the Maldives is on a Maldives surfing charter. Please check our FAQ page or contact us personally if you have any concerns about our charter boats, what is included on the surf trip, or anything else about the Maldives surfing experience.
---
1. Maldives Surf Regions
The Maldives has three major surf zones: the central atolls, the southern atolls, and the Male atolls. During the northeast monsoon in April and May, the southern atolls (such as Huvadhoo) get the finest weather.
Meanwhile, the southeast monsoon, which normally lasts from May to October, is preferred by the central (Laamu) and northern (Male) atolls. Throughout the early season, charter boats prefer to base themselves in the southern atolls, and subsequently in the middle and northern atolls during the mid- to late-season.
---
1.1 Northern Atolls
When most people think of surfing in the Maldives, they see the Male Atolls. Although much has changed since stranded surfers "discovered" the Male Atolls in the 1970s, the waves remain the same—pure and gorgeous. The once-secret Northern Atolls have emerged as a vital component of the worldwide surf scene, as well as the heart of the expanding Maldives surf culture, after hosting multiple international and professional championships.
The Northern Atolls are separated into the North Male Atoll and the South Male Atoll, with each giving a fairly balanced mix of lefts and rights, with Pasta Point, Chickens, Coke's, Jailbreaks, Sultans, Ninjas, and Lohi's in the north and Foxy's, Guru's, and Riptides in the south. The waves are finest in the spring and summer, when they normally range from two to eight feet, with the biggest surf rolling through in late summer. While the North Male Atoll may not have the finest waves in the Maldives, it does have the most popular places and the longest rides, with both lefts and rights often reaching over 100 metres.
---
1.2 Central Atolls
The centre atolls are not as well-known or visited as the North or South Male Atolls, but Thaa and Laamu Atolls in the middle region are becoming more popular as surfers seek to avoid the northern throng. Although the middle atolls are not as large as the Male Atolls, their breakers retain the Maldivian history of offering steady surf and clean barrels. The medium-sized waves are as plentiful and as perfect as you could want for. Malik's, Finnimas, Outside Mikado, and Inside Mikado are some of Thaa Atoll's standout restaurants. Laamu Atoll's more well-known attractions are Ying Yang, Refugee's Lefts, and Refugee's Rights. The majority of these waves are fast and section, with quick barrels that compel you to fire down the line in order to make the section. The waves in the central atolls are not for the faint of heart, yet they are still accessible to intermediate surfers. 
Some of the locations require special circumstances to shine (essentially a powerful southerly swell and an appropriate wind direction), but when those parameters are satisfied, there is nowhere else you'd rather surf—a sensation heightened by the picturesque scenery and lonesome surroundings. Surf charters are the only method to access this region's breakers, so if you do plan a surf vacation here, it will have to be via boat.
---
1.3 Southern Atolls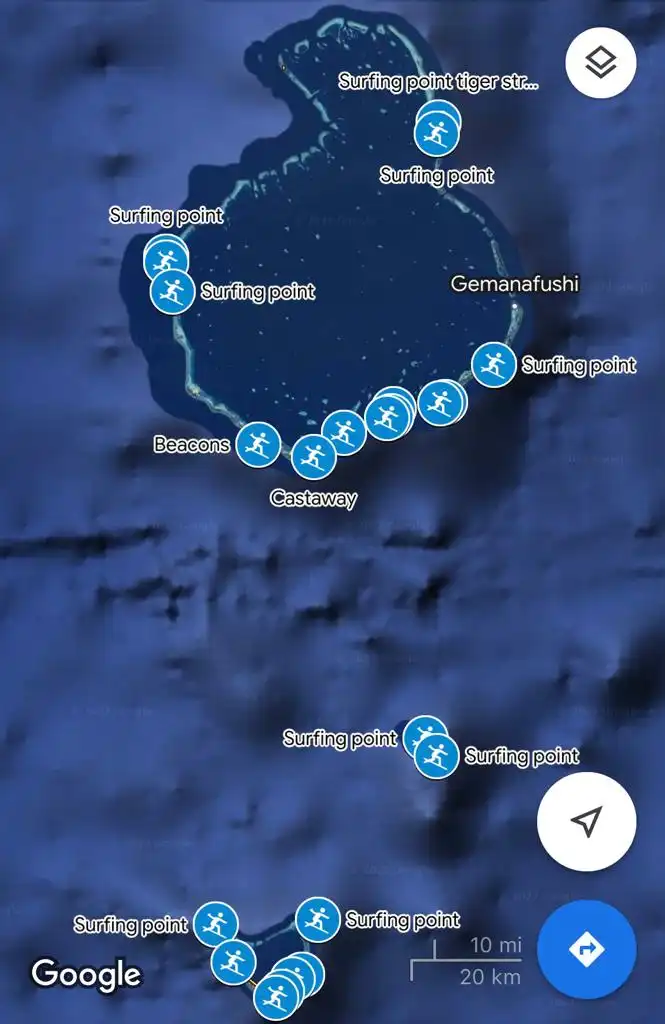 The Huvadhoo and Addu Atolls (also known as the Southern Atolls) are located in the Maldives' furthest southern region, which surfers are constantly reminded of as they arrive at empty surf break after empty surf break. Although it is not entirely abandoned, fewer surf boats and surf charters operate in this area, resulting in even the most popular sites in this region being less crowded than in the Northern Atolls. The breaks in the Maldives' Southern Atolls are among the most secluded and picturesque, keeping the realism of a remote island paradise replete with amazing waves.
Huvadhoo Atoll is well known for Beacons, Castaways, and Tiger Stripes, while Approach Lights, Madihera, and Shangri-la are highlights of Addu Atoll. Beacons and Tiger Stripes are two of the Maldives' most powerful waves, barreling down fast and hard on to a fringed and deceptively shallow reef, which is a characteristic feature of southern surf sites.
Although the waves are less than on some of the more northerly atolls, the south-facing shoreline allows the breaks to be exposed to the southern swells that flood the area during the summer. Since a clean southern swell is about all you could ask for at these breaks, the consequence is waves with a tonne of strength and plenty of opportunity to get shacked. Southerly atolls vary from northern atolls in that they do not have precisely formed or soft-breaking waves. These waves break quickly and throw strongly, with a lot of power—they're probably best suited for expert surfers or adventurous intermediates. The waves found in Southern Atolls are the sort of waves that you remember for days, weeks, and months after your trip.
---
2. Maldives Surf & Travel Guide / Plan Your Surf Trip to Paradise
A Maldives surf trip combines excellent user-friendly waves, island paradise beauty, and ultimate barefoot luxury. The Maldives is one of the most beautiful surf locations on the globe, whether you're searching for a group trip with friends or a family-friendly surf holiday.
The Maldives are a string of nearly 1,200 coral islands spread across 26 atolls in the central Indian Ocean, off the west coast of India, that have come to epitomise the tropical paradise experience. In these mainly deserted atolls reached through Male (the capital), picture-perfect white sand beaches studded with palm trees and five-star resorts are the standard, giving the typical beachcomber lifestyle—with every luxury you can imagine, of course.
---
2.1 Types of Surf Breaks
Predominantly reef breakers and reef points, albeit not as intense as those seen in Hawaii, Tahiti, or Indonesia. Light winds and modest to moderate swell provide sculpted, rippable walls for the average surfer, making this a wonderful family surf trip destination.
---
2.2 Surf Seasons & Swell
From March through October, south waves from the Indian Ocean are prevalent. The best conditions usually appear early in the season, before the wind starts up, and the biggest swells arrive between June and August. Swell is persistent throughout September and October, with varying winds. Because the Maldives is so far north of Indonesia, these swells are often smaller than those found on Bali or in the Mentawais. However, they are also more structured.
---
2.3 Level of Difficulty
Intermediate. Although surfers must be comfortable over reef, the waves are generally user-friendly and rarely exceed 8-12 feet on the face. There are a few hollower waves that will appeal to professionals, but the vast majority of pros that visit the Maldives come so to stack high-performance clips. For those who are new to the sport, the region also provides a wide range of beginner waves.
---
2.4 Crowds
Depending on the area and waves, you may be alone or with a few hundred other surfers. Charter boats prefer to frequent the more popular breakers, however some land camps have exclusive rights to the front breaks.
---
2.5 Getting to the Surf
Almost all of the waves in the Maldives can be reached via resorts, surf camps, and liveaboard boat charters. While it is feasible to visit the Maldives on your own, it is definitely worth it by the time you have flown all that far to arrange excursions with a professional to guarantee that you score.
---
2.6 Maldives Surf Trip Costs
The Maldives are one of the world's most popular luxury holiday destinations, with some of the best-equipped resorts. When you consider the remoteness of this archipelago, you should expect to pay a premium to visit this surfer's paradise.
Although pricing can be pretty pricey in comparison to other surf locations, the Maldivian atolls are as gorgeous as they come, so if there was ever a time to treat yourself to a five-star holiday experience, this is it.
Depending on where you stay and the degree of luxury you choose, expect to pay between $300 and $1,000+ per person, each day. Some accommodations include food and drink, transportation, and several activities, so many fees might be included into your reservation.
Boats to access the surf (if staying at a resort rather than a charter boat) will be an extra fee. There are just a few resorts on the island that have a surf break, so staying anywhere else will necessitate a boat ride to the beach (or a seaplane if you really want to go for it). Surf boat prices vary by resort, but normally range between $100 and $250 every surf transfer.
---
3. Transportation
Almost of surfers who visit the Maldives do so via resorts or charter boats, thus your transportation in the Maldives is usually handled by your operator. Surf resorts will have boats to transport you to the surf, and liveaboard charters are always out on the ocean looking for great waves. Having said that, because the islands are tiny and the inhabitants are friendly, independent tourists usually find it easy to move around.
The majority of international flights arrive at Male's Velana International Airport (MLE), with domestic flights connecting to various atolls across the country, including Laamu, Thaa, Huvadhoo, and Dhaalu.
---
4. The Best Surf Spots and Waves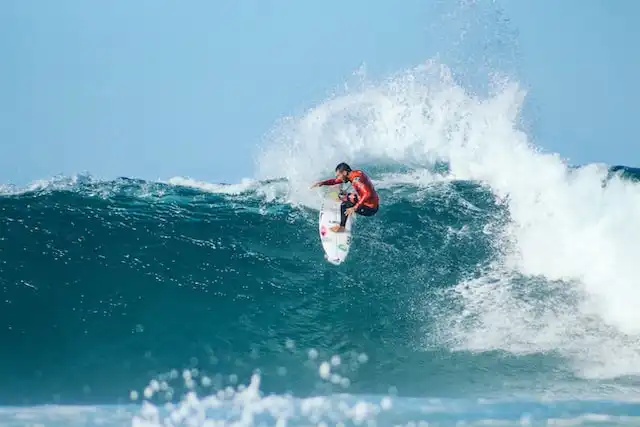 The waves in the Maldives aren't very powerful, with swell often reaching shoulder-to-head height, but they do give plenty of opportunities for barrels and lengthy enjoyable waves. It's ideal for intermediate and advanced surfers.
4.1 The Malé Atolls
The Malé Atolls have long been popular with surfers due to a range of reliable places, particularly during the peak summer months when south swells are plentiful. This happens between the months of April and October. March and November are transition months, yet they may be very pleasant at times.
Winds from the west or southwest are usual this time of year, but many of the surf breaks in this island reef chain are well protected and will stay clean, while others will be offshore. Crowding can be an issue at times because to the relatively simple access to the breakers provided by the many boats in this abundant wave zone and the resorts that transport surfers out to.
The best surf spot in the Malé Atolls of the Maldives are:
4.1.1. Chickens
Wave is located on the deserted island of Villingilimathi Huraa, near to Thulusdhoo Island (on the other side of the channel). This wave has swell sizes ranging from 3 to well over 10 feet and offers rides up to 500 metres long.
The left at Chickens is a reef break that may extend about three times longer than the left at Pasta Point, capable of generating over ten second barrels in the right hands and circumstances. Hands capable of sliding through the powerful current and then keeping up with the zipping lip would be ideal. Chickens, the fastest wave in the area, is divided into two pieces. The lengthy shoulder begins in the second section, but when the wind isn't blowing, the starting point hollows down nicely—a southwest breeze definitely hurts your chances of a ten second tube.
Although very steady, Chickens prefers clear groundswell from the southeast, which means it performs best in the summer. The wave handles all tidal stages, but the best chances for a double-digit barrel are on windless days at incoming mid to high tide when there is the least amount of current. Because Chickens improves with size—best at head high to double overhead—the best time to visit is from May to October, with the southeast waves of July and August producing the most consistent surf, often ranging from 2 to 8 feet.
4.1.2. Cokes
This right-handed wave, which is also near to the Island of Thulusdhoo, is suggested for intermediate or experienced surfers, especially when the swell is large.
The swell It's a hollow and tubular right-hander that breaks over a shallow reef and is regarded as one of the Maldives' top waves. The name of the wave comes from the adjacent Coca-Cola facility on the island of Thulusdhoo. Winds from the south and northeast are ideal.
4.1.3. Guru's
Gurus is a beautiful lefthander that breaks on a reef in the midst of the water on the South Male Atoll's east shore. When the wind is from the north or northwest, and the swell is at least 4 feet in size, the wave displays its potential. The wave is quick and provides a lovely wall for manoeuvres or even aerials depending on your skill level... This is one of the first passes you will see while cruising from Malé, and you will not miss it if the conditions are favourable. The anchorage is generally located immediately after the adjacent island of Guli. Twin Peaks and Quarter are the next breaks to the south.
4.1.4 Honky's
Some consider it the best wave in the Maldives, however it may not be as popular as Cokes and Chickens. It is located on the island of Thaburudhoo (on the same island as Sultans).
When the circumstances are satisfied, it is unquestionably world-class! It's a massive left-hand wave that can double in the second part. It's a rapid left at 4-6 feet that requires the appropriate swell direction. If Sultans is too packed, this place is worth a look. On the northeast breeze, it is a good position for winter.
4.1.5 Jailbreaks
This site, also known as Prison Point, is located on the island of Himafushi and was only recently permitted to surfers due to its proximity to the national penitentiary. Here you will discover a fantastic right wave that starts low and grows as it progresses.
A right-hander with three solid portions that performs best with huge swell because it generates a longer wave. The name comes from the fact that the island once housed a jail. With lengthy walls and three tube sections, this is most likely the fastest wave in the Maldives.
4.1.6 Kate's
A small and short left-hander that performs best in NW to N breezes and seldom exceeds 1 metre.
4.1.7 Lohi's
Lohifushi is the name of the island resort. Consistent left-hander that breaks in two halves but may generate a beautiful long wave that barrels across the reef if the swell is large enough.
This location holds the WQS O'Neill Deep Blue's every year between May and June. This place performs well with northwest and north-east winds, but it is best with south-east swell and northwest winds.
4.1.8 Natives/Foxys
A hollow and rapid right wave crashes over a shallow coral reef. It's "Goofy's Paradise," or if you have a quick backhand, you'll enjoy this wave.
It breaks for 100-150 metres and offers several barrel possibilities. Best with a SE swell and a northwest breeze. You will visit both Foxy's and Rip Tides throughout your transfer, giving you the best of both worlds.
4.1.9 Ninjas/Piddlies
Slow right-hander suitable for both novices and longboarders. It was presumably called after one of the favourite waves of Japanese surfers. W-NW breezes with a modest S swell provide the best conditions. Swells of more than 4 feet, on the other hand, damage everything.
4.1.10 Pasta Point
This wave is only available to guests staying at the Chaaya Island Dhonveli Resort.
This wave is a spectacular left that has two notable sections: Macaroni Bowl, named after its bowling-like part, and Lock Jaws, which only works on days when the swell is large and grinds into extremely shallow water over the reef.
4.1.11. Riptides
A 150-meter right-hander breaking on a reef in the centre of a channel. Accessible only by boat. Because very strong currents might take you seaward at times, we carefully assess current conditions before settling down for a session.
Great wave for longboarders, shortboarders, and low intermediate surfers, with carvable walls and the rare hollow portion. It works well with S swell and SW wind.
4.1.12. Sultans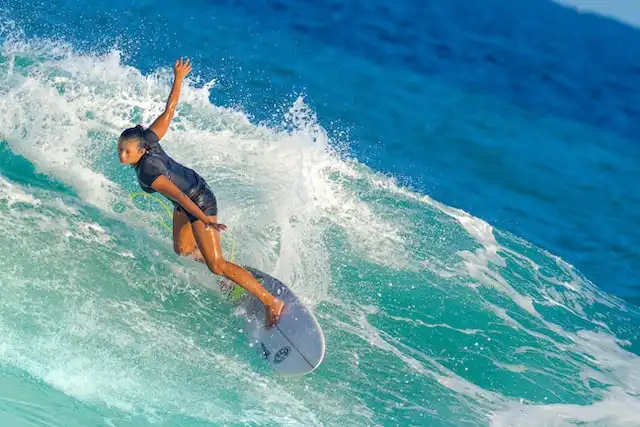 Superfast right-hand wave that works best with larger swell and may grow quite long with south swell; ideal conditions are found with west winds and high tide.
If Honky's is onshore, Sultans is offshore. An effortless right-hander with a quicker inside. It is one of the most consistent waves, with always something to surf.
4.2 The Central Atolls
It's not difficult to estimate that circumstances in Central Atolls are somewhere between Male and South Atolls. As a result, the surf season may be prolonged from March to November. Summer in the northern hemisphere remains prime (from June till September). This is when a larger surge approaches at the beach and winds blow continuously offshore.
These breaks are significantly less popular, and you will have a difficult time finding someone else to surf with. If you come across a reef-sucking barrel that seems frightening, there's a more friendly and forgiving wave just around the corner or on the next reef pass. Numerous world-class breakers, usually right-handers, have been identified in the Central Atolls. Except for a rare straight easterly breeze, there are areas that are shielded from all wind directions.
The best surf spot in the Central Atolls of the Maldives are:
4.2.1 Muli
Muli can be broken in two ways: inside (F1) or outside (F2) (Mushrooms). Muli Inside/F1 is a barreling righthander with large walls and hollow that is incredibly quick. It might be superficial, but it always has a happy conclusion.
Very well shielded from southerly winds, but requires larger swells to function. Muli Outside/Mushrooms is a right-hander with lengthy walls and a simple escape on the corner that generally takes up extra swell.
4.2.2 Mulhaku Rights/Lefts
This is another wave with two directions. The right can handle larger swells and is simple to ride even when they are large.
Excellent for intermediates as well as novices. The left is quicker, shallower, and only works in limited situations.
4.2.3 Veyvah
With a long wall, this is a fantastic left-hander. Take-off is simple, and there are various possibilities for extended journeys. Not too hefty - a lot of fun.
4.2.4 Adonis
Larger waves and northerly breezes are required for this right-hander to show off its superb barrels. It can have portions that are fast, hollow, or shallow.
With the correct conditions, it may be a really lengthy wave.
4.2.5 Finnimas
Finnimas is a shallow fast lefthander with some fantastic barrels that break best in NE, N, or mild NW breezes.
4.2.6 Malik's
We go to Hirilandhoo when the wind is blowing from the southeast and the surf is big from the southwest. On long and fast walls, this left hand may generate some fantastic barrels. There is little regularity because the majority of the swell originates from the southeast.
4.2.7 Mikado
The most steady wave in Thaa, although least wind sheltered. It's a strong right-hand wave with rapid, hollow walls that can generate some epic barrels. Outside, Mikado works best with high tide, and when pumped, it delivers the wave of a lifetime!
4.2.8 Bedhuge
Bedhuge is a secluded right that breaks on large SE swells and any W breeze. However, if other breaks appear to be too hefty, it's worth a go.
4.2.9 Isdhoo
Isdhoo or Langon Bank, located on the northeast edge of the atoll, is an infrequently surfed right hand that comes alive in huge S-SE swells and is well shielded from southerly breezes. Due to a lack of anchoring, this place is rarely surfed.
4.2.10 Mada's
Another wave to consider if the swell is large and the wind is coming from the NW is Mada's, a short and shallow left inside the pass.
4.2.11 Mahibadhoo
In huge swell conditions, this is complete perfection. Unfortunately, this wave is always modest, and currents can get quite strong, making surfing impossible. It is divided into three sections: the exterior, the corner, and the inside. When the swell is ideal, all three pieces connect and make the wave a lot of fun.
The reef here is quite straight and shallow, but you may draw into the barrel shortly after take-off. To go to the corner and complete turns in a mellower wave, you must gain some speed. Continue on to the interior to find another lengthy and massive barrel part.
4.2.12 Tsunami's
This left-hander gets the greatest surf of any east-facing point in the Laamu Atoll.
With the appropriate swell angle, it's a terrific wave, but because the reef is very straight, it tends to shut off. Winds from the west to the north are adequately shielded. Offering three really enjoyable parts, beginning with a great barrel on the takeoff, followed by a nice wall for several spins, and ending with another barrel.
4.2.13 Yin Yang
Yin Yang is Laamu's most consistent wave, performing best in strong SE swell with thick barrels and a powerful inner section.
The wave begins with a good wall, then backs off for a bit before becoming aggressive, with a long inner section that may generate some incredible hollow barrels. Outside, a gentle wall provides safe riding in deep water.
4.3 The South Atolls
While most atolls in the Maldives have a peak season from April to September, the South Atolls enjoy a longer season from February to November. Some claim the ideal months are February to April, just before the southwest monsoon arrives, and September to November, when it finishes. Wind can be a difficulty on the south-facing places from May to August, but this is when you motor to the east-facing side of the atoll for better protection. Because it is peak swell season, the east-facing breakers will still have plenty of size. South Atolls are still the last frontier for surf vacations.
This is one of the most isolated spots on the globe, and the only way to get there is via charter boat, making this an elite and very pricey surf excursion. A specific government authorization is necessary for boats to go here due to political concerns. Although the first surf boat charters began in 1993, the most of the surf places are still secret and have yet to be discovered. Gaafu Dhaalu Atoll (also known as the Huvadhoo Atoll) is often regarded as having the greatest surfing conditions in the Maldives since it receives more swell from all directions than any other atoll.
The best surf spot in the South Atolls of the Maldives are:
4.3.1 Antiques
If you don't want to surf Tiger Stripes' lefts, move up to Antique's rights.
This is called a backup wave since it is always a couple of feet smaller and much more forgiving than the lefts.
4.3.2 Beacons
Only for advanced surfers! This wave, unlike many others in the Maldives, features an unforgiving shallow reef. Remember that although SW swells will tear down the reef, SE swells will build peaks that will bash right into close-out portions of coral.
4.3.3 Voodoos or Blue Bowls
A lengthy right-hander with a lot of excitement, especially at 4 to 6 feet and shielded from SW-W breezes. This wave is surfable at all times, in all waves, tides, and sizes. It's a terrific length for a relaxing ride with some fantastic portions for some moves.
4.3.4 Castaways
Due to its shallow reef, it is a gentle right-hander that can be ridden at all tides but is best surfed at high tide when the surge is greater than 4 feet. It gets nice with N wind, just like Beacons. Surfing in the Maldives is an exquisite environment with abundance of marine life and a secluded island directly in front of the line-up.
4.3.5 Five Islands/Gani Point
Another right-hander, this one shielded from the south-southwest breezes. A hollow wave that breaks fiercely on a shallow inner reef, best ridden at mid-high tide. This is maybe the wave that can handle the largest surges at all tides.
4.3.6 Love Charms
This incredibly steady left-hander works on any surf size and is just adjacent to Two Ways. This wave may be ridden at every tide and in any wind direction, but the greatest circumstances are when it is tiny, low tide, and facing east. Beautiful long wave with two sections: take-off on the hollow wall and some beautiful interior tubes.
4.3.7 Tiger Stripes or Rockets
A fantastic left-hander with lengthy working walls and a tricky take-off into a long rapid wall before presenting an inner tube section that gets smooth and easily breaks out in the channel. It is quite consistent and can be surfed at all tides, with the best conditions being west-northwest breezes. When tiny, this is an easy and overlooked wave, yet it can be really difficult in a heavy swell.
4.3.8 Two Ways/Twin Peaks
This is a right-hander, but the rights are better, funnier, and longer. It's not hollow, and it requires a large swell to be excellent. As a result, this is one of the intermediates' favourite waves. Fun, peeling, lengthy walls with some water depth.
4.3.9 Gaukendi Bridge
On days with little wave, a left-hander on the bay's south side may be the best option. You may expect short but enjoyable rides.
4.3.10 Madihera
This may be called a spoilt wave because it receives a lot of swell, however it must be ridden under very particular conditions. It provides a fantastic left-hander with two portions and multiple take-off positions in the correct wind directions. The waves begin breaking in deep water and produce some hefty barrels on specific reef places. The reef's bottom is a little bumpy, which causes the wave to shift from heavy to gentle in only a few metres.
4.3.11 Shangri-la
This wave is the name of a new resort on the island of Viligili. On modest clean westerly waves, a great right-hand reef-break wraps around the island's east shore.
---
5. The Best Maldives Surf Resorts
The Maldives is one of the world's most opulent vacation spots. The Maldives' islands attract jetsetters, honeymooners, and families looking for a luxury holiday with all the bells and whistles. They are home to isolated five-star resorts with every facility your heart wants, tropical island paradise, and overwater villas abounding.
Because Maldives resorts cater to a diverse range of tourists, Maldives surf resorts do not fit the traditional definition of a surf resort, where the property and the bulk of guests concentrate around surfing. There aren't truly surfing resorts in the Maldives; instead, you'll find luxury resorts with access to neighbouring waves (and a few properties have a private wave breaking off the resort's island).
While the Maldives is well-known as a favourite couple's getaway, it's also a terrific family location, with many resorts offering complementary programmes and activities for children.
The distant location and five-star experience come at a premium price, but don't worry, this juice is worth the squeezing. The only disadvantage will be that you will have set a new benchmark for surf vacation excellence. Here are our top Maldives surf resort recommendations:
5.1 Cinnamon Dhonveli – Pasta Point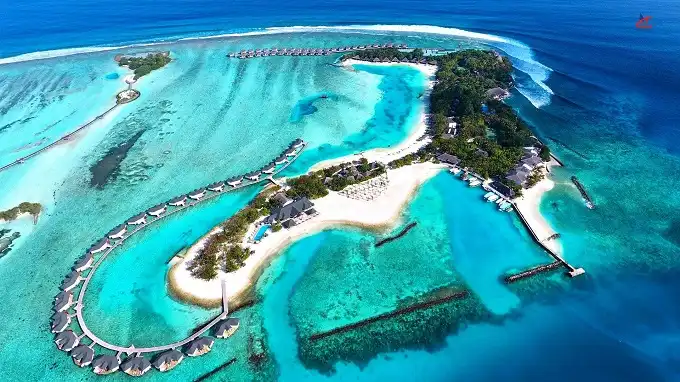 surfing at Pasta Point and living at Cinnamon Dhonveli could be nicest surf experience you could ever have, the Mentawais were spectacular, but surfing here exuded elegance and can be lot of fun!
The island is only a short distance from Malé Airport, making it perfect for those looking to save travel time, and it features all of the amenities you'd expect from a premium Maldives surf resort. Pool, private lagoon, several pubs and restaurants, air conditioning, wifi, and so forth.
But the true pull of Cinnamon Dhoveli is, of course, Pasta Point, a whirling left hander known as one of The Maldives' top surf locations. Expect occasional cover ups as the wave builds, but long walls and carves are the norm of the day, making it suitable for a variety of surf styles and abilities.
5.2 Six Senses Laamu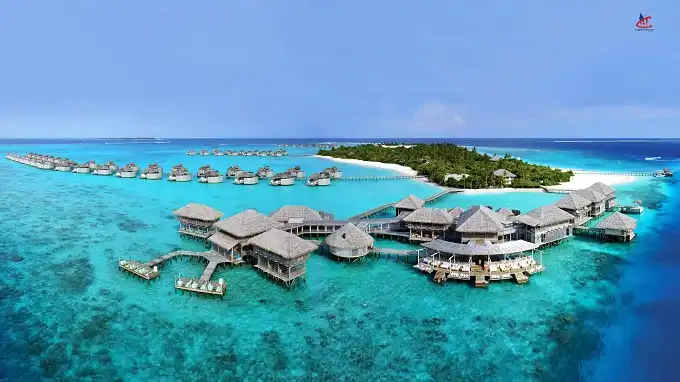 Six Senses Laamu, located in the middle atolls, offers beautiful overwater facilities and luxury accommodations in overwater bungalows and beachside villas. There are a couple of waves only a short paddle from the resort beach, Yin Yangs (a steady location with potential for excellent right hand barrels) is directly over the channel, and there are surf boats to explore additional local waves.
5.3 Four Seasons Kuda Huraa – Sultans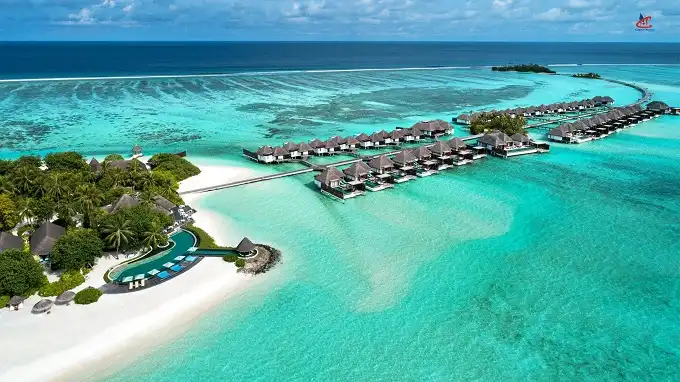 The Four Seasons brand is synonymous with luxury, and their Maldives surf resort will not disappoint! Expect their legendary standards of hospitality and facilities hidden amongst the gorgeous islands of the North Male Atoll and within easy speedboat reach of the airport, making it a great vacation for people who don't want to extend their overseas flights.
With Sultans' barreling waves just 5 minutes away and other Maldives classics like Cokes, Chickens, Jailbreaks, and Ninjas nearby, it's the ideal site to mix luxurious living with world-class waves.
5.4 Anantara Veli & Anantara Dhigu
Anantara Veli and Anantara Dhigu are sibling resorts on two neighbouring private islands; Anantara Veli boasts a fast barreling left peeling off the island, and both resorts offer surf programmes with access to neighbouring surf breakers. Anantara Dhigu is a family-friendly resort with a fantastic kids' club, whilst Anantara Veli is one of the Maldives' rare adults-only resorts. Another very magnificent 5* resort, and possibly one of the most opulent Maldives surf resorts on the list, Anantara Dhigu is for people who enjoy being pampered!
In fact, depending on the level of luxury desired, Anantara has three resorts (Anantara Dhigu, Anantara Veli, and Naladhu Own Island), with Naladhu being the most exclusive, with accommodations even containing your own private butler. When it comes to waves, your nearest break is Nonyas, which is only a 5-minute speedboat trip away and delivers some very exciting, lengthy rides perfect for all kinds of surfers.
There are plenty of punchier Maldives surf places to select from, including Boatyards (10 minutes away and a reeling, hollow left), Riptides (a rapid right hander in the channel near Guraidhoo Island), and Natives (which also goes by the name of Foxys and can produce some epically long barrels.)
5.5 Niyama Private Island Maldives
Niyama Private Islands is a luxury resort in the Central Atolls with a strong and occasionally hollow left point (Vodi) breaking near the island's edge. With beachfront villas, overwater bungalows, and the Maldives' largest kids' club, this is a five-star experience.
5.6 Adaaran Select Hudhuranfushi – Lohis
Adaaran Select Hudhuranfushi, another Maldives surf resort located amid the legendary waves of the North Male Atoll, offers unique access to the surf break Lohis, a lengthy left hander that is one of the most consistent spots The Maldives has to offer. When you're not slamming down the line at Lohis, you can relax with a nice beer or drink at the Surfer Village, which overlooks it (and is only a few metres from the launch site! ), relax at the in-house spa, or refuel at one of the resort's 6 bars and resorts.
As you'd expect from a premium Maldives brand, there's a range of accommodation options available, from garden villas to complete overwater 'Prestige Ocean Villas' for those searching for the whole Maldives experience. If you want to go out from the resort's home wave, Cokes, Chickens, Sultans, and Jailbreaks are all within a short surf transfer away - excellent for mixing up the styles and sampling some of the greatest lefts and rights The Maldives has to offer.
5.7 Kandooma Resort (Holiday Inn) – Kandooma
Run by Holiday Inn (yep, that Holiday Inn!) Kandooma Resort is another less expensive option on the list. It's also one of the most sustainable, with a strong emphasis on environmentally friendly operations, so cheers to them! Kandooma is a rapid right hander that breaks directly in front of the resort and is a relatively straightforward paddle out.
Although the exclusivity of the house break Kandoomas has been enforced since 2014, the island has a cap of 50 surfers, which means it is not as exclusive as some of the other Maldives surf resorts on the list! Fortunately, there are a number of additional sites within a short distance, including both left and right turns, so if the water is crowded, you are not limited to the one break.
5.8 Kuda Villingili – Chickens
Kuda Villingili, which will open in June 2021, is one of the Maldives' newest resorts, and surely one of the Maldives' newest surf resorts. This incredibly exquisite 5* resort offers everything you'd expect and more, including the Maldives' biggest swimming pool! For surfers, Kuda Villingili provides direct access to Chickens, one of the most exciting left handers in the North Male Atoll, and you can paddle directly off the island and into the lineup.
For those wishing for something a little stronger, the legendary Cokes are only across the channel, as are other solid favourites like Honkys, Sultans, and Jails. With a high-end clientele, gorgeous over-water villas, and 5* service, this is the place to go for true luxury living.
5.9 Ayada – Love Charms
Ayada, located in Gaafu Dhaalu in the Southern Atolls, is my recommendation for anyone wishing to venture off the beaten path a little. The extra travel time (2 hours, including a domestic aircraft and a speedboat transfer) is definitely worth it, as there are less people, especially when compared to the Male Atolls. Although there is no house break within paddling reach of the resort, Ayada Maldives is surrounded by a slew of surf breaks, the nearest of which is only a 5-minute boat ride away.
Love Charms is one of the most reliable and popular breaks, although Blue Bowls and Tiger Stripes are the primary draws for those looking for powerful, barreling waves. Ayada Maldives, like the other resorts on the list, provides the Maldives resort elegance you've come to expect - and the selection of eating options and accommodation has something for everyone.
5.10 COMO Maalifushi – Farms/Mikados
COMO Maalifushi is The Maldives surf resort that takes the title for the most diversity of surf places, with easy access to over 20 surf breakers spread over three atolls. Yes, a surf stay at COMO Maalifushi includes a pass that lets you to visit breakers in Laamu Atoll, Thaa Atoll, and Dhaalu Atoll - think of it as the diversity of a surf charter combined with the convenience, comfort, and service of a private island resort!
With that level of service comes a full range of luxury accommodations (yes, including overwater bungalows and even a four-bedroom residence! ), an in-house spa, and a choice of three island restaurants that utilise the Como Shambhala Cuisine - their unique nutritional concept that basically makes everything super healthy and good for you!
5.11 Gili Lankanfushi – Jailbreaks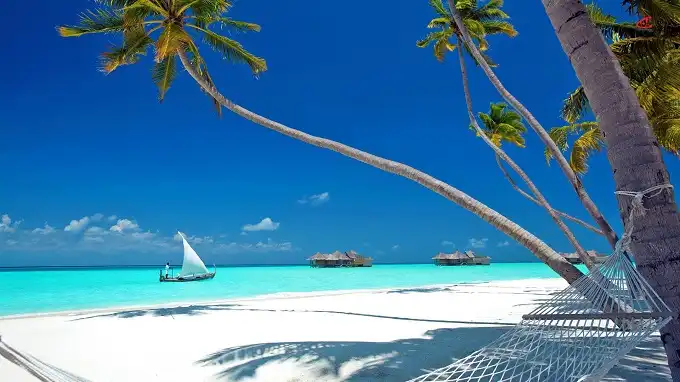 Want to experience luxury surfing at one of the best Maldives surf resorts? Gili Lankanfushi is the 2018 TripAdvisor Maldives Hotel Prize winner, which, as you can understand, is not an easy award to obtain! With the entire range of Garden, Beach, and Overwater bungalows for which the Maldives is famous, Gili Lankanfushi goes a step further with the Crusoe Residence - a set of two-story villas only accessible by boat!
There's also a variety of in-house eating options (including an overwater bar and restaurant in the lagoon) as well as a soothing spa to take the edge off those noodle arms. The nearest break to Gili Lankanfushi is Jailbreaks, a tremendously exciting right hander that delivers barrels and hackable walls on most swells and is one of the most reliable breakers in the area. Prepare to surf yourself stupid!
---
6. Budget Surfing Islands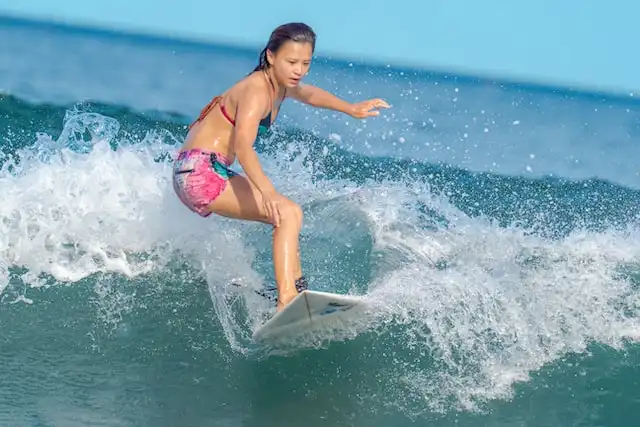 6.1 Male Atoll
6.1.1 Thulusdhoo
6.1.2 Bodu Huraa
6.1.3 Himmafushi
6.1.4 Gulhi
6.1.5 Maafushi
6.1.6 Guraidhoo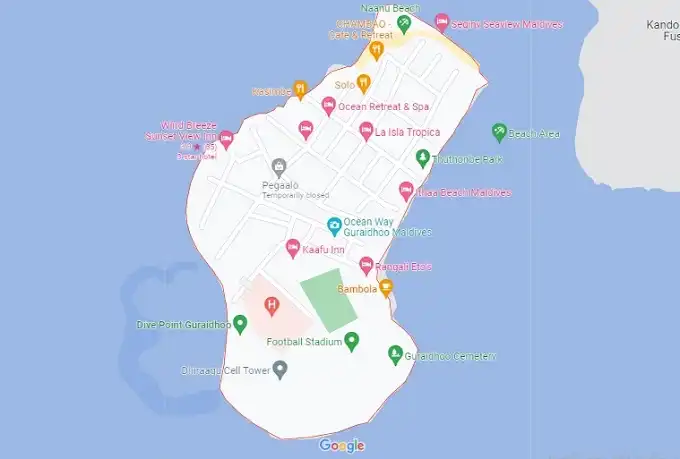 6.2 Central Atolls
6.2.1 M. Muli
6.2.2 M. Mulah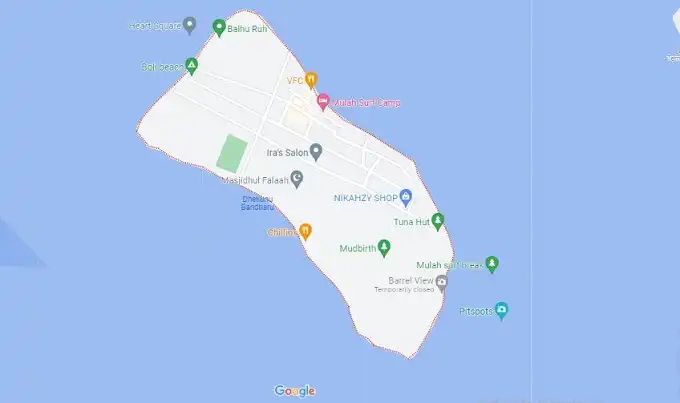 6.2.3 Dh. Kudahuvadhoo
6.2.4 Dh. Maaenboodhoo
6.2.5 Th. Thimarafushi
6.2.6 Th. Veymandoo
6.3 South Atolls
6.3.1 Ga. Vilingili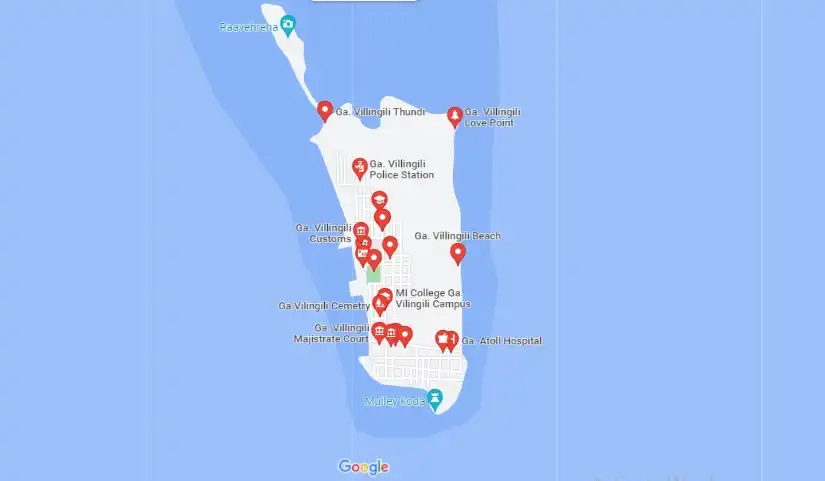 6.3.2 Ga. Maamendhoo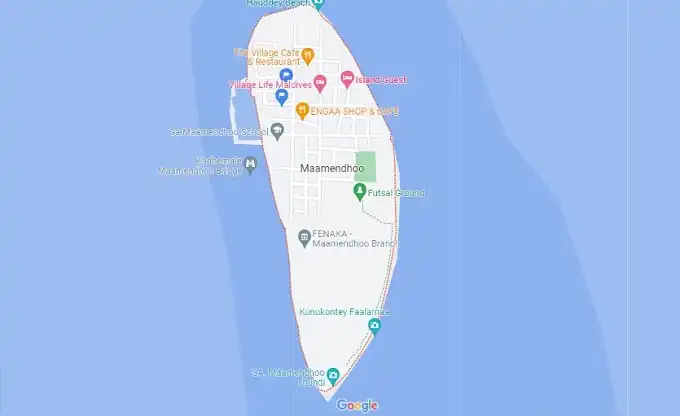 6.3.3 Ga. Gemanfushi
6.3.4 Gd. Vaadhoo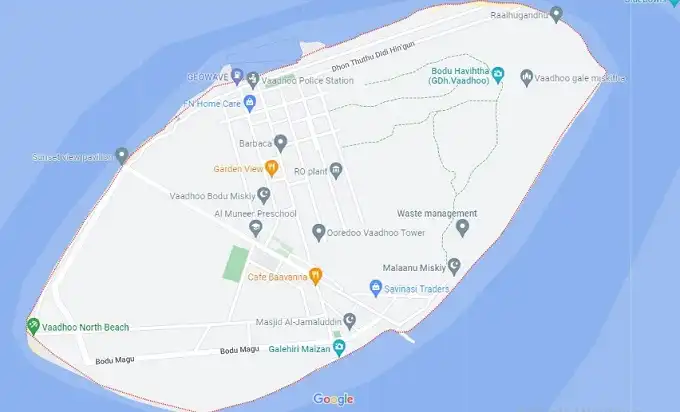 6.3.5 Gd. Madaveli
6.3.6 Gd. Thinadhoo
---
7. Maldives Travel Basics
7.1 Weather
The weather is beautiful and bright, with nice water and gentle trade breezes to keep you cool during the noon heat and humidity. The sun is a significant factor in the Maldives, so carry plenty of sunscreen (rash guards, sunscreen, sunglasses, etc.). Water temperatures hover about 27 C (81 F) all year, thus no wetsuit is required. While the surf season is also the "wet" season, clouds and squalls tend to move over the islands quite fast, which means that the weather stays very near to ideal most of the time, with air temperatures ranging from 68 to 86 degrees Fahrenheit (20 to 30 degrees Celsius).
7.2 Currency
The native currency is the Maldivian Rufiyaa, which is worth around 6 cents USD. This works out to about 15.42 Rufiyaa per US dollar.
7.3 Staying Connected
Almost all visitors to the Maldives stay at resorts, which usually provide Internet/Wi-Fi connection. When arriving at the airport, independent travellers can purchase SIM cards. These come preinstalled and are far less expensive than utilising roaming services on most overseas data plans.
7.4 Good to Know
The Maldives are a Muslim country as well as a tropical beach getaway. While the resorts are used to Western conventions and have no problem with tourists lazing all day in board shorts or bikinis, it is recommended that you dress modestly when you leave your resort and interact with the locals.
7.5 Travel Insurance
While we'd all prefer not to think about getting hurt, there are far too many examples of folks who didn't consider about insurance and ended up with massive medical expenditures.
---
8. Important Things You Need To Know About Surfing In The Maldives
1 - As many of you are aware, the Maldives are made up of 1,200 islands stretched across an 800km vertical line in the Indian Ocean.
2 - When I first saw the Atolls from above on my first trip to the Maldives in 1996, my first thought was, "Wow, here is the actual surfers paradise."
3 - If you're seeking for a bit more laid-back version of Indo that is far more user-friendly and politically relaxed, the Maldives is an incredible trip location that may be just as ideal.
4 - Due to its location in the centre of the Indian Ocean, a long way north, the Maldives does not normally carry as much punch and strength as Indonesia.
5 - During peak season (April to October), the Maldives still gets more than enough swell to keep the bulk of vacationers happy.
6 - They provided this breakdown on the important subject of where and how to best get uncrowded waves in the Maldives, including the best months and best spots.
Each section of the Maldives (southern, middle, and north/south Male) has its own distinct qualities and experiences to offer.
7 – What board size, volume etc. is best? Two best boards to bring?
The Maldives include a lengthy list of surf spots that range from hollow, fast, and shallow to enjoyable, forgiving waves. The best surfboard to carry is the one you are most at ease on in your daily grovelling at home. There is no need for large weapons because most sites allow for a simple take off even with some size. You'll be riding waves in the 2-4ft range with long playful walls the majority of the time, so a short hot-dogger and a more traditional board in the 6ft range are ideal.
---
---
More Questions?