Maldives Snorkeling, Fishing Diving and Water Sports Activities
30 Best Things To Do in Maldives
Maldives Activities
Are you looking for Maldives activities? Well, you are in the right place. We do arrange snorkeling, diving, and other water sports activities in the Maldives. Before we jump into any suggestions, we want to tell you that, the Maldives activities are primarily water-based. In the Maldives, there is just 1% of land and 99 percent of it is ocean water. The average island size is 2 km2, and the water separates all of the islands, making it difficult for tourists to visit other islands in a short period of time. The Maldives are also known for its crystal blue water, abundant marine life, and white sand beaches. In the Maldives, there are very few activities/ Yes, we know in a tourist destination like this, there should be many types of activities available. Sadly it's not the case, because of the dispersity it is not easy to travel around the Maldives, it requires lots of time money. That's why we do all the activities from Male and Hulhumale city. So let's go through some of the activities available with us in North Malé Atoll.
Quick Navigation (Topics covered)
---
Maldives Snorkeling
Today's primary focus is snorkeling, which is the most convenient method to discover the Maldives' aquatic life. Listed in the top ten list of the best world destinations because of their magical paradise setting and extraordinary luxury resorts, the Maldives are relatively well known for their deep ocean beautiful things, where diving and snorkeling are vital attributes in the search for an unforgettable experience in the archipelago. Snorkeling in the Maldives may reveal anything from yellowfin tuna, clownfish, and parrotfish to eagle rays, turtles, and even white tip sharks.
All the islands in the Maldives are surrounded by a reef and ocean. that's why in Maldives snorkeling is accessible for all the visitors freely, you will have to bring a snorkel, mask, fins, and life jacket with you, then you can do your own snorkeling tours around your island reef, but this is only recommended if you good swimmer and you have previous experience in the Maldives, because of the channels strong ocean current even good swimmers fail to swim against the current, and many sad incidents happened with tourists due to lack of experience and knowledge. Thats where we come to handy, We will arrange snorkeling tours to some best reefs, where you can see many fishes.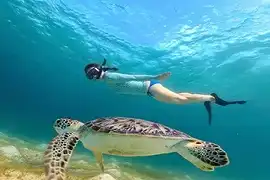 Snorkeling in the Maldives
When visiting the Maldives, you will undoubtedly encounter most of the island's famous activities, including snorkeling. It is the ideal destination for those who enjoy underwater experiences, with around 2500 reefs. About 900 of the 2500 reefs are house reefs. It goes without saying that snorkeling in the Maldives is unparalleled. The island's crystal clear seas and the azure oceans that surround it provide a wonderful experience. So, if you're planning a snorkeling excursion in the Maldives, here's what you should know.
What Is The Best Way To Snorkel The Maldives?
There are many ways to do snorkeling in Maldives but we found the best two ways to do a Maldives snorkeling trip are:
1. Stay at One or More Resorts With Great House Reefs for Snorkeling: During your journey, you might stay on one island with a fantastic house reef that could have been easily explored for a week or more. The resort also offered short boat rides to nearby reefs for snorkelling. Additionally, you can locate resorts with amazing reefs to explore.
2. A Snorkeler-Only Liveaboard Boat - You can have a terrific experience touring the southern region of the country by booking yourself on a snorkeler-only liveaboard boat. This is the greatest option if unrestricted snorkelling at numerous locations is what you're looking for. On a huge, comfortable yacht, you cruise around the atolls before boarding a smaller boat to head out to the snorkelling locations.
Who Can Snorkel?
Who is eligible to snorkel in the Maldives? Anyone can! because the calm, clean waters offer excellent opportunity for starting and exploring. The Maldives' marine life is an unendingly magnificent aquarium that is entirely natural. To marvel at the underwater environment and all the brilliant delights of the Indian Ocean, you do not need to dive far or deep.
Depending on the hotel, snorkelling may be waiting for you at the entrance to your villa, at the island's picturesque beaches, or in the lagoon. The waters around the Maldives are among the cleanest on earth, with an average annual water temperature of 20 ° to 30 ° C and frequently exceeding 32 ° C in lagoons. This provides for excellent underwater visibility.
If you can't swim, just don a mask, walk a little distance to the lagoon, and dip your head in. Most likely, you'll encounter some marine creatures curious about your feet. Even the youngest and oldest snorkelers may enjoy it because there are no waves and no dangers. If this is not your first time, you may comfortably explore the underwater landscapes of the Maldives while drifting over the surface of the blue seas with a mask, snorkel, and fins.
Is Snorkeling Safe In The Maldives Indian Ocean?
Yes, snorkelling in the Maldives is quite safe. Before you begin exploring, you will need to heed certain recommendations and guidance from your dive shop or snorkelling guide.
What Is Maldives Snorkeling Like?
Hard corals, including a variety of table, finger, staghorn, boulder, lobe, and brain corals, make up the majority of the reefs in the Maldives. A few soft corals, such as leather coral, were present, but there were no sea fans or rods like those found in the Caribbean. Among other things, you may snorkel on top of and around the margins of pinnacle reefs, over shallow patch reefs with sandy bottoms, and along coral wall walls.
Highlights of Maldives snorkelling include the following: stunning anemonefish hiding in and flitting around their anemones, gorgeous colourful giant clams, numerous Blacktip and Whitetip Reef Sharks, numerous Hawksbill Turtles, Whale Sharks, Eagle Rays, enormous schools of brilliant fusiliers, Clown Triggerfish, various interesting butterflyfish and bannerfish, and numerous octopus. Always, there was something intriguing to observe
Best time of year to go for snorkeling
In the Maldives, there are two distinct seasons known as monsoons. The dry season lasts from June through August. The rainy season is the Southwest Monsoon. It fluctuates when the seasons change. According to rainfall statistics, it appears that the months from May through December are the wettest while the months from January through April are the driest. The windiest months are March and April, both in terms of average wind speed and wind probability.
Good to Know
Children deserve twice as much care. Keep them close by or just bite the hands of the youngest or those who can't swim well enough. Also, don't forget to wear a shirt and sunscreen. If you intend to snorkel near your hotel's house reef, a snorkel life jacket is strongly advised.
Find a free spot in your suitcase to store your snorkelling gear if you want to save money. All resorts include masks, snorkels, and fins; however, renting a complete kit will run you roughly $8 per day / per person. If you want to spend a few days learning about the marine life, you may estimate the expenditures for a couple or a family without needing to be an expert mathematician.
Move to
---
Maldives Scuba Diving
The Maldives is famous for its beautiful beaches, clear water, and underwater marine life. Therefore scuba diving in maldives is a famous activity among the visitors. If you are a marine life lover, you must experience Maldives diving in best reefs. Now you might think isn't diving require some skills?  Yes, it requires skills and an open water certificate if you want to dive below 18 meters. It will take around 3-4 days of training to get you an open water certificate. the certificate is international and can be used anywhere else in the world. So what if you don't have 3-4 days for training, then you join our non-certified ding activity which is above 18 meters.
Experience the Maldives' stunning underwater environment with daily exciting dive tours at sunrise, noon, and night, from thila and waterways to wrecks and reefs. They have substantial coral reefs and a diverse fish population. In addition, piranhas, turtles, stingrays, whale sharks, and a kaleidoscope spectrum of tropical water species are regular on dive sites.
Aside from these, there are other best water sports that you can enjoy during your stay in the Maldives. The beautiful Indian ocean surrounds the country of Maldives, and most of the fun things in this country are related to water sports. So, make sure you know a bit about swimming and pack your water-friendly clothing and shoe items. In the end, do not forget to ask for precautions and safety considerations because your safety is the utmost priority.
Explore diving in the Maldives
The Maldives is an exquisite scuba diving destination, with crystal blue sea, white sand beaches, and excellent visibility. Manta rays, whale sharks, reef sharks, soft and hard corals, and other marine life may be seen during a diving vacation to the Maldives. The archipelago is also noted for its excellent selection of diving resorts, and liveaboards in the Maldives are available for all budgets, from low to high. Scuba diving in Maldives is also a fantastic recreational activity for people who prefer more active vacations rather than spending their days lounging by the pool... Read More..
---
Reef Fishing in Maldives
Maldives reef Fishing is a fun activity especially to do with family or friends. Fishing is the second source of income for the Maldives. Tuna is the most famous and common type of fish caught. There are two methods of fishing allowed in the Maldives and they are pole and line fishing. An estimated 500 tones of fishes are caught by Maldives fishermen daily and they the most exported product of the country. To catch Tuna fishes it requires a big boat which can travel far distance as tuna are spotted in the far distance. That's why we focus on reef fishes which can be caught from house reefs, if we are lucky, that's why these Maldives fishing trips are always called lucky reef fishing trips.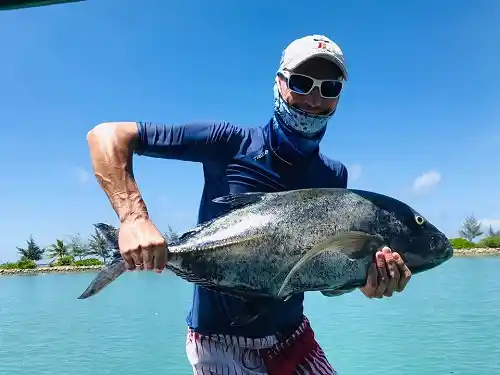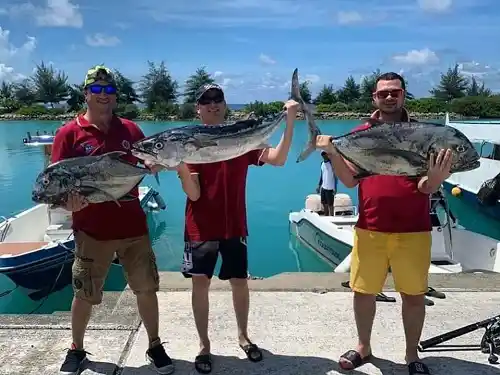 ---
Best Things To Do In Maldives
Island hopping and City Tours
The Maldives is a small country with a smaller population, but it has a vast history, being the top 20 poorest countries of the world in the early 1980s, the Maldives was also attacked by many invaders and budhism also were a religion followed by maldivian in early days. To find out about these stories, cultures, traditions, and lifestyle, you need to visit local islands. There are a total of 200 inhabited islands in 22 atolls.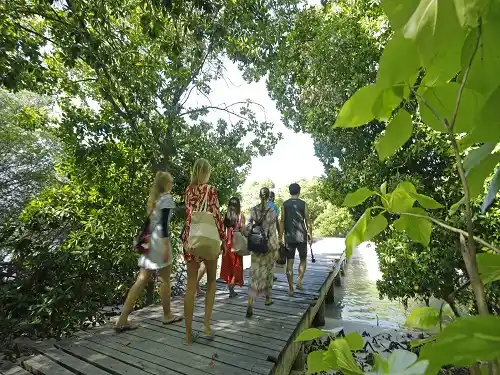 Sandbank Visiting
The islands in the Maldives are formed in different shapes and sizes. The islands from erupted volcanos, which later changes to a coral reefs and then form a sandbanks on top of the reefs. These sands banks later becomes islands. Some sandbanks get entirely submerged at high tide and surface only at low tide. There are many sandbanks across the country, to visit these sandbanks you need a boat transfer.
Sky Diving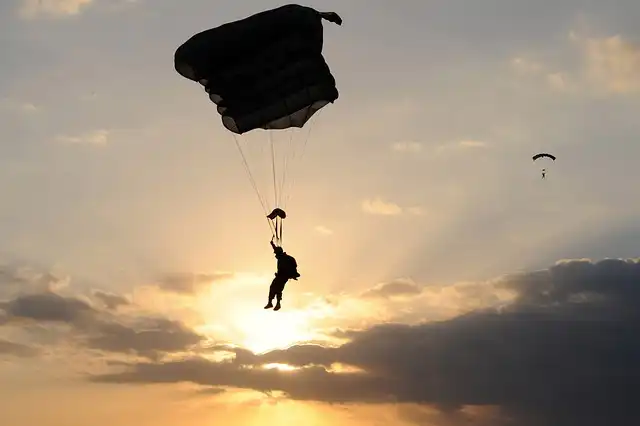 At 120 mph, skydive Maldives allows you to feel the exhilaration of free-falling over the gorgeous sky above the Maldives. The thrilling descent lasts roughly a minute, followed by a stunning and tranquil decline to the landing location or drop zone. As you glide down for a safe landing, take in the views of the archipelago country's various islands.
Tandem skydiving is an excellent opportunity for novices and first-time skydivers to get a taste of the exhilarating sport. You will be joined by highly trained experts whose gear will be attached to yours for a secure and thrilling experience while skydiving in the Maldives.
SPA Treatment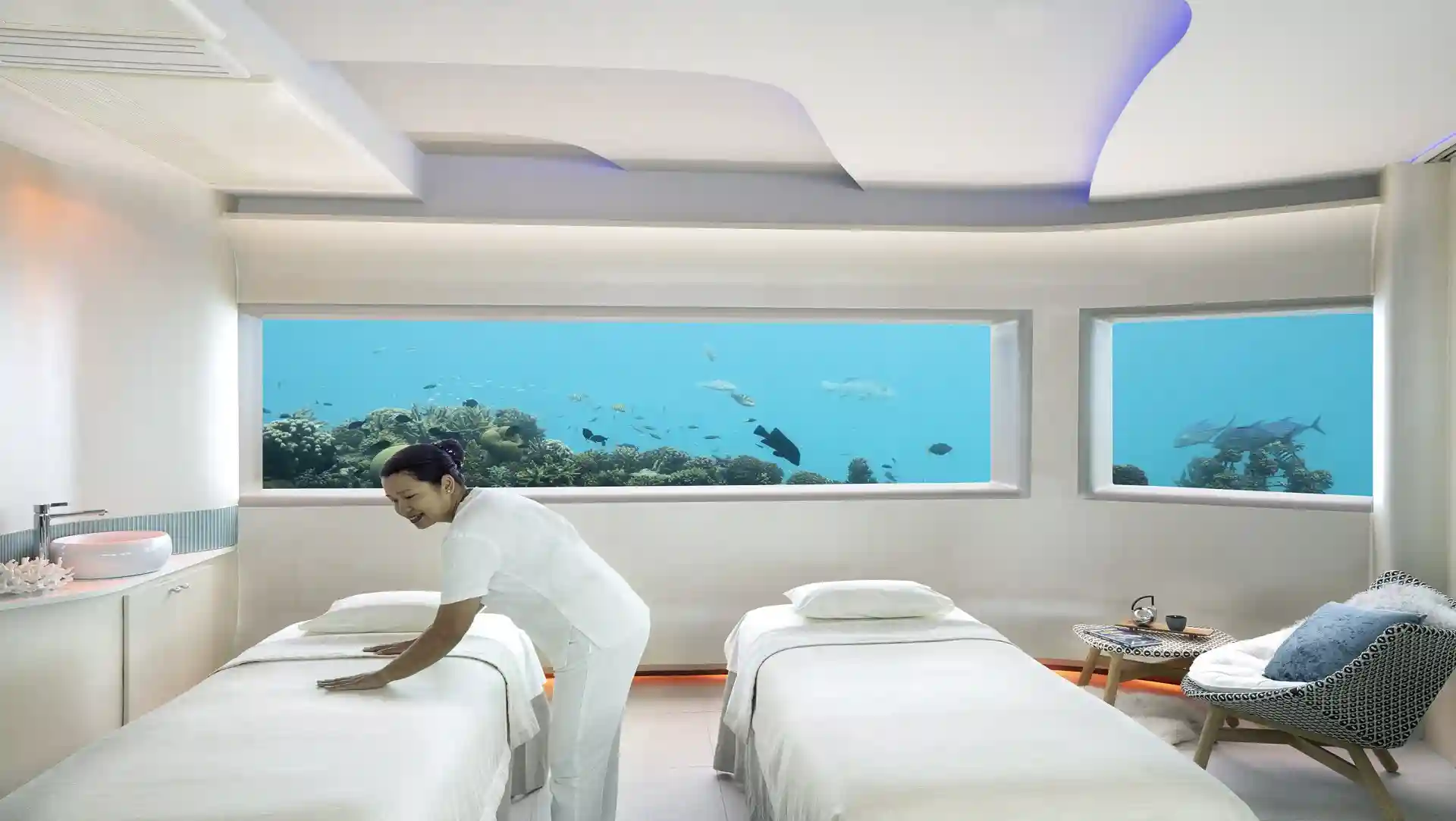 A spa treatment is one of the things to do in the Maldives. Adaaran Prestige Vadoo, for example, has an SPA where you may get a variety of treatments, including a Balinese massage. Facials and manicures are among the other services available.
Capital Male City Walking Tour
The Maldives capital city isn't exactly a popular tourist destination, but if you're looking for a true local experience, make it a point to visit. The local fruit and vegetable market, as well as the adjoining fish market, are the most interesting sites to visit in the capital city since you can see a lot of action and get a peek of the primary items of local cuisine. The extraordinary talents that fisherman demonstrate when cutting fish piqued my interest.
Day Visit to Resorts
The overwater villas with direct access to the sea are one of the Maldives' most well-known attractions. All I can say is that staying in one is a fantastic experience and one of the best things to do in the Maldives. The rooms are enormous, with the most luxurious beds; there is a plunge pool and a sundeck, as well as a jacuzzi in the back. The water and the breeze are the only sounds one can hear. Furthermore, the view is breathtaking.
Enjoy Sunset Cruise
A sunset sail is one of the top things to do in the Maldives if you want to truly appreciate the natural splendour of the archipelago's pristine islands.
Take a joyous hour-long cruise aboard a native boat or dhoni in the evening to take in the breathtaking views of the setting sun. You could get the chance to see some cute dolphins while you enjoy the panoramic views of nature while travelling.
Whale Shark Sighting
This is unquestionably a fantastic experience you can have when visiting the Maldives. You may take trips and purchase packages to view the whale shark, one of the most stunning and amazing animals, in its native habitat. One of the greatest locations to see a whale shark, which is one of the endangered fish species, is South Ari Atoll in the Maldives. Despite having gigantic jaws and hundreds of teeth, these fish are gentle giants who pose no threat to people. You must at least once in your life experience swimming with these gentle creatures who are accustomed to sharing the water with people.
Visit Glowing Beach on Vaadhoo Island
Visit the "Sea of Stars" on Vaadhoo Island to spice up your typical beach days. Under the moonlight, the sea here appears to be glistening magnificently.
The free-floating, tiny planktons of the ocean show this phenomenon, known as bioluminescence, as a kind of defence against predators. The sea's bioluminescence phenomenon gives the water its blue and brilliant appearance. The water is completely safe for you to play in because it emits a cool blue light and produces no heat.
Dolphin Watching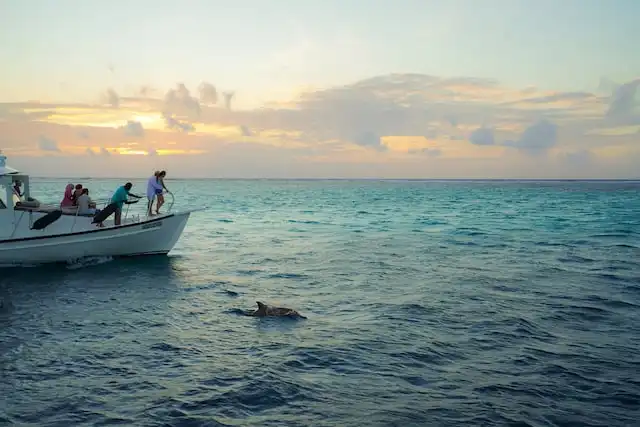 Another thrilling activity to do while on vacation in the Maldives is dolphin watching. Dolphin tours at Cinnamon Hakurra are renowned for being extraordinary. Visit at sunset to see playful animals enhancing the beautiful scenery. This is one of the most well-liked entertaining activities in the Maldives, especially if you are travelling with children.
Submarine Tour
For non-divers who want to see the splendour of the Maldives' underwater environment, this trip is especially advised. Witness rare fish, turtle, and shark ray species in their native habitats while taking in the breathtaking vistas of the reef.
The state-of-the-art Whale Submarine, which presently holds the record for the largest tourist submarine in existence, is a fantastic opportunity to explore the undersea environment.
Stroll at Hulhumale Beach
The most popular recommendation for beach lovers visiting the Maldives is to take a leisurely stroll along the stunning Hulhumale artificial beach Beach. One of the most romantic experiences anyone would want to have on an island is strolling on the beautiful white sand with their significant other while wearing only their underwear.
You may also take in the most breath-taking sunset views as you stroll down the artificial beach in the evening. Additionally, you may have some genuine and delectable seafood at any of the many cafés and stands that line the white sands of the beach.
Interact with Locals
Interacting with people is another enjoyable activity to undertake in the Maldives. The Maldives is renowned for its wonderful culture, and through connecting with the people there, one may learn more about its influences. Discover the actual spirit of the area by sneaking a peek at the adjacent villages and partaking in the gastronomic festivals, rituals, and ceremonies.
Virgin Islands Excursion
After landing a tasty catch, travel to a barren island in the Maldives for food and celebration. With the entire island to yourself, soak in the untamed nature all around you, stroll along the spotless beaches, and go swimming in the clear seas.
Party at Subsix
If you're still unsure of what to do in the Maldives, there's a possibility you haven't heard of partying on the gorgeous archipelago while submerged 10 feet below the surface. Off the shore of Niyama Island, 6 metres below sea level, there is a restaurant and bar named Subsix that is enclosed in fibreglass.
Subsix, which is regarded as the first and only underwater nightclub in the world, provides a distinctive partying experience with full-throttle music, mouth-watering cuisine, exotic drinks, top-shelf wines, and magnificent views of manta rays and other colourful fish.
Romantic Dinner at Undersea Restaurant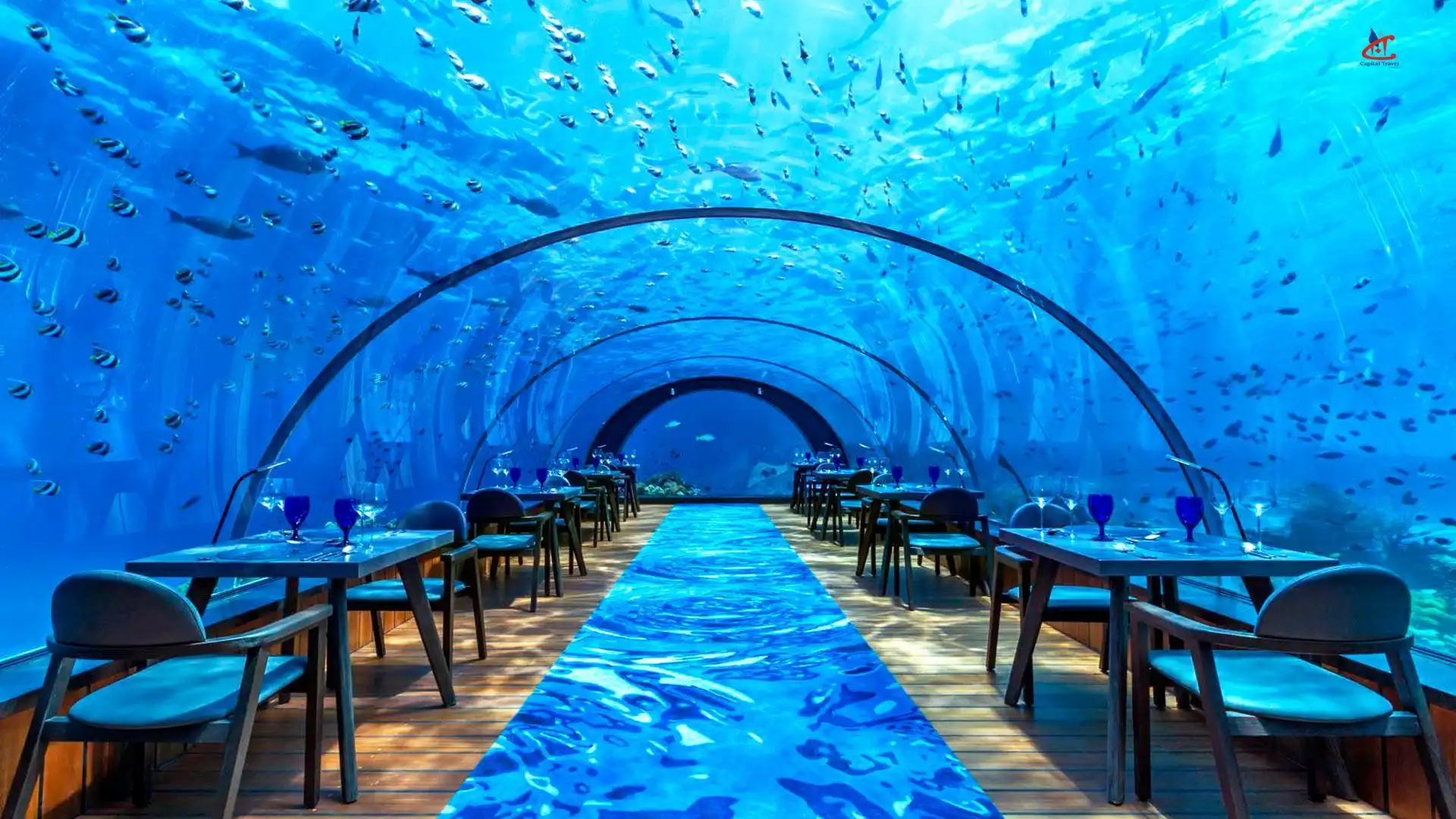 One of the finest things to do in the Maldives for someone looking for a unique dining experience is to go to 5.8 Undersea Restaurant. Take your special someone out to supper at Hurawalhi Island Resort. At this one-of-a-kind underwater restaurant, 5.8 metres below sea level, you may indulge in delectable and exotic gourmet dishes.
You may take in the stunning views of the vibrant aquatic environment while indulging in the contemporary and inventive cuisine provided here. Enjoying fresh seafood dishes while waving at sharks and reef fish passing by your dinner table will undoubtedly be an experience of a lifetime.
History at Maldives National Museum
One of the things that history aficionados like to do in the Maldives is take a stroll through the rich history that has been preserved in the National Museum. This fascinating museum, which displays and preserves a sizable collection of royal antiques and artefacts, aims to instil a sense of patriotism among the Maldivian people.
The National Museum, which is located in the lovely Sultan Park, houses paper and cloth texts, historical armour and weapons, ethnographic items, as well as diverse jewels and royal regalia from bygone eras. The National Museum of the Maldives is regarded as the centre of historical knowledge and the pinnacle of the nation's priceless legacy.
Watch Boduberu Show
Watching the venerable Boduberu performance is among the most fun things to do in the Maldives. This lovely, timeless performance will bring to life African folktales that are said to be more than 900 years old through song and dance.
The Boduberu Show will teach you a lot about the Maldives' rich history, historical tales, and significant historical events. You'll be compelled to tap your feet in time to the music as drums and rhythms merge with the harmony of the pitch of the ancient tunes.
Water sports and excursions in the Maldives
Water sports in Maldives activities are mostly best for young people because it requires some level of fitness. If you are a young traveler with good fitness, there are some water sports activities that you should try, among them windsurfing, jet-ski, catamaran riding, surfing and water ski are among the most famous water sports and can be available from many places. These sports require talent and if you are a beginner, it is highly recommended to do with all safety measures. Apart from these, there are also some low-level activities which you can do with elderly peoples and children like (fishing, excursions and kayaking etc...)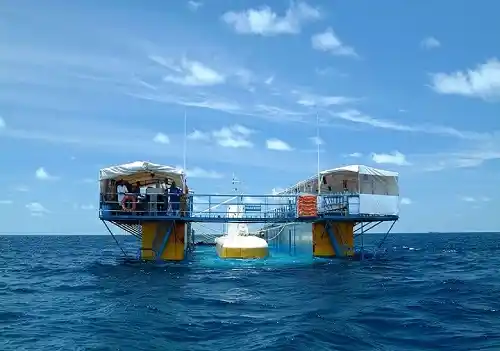 ---
15 Best Water Sports To Do in the Maldives in 2022

Are you seeking the most significant water activities in the Maldives or things to do in Maldives? Perfect beaches and thrilling water sports activities may be found in the beautiful island country. Here's a list of the most significant water activities to try in the Maldives during your visit to the stunning islands. Please take a peek to learn more about the greatest among them!

The island's natural surroundings, including pristine white beaches with blue lagoons surrounding them and lush palm trees, provide a relaxing scene. The magnificent coral gardens below the Indian Ocean make the island even more stunning.

Not only that, but the island intends to keep you occupied while still providing a relaxing environment. There are a plethora of water activities to choose from.

1. Wakeboarding

Have you ever wondered how it might feel to stand atop a wave? Have you really thought about it? If you've experienced this fantasy as well, there's excellent news! Wakeboarding is a sport that can help you achieve that goal. Wakeboarding is a perfect Maldives water activity that requires walking on water while hanging onto a rope. Maintaining balance is the most critical aspect of the activity. This is one of the most popular water activities in the Maldives. The best months to participate in this sport are April through October.

Try to grasp better your center of gravity and how to stay balanced.

2. Catamaran Sailing

As you relax aboard a gorgeous catamaran, let the quiet, lilting seas of the Indian Ocean serenade you! These sailboats provide seclusion, elegance, and excellent vacation moods while you relax with a loved one and take in the breathtaking views of the Maldives. If you view the sunset from a catamaran, you'll get bonus points!

From November to April is the best time to enjoy this pastime. Catamarans are available for hire at all of the country's main ports. In addition to agencies, resort islands provide charters.

The average cost is USD 50-80 per person for one hour, including a guide and staff. Sailing lessons are also available for USD 60 per hour per person.

3. Flyboarding

It's hard to discuss water sports in the Maldives without mentioning flyboarding. Flyboarding is for you if you dare to try something that not everyone is doing, including danger (TBH). It is an intense sport that was only recently developed. Flyboarding is one of the most popular water sports in the Maldives because it includes getting on a flyboard connected to a jet ski via a hose and propels it into the air.

May through October is the best time to participate in this sport. If you're a newbie, don your safety gear and stay balanced because this is one of the most difficult Maldives adventure activities.

The average cost is USD 150 per person for half an hour, including a guide and staff. USD 75 per person for a pro ride for 15 minutes.

4. Kayaking

This is one of the Maldives' most popular adventure sports, and for a good reason. As you become one with the flowing waves, explore and experience the shoreline at your speed, and watch your worries go away!

April through October is the best time to enjoy this activity. Location: Kayaking facilities may be found on practically every beach in the Maldives, including little beaches on local islands

Kayaks are frequently provided free of charge to guests at resort islands. In addition, a kayak may be rented for as little as USD 10 - USD 50 per individual. Kayak rentals are also available for free at several public beaches.

5. Fun Tubing

Isn't the name enough to pique your interest? The word "fun" is in the name of this pastime, and we don't think anyone needs more reason to like it. Contrary to many other water activities in the Maldives, fun tubing entails boarding an inflatable, unpowered tube that will propel you through the water at a high rate. The finest part is the rough ride you'll have on the lake. Believe us when we say it's well worth it. This is one of the top water activities in the Maldives.

The best time to participate in this sport is from April through October. It is preferable to wear old sneakers or water shoes.

Estimated cost: USD 130 for two individuals for 20 minutes.

---

---

6. Hydrofoil Experiences

Imagine yourself like a marine bird soaring above the waves. With the advent of four groundbreaking hydrofoil experiences: Kite Foiling, Wake Foiling, Lift Foiling, and Naish Wing-Surfer, Four Seasons Resort Maldives at Landaa Giraavaru is now the first hotel in the Maldives to make flying fantasies come true.

Kite Foiling is kitesurfing with the inclusion of a hydrofoil under the surfboard, allowing surfers to "fly" over the water's surface at incredible speeds. With the Resort's cutting-edge North Pro hydrofoil kiteboard, riders may experience genuine synchrony with the water.

For those who wish to surf the waves behind the Resort's Master Craft ski boat, the Slingshot Wake Foil combines the pleasure of wakeboarding with the added thrill of operating a hydrofoil.

The electric foil board employs a hand controller synchronized with an electric engine so riders may pick their own pace and learn the skill of "flying" over the water's surface.

Wing-Surfer Naish: The wing-surfer is an excellent option for anyone searching for fresh wind-powered excitement. It's the ultimate portable inflated board riding wing with no gear or strings connected, and it's a hybrid between a windsurfing sail and a kiteboarding kite.

7. Parasailing

Parasailing is one of the most significant water activities in the Maldives because it allows you to fly away and forget about your concerns for a bit. It gives you a bird's eye perspective of the gorgeous nation, and you will have the time of your life since you are up in the sky. Of course, we understand that flying with a parachute while tethered and pulling a speedboat is risky, but what is life if you don't take chances?

The best time to participate in this sport is from May to October.

Check the weather forecast and pay attention to your teacher because this is one of the most dangerous water sports in the Maldives if not done correctly.

Parasailing will cost you 90 USD per person for 10 minutes in the Maldives.

8. Surfing Maldives

Regardless of your skill level, the Maldives is the finest spot to surf the waves. The Maldives cover a broad region in the Indian Ocean, and some of the atolls have excellent surf breaks. The ideal months to go surfing in the Maldives are April through October. As high-end Maldives resorts have built-in distant locales near formerly difficult-to-access breakers, luxury surf excursions to the Maldives have grown increasingly popular.

The Maldives' surfer community comprises skilled and inexperienced riders looking for a piece of the action. Pros should travel to the Northern Male Atolls' outer reef breaks, while beginners should stick to the lagoons' smaller waves. If you are a complete novice, you may learn to surf in Thulusdhoo, Himmafushi, or Guraidhoo, where several surf schools are.

9. Windsurfing

Windsurfing, for example, provides you the good exhilarating sensation of surfing in those cold breezy breezes above the waves while still allowing you to enjoy the trip through them. That's correct; if you book the proper resorts, windsurfing in the Maldives may be one of the top water activities in the country. Even if you don't book via an alternative, you can always find a place to ask around and communicate with the locals or hotel staff.

From May through October is the best season to enjoy this sport. However, if you're a newbie in windsurfing, it's critical to find a safe environment where you may practice and learn.

10. Big Game Fishing

The Maldives are one of the most popular fishing destinations globally, thanks to the best blend of crystal clear seas, white-sand beaches, and a diverse range of marine life. Fishing is a huge part of the Maldives experience, and many anglers dream of chartering a boat and catching a monster fish that will actually move you! Maybe you've heard lots about this beach resort but have no idea what fishing looks like or what the most popular fishing tactics are. The Maldives boasts some of the world's most significant fishing areas, and you don't have to go far from the beach to set new records.

The Maldives is a fantastic fishing location for expert and amateur anglers alike, featuring spectacular prize sailfish and marlin, as well as shark, GT, gigantic barracuda, rainbow-runner, and wahoo.

11. Jet Skiing

One of the most popular activities in the Maldives and a thrilling adventure not to be skipped is Jet Skiing. Today, Jet Ski Safari is getting increasingly popular. Explore the Maldives' other islands, snorkel a secret coral, and visit the lovely areas that are only viewable by Jet Ski.

The newest boats with minimal emissions and noise levels are used in an ecologically friendly approach to jet skiing. Get up and personal with the island's natural beauty while maintaining its tranquility. This slow-paced, interpretative encounter respects the environment and provides a fresh viewpoint on the Maldives. It provides visitors with an adventure with a professional guide and the opportunity to swim on a distant coral and view other Maldives islands.

12. Banana Boating

This delightful pastime involves riding on a big boat that you are harnessed to so you don't fall over while you speed across the ocean's deep blue seas. This adrenaline-pumping team activity is a must-do in the Maldives. So keep holiday hunger at bay with a banana a day, minions!

April through October is the best season to visit. This is available at practically every resort beach across the country. Malé, Baa Atoll, Ari Atolls, and Kaafu Atoll are the most popular.

For 20 minutes, the average cost is between $50 and $80 per person.

13. Stand-up Paddleboard

Take a seat. Stand-up paddleboarding or paddleboarding is a new worldwide sport with roots in Hawaii. It's also a fantastic way to glide across the stunning seas of the Maldivian reefs. With these boards, the possibilities are infinite because you may do several activities by yourself or with others. SUP boards may be used for a variety of activities. While paddling, you can either stand on the board or sit. While your pal's paddle, relax on the board's tip. On a shallow day, explore the water snorkeling.

14. Whale Submarine Tour

During your 45-minute dive, you will find yourself gliding through a tropical fish-filled aquatic terrain. The whale submarine will take you 45 meters beneath the surface to an underwater reef. The seafloor and several varieties of reef fish were seen throughout the descent. The sub is usually met by a swarm of blue or reddish Snapper fish during its dives.

The Whale Submarine Maldives is the world's largest and deepest diving passenger submarine, capable of transporting 50 passengers and three crew members to depths of up to 150 meters.

The Maldives submarine tour transportation boat will pick you up from Male city or the airport and transport you to the submarine diving spot where your Maldives submarine tour will begin.

15. Dolphin Cruise

The Maldives is regarded as one of the best spots to see dolphins. So nature enthusiasts who go out into the vast blue ocean to pursue these lively marine creatures will be in for a treat.

Muli Channel in the Meemu Atoll is a little-known and little-discussed location. It is, nevertheless, without a doubt one of the top dolphin sites in the Maldives. Medhufushi Beach Hotel and Hakuraa Hura are the only resorts in Meemu Atoll. The atoll's lack of alternatives may be one of the reasons it's not well-known among travelers.

The dry season in the Maldives is the finest time to visit, especially between January and April, because dolphins prefer to visit when the weather is favorable.
---
What Can You See In Underwater Maldives?
Almost anything It would take an entire book to list the rich diversity of marine animals. However, in a few days you will encounter or observe from a distance dolphins, rays, reef sharks, sea turtles, amazing coral forms around some house reefs (rare beauty at the moment), moray eels, napoleons vrasse, reef fish of all colours and sizes, play alone or with schools, macro creatures, squid, and the list goes on.
Sharks are very common in Maldives and you will be able to observe many different species.
The Black Tip and White Tip is the most typical one in the Maldives. You may come across reef sharks strolling on the reefs, occasionally in the lagoon, or even under your water villa. Other shark species are seen, but primarily during scuba diving. The White Tip and Black Tip.
Manta Rays
Their primary food source, planktons, guide them as they travel. They may be seen on the western part of the Maldives throughout our winter (December to April). Manta rays reside in the eastern side of the Maldives for the remainder of the year. The finest area in the world to swim with mantas is in BAA Atoll, which is the most well-known location to watch them: Hanifaru Bay. The world's biggest known manta feeding aggregation location is Hanifaru, a UNESCO Biosphere Reserve. At Hanifaru, mantas congregate during the South West Monsoon, which typically lasts from May to November.
Whale Sharks
There are numerous recognised whale shark sanctuaries in the Maldives. The two most well-known atolls in the Maldives, BAA Atoll and South Ari, are the finest places to observe whale sharks. Whale sharks are absent from certain atolls, such as Noonu in the North, or they are few, like in Faafu Atoll. Scuba diving in the Maldives will increase your chances of seeing whale sharks, but if you're very lucky, you could even get to meet one if you're at the right place and time.
Best Maldives Snorkeling Tips For Beginners
The Maldives is a collection of 26 atolls in the Indian Ocean to the south of India. 200 of the approximately 1200 islands in the nation are inhabited. The highest point is only a little more than 8 feet above sea level, making it the nation with the lowest elevation in the world.
You may fly to the Maldives from the United States through Asia or the Middle East. You will be landing at Ibrahim Nasir International Airport (also known as Male International Airport), which is located on Hulhule Island in North Malé Atoll close to the capital island of Malé. In order to go to your Maldives snorkelling resort or liveaboard boat from there, you will need to take a boat, seaplane, domestic aircraft, or a combination of all of them.
Wear Your Mask and Fins Properly : The finest and most crucial snorkelling advice is that your mask must suit your face. Inhale through your nose while holding the snorkel mask against your face. You have it if the mask seals correctly and remains in place without being held. Pick a set of fins that are snug without being overly tight. You can experience cramps if they even slightly discomfort or curl your toes. Your fins should always be somewhat larger than too tiny. Once both of your feet are moist, they will fit more easily.
Defog: Learn how to defog, which is another of the greatest snorkelling advice. Going through all the trouble is pointless if you don't actually see anything. Some suggestions for having a defogging substance in your lenses include gels, crushed leaves, or even a little drop of Johnson's Baby Shampoo washed with seawater.
Practice Your Breathing : Before diving in, practise using your snorkel with your head above water. Wear a mask and inhale through the tube. If you bite the tube, your jaw will quickly become quite uncomfortable. Instead, rest your teeth. To relax, do some breathing techniques. One of the finest snorkelling techniques is to practise the traditional peaceful floating motion while face-down in the water once you feel comfortable. You'll see a lot of interesting stuff underwater while you're at it, which will aid with your concentration.
Check the weather and Ocean currents: The Maldives is beautiful but also can be dangerous for swimmers without the knowledge of the area, ocean currents and weather updates. The ocean current in some parts of the Maldives is very high that even the best swimmers find it difficult to swim against the current.
Know your Limits : The finest snorkelling advice someone could give you is to become aware of your limitations. This is an important skill that is frequently ignored. There is no justification for pushing yourself when snorkelling. As you gain experience, these will develop and evolve. Once you are aware of and take into account all elements, including water temperature, surge, currents, and water clarity, snorkelling will be much more enjoyable for a relaxed snorkeler.
Check out the area. Location is crucial. While it may look like a great place to snorkel in any location surrounding the Maldives at first glance, this is not always the case. The ideal snorkelling locations and how to get there and back should be discussed with a local team due to the aforementioned currents, as well as your expertise and comfort in the water.
Sunblock is a must. The sun's beams in the Maldives are intense, or in other words, crazy intense, because of the high air transparency. Make sure to cover all exposed skin with enough UV protection that has an SPF of at least 30. We advise you to also put on a UV-resistant rash vest or just a plain t-shirt for even more protection. Drink enough of water to replenish your fluids both before and after you leave the water.
Don't touch marine life: When snorkelling or scuba diving, avoid walking on the corals or kicking them with your fins. Despite their proximity, marine animals should never be touched or chased since doing so can harm them.
---
Best Snorkeling Reefs
I know by now you must be looking for an unforgettable experience of snorkeling in the Maldives. The following are some of the places you can indulge in snorkeling:
Banana reef – kuda kalhi
Banana Reef, located in North Mal- Atoll, is internationally famous for being one of the greatest diving spots in the world, adding it to the list of top Maldives areas of interest. It was, in fact, the first diving location in the Maldives to be recognised for licenced diving and training. The gorgeous banana shape of Banana Reef earned it the name, and it is home to some of the most beautiful marine animals. It provides a home for gorgeous fish, coral, and marine life, all of which you may swim with. Bannerfish, rays, black snapper fish, sharks, barracudas, huge squirrelfish, oriental sweetlips, soldierfish, and grub fish are among the species available.
HP reef – Male Atoll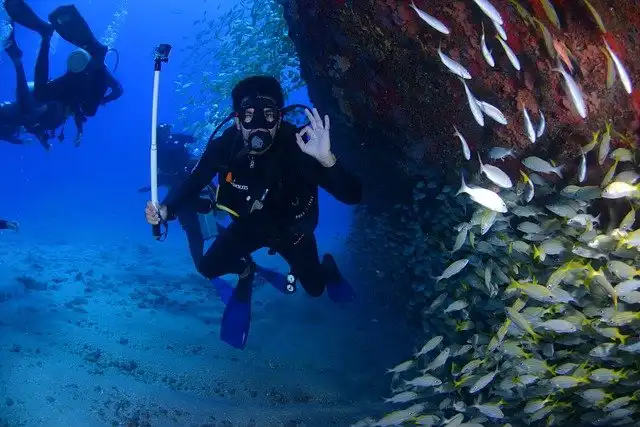 In the Maldivian language, it's called "Girifushi Thila." Small reef fish and huge pelagic species such as grey reef sharks, eagle rays, tuna, and barracudas can be found on the HP reef. Apart from the fish and other sea critters, the reef's bright colors, which have earned it the label "rainbow reef," will astound you.
North Male Atoll
Manta Point – Lankanfinolhu Island
For snorkelers looking for an uncommon but thrilling underwater experience as well as a chance to witness the docile and enormous Manta Rays, this reef is a must-see! If you wish to be able to view these delicate beings up close, you must maintain absolute calmness. If you're fortunate, a ray could even approach you and say "Hello"! Mantas congregate on the reef, which is also known as Emas Thila and has a length of nearly a kilometre. There are also masked bannerfish, squirrel fish, spangled emperor fish, napoleons, and sharks that you may see in this area.
North Male Atoll
You don't have to travel far to find spectacular shipwrecks on North Malé Atoll. The Victory was a cargo ship that went down in the ocean in 1981. It is located between Male and Hulhumale on the southwestern edge of Hulhule Airport Island. Angsana Ihuru, north of Baros (which also has a great house reef for snorkeling), has its own wreck. It's called the Rannamaari, and it's an old sand-dredging ship that was submerged in 1999 to make wreck diving easier.
Banana Reef – Kuda Kalhi
It gets its name from the fact that it actually resembles a banana and is home to the most gorgeous marine creatures. You will enjoy swimming with the stunning fish, corals, and other marine creatures that call the reef home. The Palette Surgeonfish (Finding Nemo's "Dory") is one of the well-known species you may see here, along with bannerfish, rays, black snapper fish, sharks, barracudas, huge squirrelfish, oriental sweetlips, soldierfish, and grub fish.
South Male Atoll
South is more tranquil. Divers will enjoy the tough topography of Male Atoll. The many caverns and six main thilas (channels) there support a large amount of marine life, including a variety of sharks. Cocoa Thila (also known as Cocoa Corner) is a towering deep-water pinnacle in the center of the Kandooma channel with multiple ravines. Guraidhoo Kandu South (also known as Guraidhoo Corner) is known for its varied topography, while Vadhoo Caves hide a swarm of aquatic life from the powerful current. Beginner divers can explore the Kuda Giri shipwreck, which is located between the islands of Maafushi and Dhigufinolhu.
If you're on a budget, Maafushi, a touristy local inhabited island, is a great place to go scuba diving. The lodging is modest, and there are numerous diving centers that offer visits to the various places. Snorkeling expeditions to sites like Maafushi Corner are also organized by guesthouses.
North Ari Atoll (Alifu Alifu Atoll)
Scenic and convenient West of Male is Ari Atoll (also known as Alif or Alifu Atoll). It's a dream destination for divers and snorkelers because it's both accessible and boasts a plethora of spots teeming with large pelagic fish. Rather than vast sections of coral barrier reef, the atoll's topography comprises thilas.
North Ari Atoll dive sites are more technically challenging than South Ari Atoll dive sites. The most well-known location is Maaya Thila, which is located northwest of Ukulhas Island. It has one of the best night dives in the world, as well as a fantastic opportunity to swim with sharks. The Fish Head area, located in Mushimasmingili Thila's southeastern portion, is another great dive location with a variety marine life. At Hammerhead Point, advanced deep divers can see elusive Hammerhead Sharks.
South Ari Atoll (Alifu Dhaalu Atoll)
Is it on your bucket list to swim with whale sharks, the world's largest fish? One of the best sites in the world to do so is the South Ari Atoll! Year-round on the outer reef, especially in the Maamigili Marine Protected Area near the southern extremity of the atoll, these unusually tranquil creatures can be spotted. From May to November, they visit Dhidhdhoo Beyru Feru more than any other location. Because of its shallow plateau, Sun Island's house reef is ideal for viewing whale sharks. Snorkelers can also participate in the fun.
South Ari Atoll (Alifu Dhaalu Atoll)
Baa, Lhaviyani, Noonu, and Raa are among the northern atolls. The Baa Atoll's Hanifaru Bay is one of the region's most popular tourist destinations. It's the world's largest known manta ray feeding aggregation location, and it's a UNESCO Biosphere Reserve. During the southwestern monsoon, from May to November, tens of thousands of mantas and whale sharks congregate there to feed on plankton. Diving is no longer permitted, so all you can do is snorkel! In Baa Atoll, the house reefs at Reethi Beach Resort and Vakkaru Resort are good.
Manta point – Lankanfinolhu Island
This is a must-see reef for snorkelers seeking novel but exciting underwater adventures as well as encounters with the gentle and enormous manta rays. You'll need to keep your cool if you want to view these peaceful beings up close. The reef, also known as "Emas Thila," is about a kilometer long and is home to manta rays. Masked bannerfish, squirrelfish, spangled emperor fish, napoleons, and sharks are among the other animals you can engage with here.
---
Best Resort Islands With Good Reefs for snorkeling in the Maldives
No matter what time of year you visit, the Maldives are always stunning. The finest months for snorkeling, swimming, and diving are January and April. This is when you'll get the greatest weather and clearest water, both of which are essential components of a memorable snorkeling adventure. The following are the greatest snorkeling islands in the Maldives.
Bandos Island Resort
For those planning a Maldives snorkeling holiday, Bandos private island has a variety of options. Turquoise lagoons, verdant foliage, and pearl white beaches, among other magnificent qualities, will leave you speechless. The resort is located 7 kilometers from Male International Airport in the North Malé Atoll. Bandos has a variety of nice accommodations in various categories. Wrasses, parrotfish, angelfish, and clownfish are just a few of the colorful tropical fish you'll see at this enticing resort's house reef. You may also see octopus and manta rays on occasion.
Biyadhoo island Resort
It is not necessary to spend a lot of money to stay in the greatest Maldives resort. Biyadhoo Island, located just a few miles from Male and about 30 minutes away by speedboat, offers basic accommodations surrounded by beautiful scenery. Biydhoo private island is known for its rich vegetation and beautiful beach, which has an amazing house reef. You'll also get to meet fantastic performers like Napoleon wrasses, eagle rays, and a large group of fish. You might even see dolphins and manta rays if you're lucky. Biyadhoo is popular among snorkelers who want to experience Maldivian style at a low cost.
Centara Grand Island Resort
Centara Grand Resort is the real deal when it comes to the best snorkeling in the Maldives. Diverse marine life may be seen on this world-class house reef, which also includes a sunken shipwreck. Green fins certification is available at the resort. The United Nations Environment Programme and the Reef-World Foundation founded it. As a result, the resort encourages safe Maldives snorkeling. Fish, turtles, and reef sharks abound on the amazing home reef.
Constance Moofushi Resort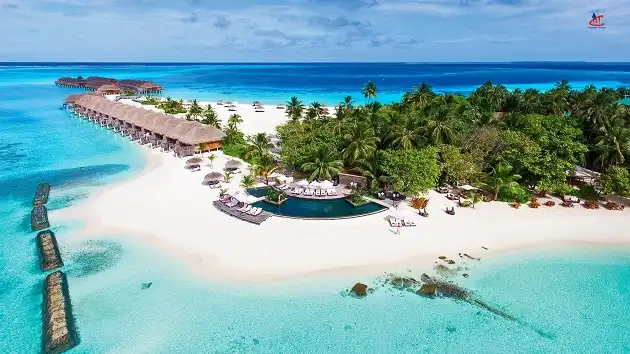 Another beautiful house reef. Despite the abundance of activities available, you'll find yourself snorkeling on a regular basis at the resort. It's an enthralling seascape teeming with fish. You'll see Nemos, Dorys, Turtles, and reef sharks, among other things. The private island is known as "the jewel of the Indian Ocean," since it is a perfect blend of elegance and simplicity, with everything in its place.
The Anantara Kihavah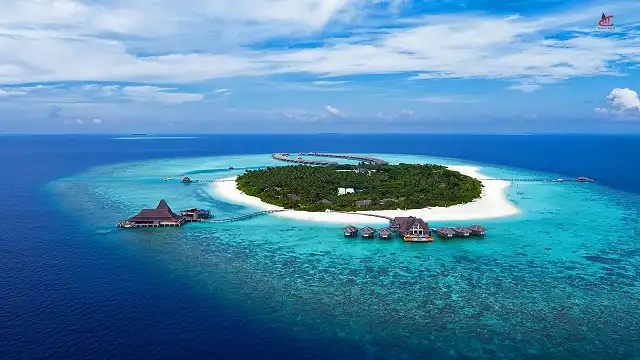 We cordially invite you to spend your ideal break at Anantara Kihavah Maldives Villas. Choose a beach property tucked away on beautiful beaches or an overwater villa with an unending ocean view. With a variety of thrilling water activities and the Anantara Spa, you may inject a little excitement into your Maldives trip. while snorkelling on some of the most valuable reefs in the world that are located within a UNESCO World Biosphere Reserve.
Six Senses Laamu
Six Senses In the Laamu Atoll, in the Maldives' southern region, there is only one resort: Laamu. It may be reached on kadhoo ariport by taking a quick motorboat trip after a 35-minute domestic flight from Male International Airport to Kadhdhoo.
Baros Maldives
Only 25 minutes by speedboat from the Maldives International Airport, the Baros Maldives luxury hotel resort is located on a small coral island in the Indian Ocean. It is bordered by a sandy beach and a living house-reef. It is a prestigious boutique resort known for its outstanding, discreet, and individualised service.
Park Hyatt Maldives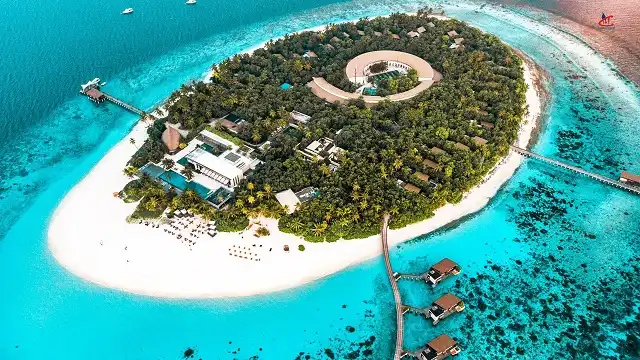 Maldives Park Hyatt A tropical island in the centre of one of the biggest and deepest natural atolls in the world, Hadahaa is a private island, opulent getaway. With its pristine 360-degree healthy house reef in the Maldives, just steps from each villa, Hadahaa is undeveloped, unspoilt, and real. The resort offers a seamless fusion of contemporary accommodations and unspoiled environment thanks to its creative architectural style.
Dusit Thani Maldives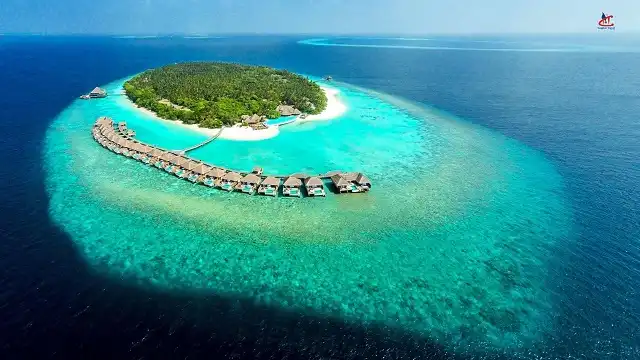 The elegant Thai hospitality of Dusit Thani Maldives is combined with the unrivalled luxury of the Maldives. This luxury resort on Mudhdhoo Island in Baa Atoll, which is the Maldives' only UNESCO World Biosphere Reserve, is surrounded by white sandy beaches, a stunning 360-degree house reef full of marine life, and a turquoise lagoon. This setting provides the ideal setting for the amenities and activities on offer. Before returning to the comfort of our Thai-inspired villas and residences, guests may dive and snorkel, swim in one of the Maldives' biggest infinity pools, relax at the award-winning Devarana Spa with raised treatment rooms amid the coconut palms, or eat at one of our restaurants.
OBLU SELECT at Sangeli- All Inclusive
A brand-new resort, OBLU SELECT in Sangeli, has recently debuted in the Maldives. It is run by Atmosphere Hotels & Resorts, a well-known Indian Ocean hospitality company. The discriminating visitor may enjoy a hassle-free beach vacation in the Maldives at this four-star luxury resort. Along with a range of "modern styled" villas and suites, OBLU SELECT at Sangeli is surrounded by some of the greatest diving and snorkelling sites in the whole Male' Atoll.
Angsana Ihuru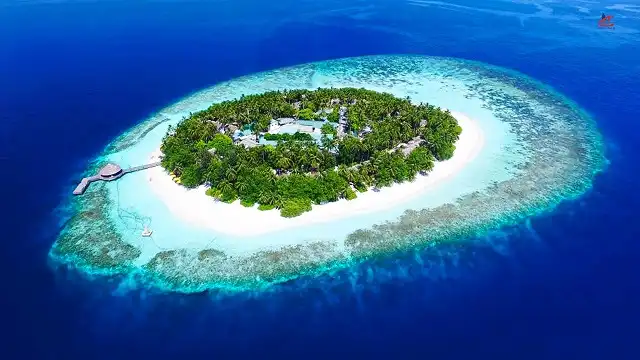 Visit Angsana Ihuru Maldives, a real island paradise, and take in the stunning blue seas, beautiful beaches, and lush tropical greenery. Alternately, try wreck diving, enjoy snorkelling at the house reef, or simply unwind on Angsana Ihuru's sugar-white beaches.
Best Resorts For Activities
Meeru Island Resort & Spa
If slicing through the water at breakneck speed seems exhilarating and exciting to you, make a visit to Meeru Island Resort & Spa to engage in water skiing. Water skiing involves using skis on both legs to glide at high speeds over the sea waves.
Fihalhohi Island Resort
Fihalhohi Island Resort, located in the Maldives' South Kaafu Atoll, is one of the most appealing and beautiful spots to spend your hard-earned vacation. The island is surrounded by lush coconut palm trees, gorgeous beaches, and crystal blue seas. If you're seeking for a romantic break or planning your honeymoon, you must visit this island. The island has mild weather, which makes it excellent for water sports that guests like, and it is the most lovely addition to the list of finest locations to visit in Maldives for honeymoon. The reef that surrounds Fihalhohi Island Resort, which is home to a plethora of marine life, is one of its outstanding features.
COMO Cocoa Island
The Maldives is proud of its sandy beaches and beautiful islands, but among them, COMO Cocoa Island stands out as one of the most sought-after islands in the Maldives. It is a tropical paradise for relaxation and renewal. The island has a huge number of resorts and water villas, with around 33 of them. Each of these villas offers five-star accommodations as well as the greatest hospitality services on the nearby islands. The white powdery beaches that are softer than your skin, as well as the crystal blue ocean that surrounds the location with pride, are something to live for.
Huvafen Fushi Underwater Spa & Resort
Huvafen Fushi Underwater Spa & Resort is located on the island of Nakatchafushi, northwest of Malé and the airport. This resort is a true haven for nature enthusiasts. It is bordered by beautiful beaches in the centre of a tranquil lagoon and is surrounded by lush greenery. This resort has the Maldives' first underwater spa, where guests may enjoy the calm experience of witnessing many different aquatic animals while receiving treatments. The resort provides magnificent bungalows with views of the turquoise and crystal blue ocean. A yoga pavilion, swimming pool, gym, and a range of watersports activities are also available.
Maldives Snorkeling cost
If you're intending to spend a couple of days snorkeling in the Maldives, you don't need to fret since you can save a lot of money by doing the math for a couple. All resorts provide guests with top-of-the-line snorkeling packages and well-maintained equipment for roughly $8 per person per day. The cost of snorkeling in the Maldives is determined by the number of days you plan to go snorkeling and the number of people who will be participating in the activity.
---
Marine Life in the Maldives
The Maldives are famous for their coral reefs and thriving marine life, as well as their currents, wide-angle photography, and abundance of pelagics such as manta rays, reef sharks, and whale sharks. Early in the season, visibility can exceed 100 feet. Manta rays and whale sharks may be spotted at Hanifaru Bay on the Baa Atoll between the middle and end of the South West Monsoon, which spans from April to November. During this season, mass feeding episodes in the Bay Area occur just a few times when a certain volume of plankton has gathered. Many individuals assume it is always present, despite the fact that it is not.
Snorkeling Videos
Maldives Snorkeling Video
Snorkeling in the Maldives Video
Snorkeling Video
Maldives Activities Video
Maldives snorkeling reef ozen bolifushi
Snorkeling Reef in Maldives
Maldives Snorkeling with sharks
Biyadhoo Island snorkeling in Maldives
---
Tourist Attractions and Places to visit in Maldives
Utheemu Ganduvaru
Utheemu, located in the northern portion of the Maldives, is one of the greatest spots to visit in the Maldives. It's a little island that looks like a small green jellyfish. It is one of the Maldives' most historically significant tourist destinations, since it is the birthplace of Sultan Mohamed Thakurufaanu, who is remembered in Maldivian history for driving out Portuguese intruders. Utheemu Ganduvaru, a heritage building that you must see, is named for the location. The Sultan Mohamed's residence, this wooden palace is a popular tourist destination in the Maldives.
Sun Island
Nalaguraidhoo Island, often known as the Sun Island, is a popular tourist destination in the Maldives. It is embellished with gorgeous tropical flowers and lush foliage, attracting a large number of tourists who wish to relax in the lap of nature. The island's exceptionally lovely blue seas, gorgeous beaches, and wonderful resorts ensure that its visitors have a fantastic time. Given its tranquillity and beauty, it is one of the best spots to visit in the Maldives for couples and honeymooners.
Alimatha Island
Alimatha Island is located in Vaavu Atoll on the Maldives' eastern coast. With its blue, crystal clear seas — ideal for diving, snorkelling, and boating — the island is ideal for a family holiday as well as a honeymoon, since it is regarded as one of the greatest spots to visit in Maldives for couples. Volleyball matches on the sun-kissed beaches and glittering sand are a lot of fun here. The Ayurvedic massage centre, spa, pubs, and restaurants make it a rejuvenating alternative among Maldives' most popular tourist destinations.
Artificial Beach
This beach, located in North Mal- Atoll, is exactly what its name implies: artificial. Among the finest locations to visit in Maldives, it is a favourite haunt of swimming aficionados. The Artificial Beach is an open area with certain attire restrictions imposed by municipal legislation. The beach also holds a number of carnivals, water sports, and tranquil walks, making it the greatest destination to visit in the Maldives for children. Evenings here become magical as music groups converge to jam and play.
Veligandu Island Beach
Veligandu Island, located in North Ari Atoll, is a tiny island. Despite its modest size, it has its own charm for tourists. The island is densely forested, providing enormous solitude in this country of glistening lakes. In addition, the lagoons here offer excellent diving and snorkelling possibilities. The island also offers wonderful meals due to its closeness to a fishing community.
Baros Island
The Baros Island, which is one of the top-rated islands in the Maldives, is a great spot to avoid the crowds. Known mostly for its natural elegance, the exquisite boutique resort, and the sun-kissed beaches are to die for. The Baros Island, which has a variety of water villas, is highly sought after for its services and the tranquilly that visitors experience throughout their stay. With a few restaurants and bars in the villas' vicinity, it provides for a great holiday for honeymooners and groups of friends. What is to die for is the cyan blue water, which is a visual and spiritual pleasure.
Emboodhu Finolhu Island
Emboodhu Island's layout of water homes is a huge draw in and of itself. The water homes are organised in the shape of a flower, adding a jewel to the crown of this island. The view from a seaplane is as lovely as the time here. The five-star lodging and hospitality services that visitors experience here are extraordinary, with around fifty-five water villas and the luxurious Taj Exotica Resort. Those wishing to unwind might visit the refreshing spa retreat.
Mirihi Island
Visitors wishing for a total detox experience in the Maldives should visit Mihiri Island. When there is no television to view, one is completely disconnected from the outer world if they keep their cell phones away from them. With no distractions from the outside world, newlyweds flourish on the picturesque island of Mirihi. They may also enjoy the romantically naughty Adam & Eve spa treatment. Mirihi Island is a must-see for couples, with over 30 water villas and restaurants serving delectable cuisine.
COMO Cocoa Island
The Maldives is proud of its sandy beaches and beautiful islands, but among them, COMO Cocoa Island stands out as one of the most sought-after islands in the Maldives. It is a tropical paradise for relaxation and renewal. The island has a huge number of resorts and water villas, with around 33 of them. Each of these villas offers five-star accommodations as well as the greatest hospitality services on the nearby islands. The white powdery Maldives beaches that are softer than your skin, as well as the crystal blue ocean that surrounds the location with pride, are something to live for.
Huvahendhoo Island
The tranquil ocean and glossy foliage that make up Huvahendhoo Island are ideal for a peaceful and rejuvenating vacation. Whether you're travelling with family or a group of friends, this island is a great place to unwind and detox from the hustle and bustle of everyday city life. As a family-friendly destination, children may enjoy themselves at the Kids Club, while adults can relax on the beautiful white sandy beaches. Huvahendhoo island boasts a number of attractions, including restaurants selling top-notch dishes, both international and local, making it one of the greatest locations to visit in Maldives with family.
Maafushi Island
Maafushi Beach, also known as Maldives paradise, is one of the nicest beaches in the nation and is popular for leisure activities. This location is among the most well-known in the Maldives. With a variety of water activities to keep tourists entertained, the cuisine provided here is mouthwatering and will have you licking your fingers. Aside from the fantastic activities to do on Maafushi Island, visitors can take in the picturesque splendour that this island has to offer. The combination of blue and white is nicely balanced to soothe your thoughts just by looking at it.
Kanuhura Island
Kanuhura Island has an exquisite villa setting as well as five-star deluxe facilities and services for its visitors. Apart from usual honeymooners, this area is known for being kid-friendly and attracts a lot of youngsters and groups of friends. Every villa at the Kanuhura island resort has a dedicated host who will attend to all of your requirements. While you enjoy the island's pampering and get away from your desk work at home, the kids may have fun at the Kids Club. One feature of the villas that makes it worthwhile to stay is the d-cor, which astounds guests. This is one of the most beautiful sites to visit in the Maldives.
Rangali Island
The Conrad Maldives on Rangali Island is the ideal place to spend a lengthy holiday with your family, surrounded by pristine beaches and crystal clear cyan blue ocean. Conrad, which is owned by the Hilton Hotels group, provides the greatest hospitality services as well as a variety of exciting activities for both kids and adults to enjoy throughout their stay. A day at the spa may be relaxing, with a variety of indoor and outdoor activities to choose from. For those who enjoy fishing, the Conrad Maldives on the island provides fishing excursions nearby. This is also one of the most prominent tourist sites in the Maldives.
Halaveli Islands
Isolation may sometimes be beneficial to one's health, which is where the Halaveli Islands come into play. The Halaveli Islands, surrounded by water in every direction, are an ideal place to disconnect from the outside world and enjoy immense visual beauty and tranquilly. Not at all, because the island is the ideal destination to spend quality time with friends and family. The Constance Halaveli Resort is also located on Halaveli Island. Known for its sophisticated hospitality offerings that make every stay more comfortable. This is one of the most beautiful sites in the Maldives. The rooms are fitted with televisions and an iMac entertainment system, and there are 57 water villas for a romantic escape.
Dhigu Island
The island of Dhigu, one of the nicest locations to visit in the Maldives, is more about the blue than the green, with blue skies and crystal pure water that calms your sight everywhere you go. The island resort on Dhigu Island features 36 water villas with first-rate facilities and five-star accommodations, as well as an infinity edge bathtub and a panoramic view of the big sea. Your stay at the Anantara Dhigu Resort & Spa is all you might want in a magnificent holiday. The food supplied at the resort's four restaurants is renowned to be the best in the region, including both local and foreign cuisines to satisfy your palette.
Kudadoo Island
The Kudadoo Maldives Private Island has just lately joined the tourism bandwagon, thanks to the opening of the new and gleaming Kudadoo Maldives Island Resort on its shores...and over its waters! Because it is yet undiscovered and unspoiled, it is ideal for a luxurious staycation. Aside from lazing on the perfect white beaches and scuba diving among dolphins in the crystal clear waters, you can spoil yourself with the resort's ultra-luxurious services such as swimming in the private pools, spa treatments, yoga sessions, a bar and lounge, and an in-house restaurant serving multiple cuisines. 
Maldive Victory
Maldive Victory is one of the top tourist destinations in the Maldives, enticing visitors with its spectacular diving site surrounded by various opulent resorts. The location is midway between Male and Hulhule and is frequented by visitors hopping between the two islands. If you want to have a great diving experience while on vacation in the Maldives, go to this site, which is one of the top locations to visit in the Maldives.
Fulhadhoo
Fulhadhoo is a tranquil island in the southern Maalhosmadulu Atoll that is one of the nicest spots to visit in the Maldives. It is about two hours from Male's main city and offers breathtaking views of the Indian Ocean. Fulhadhoo island has a population of less than 250 people, making it one of the Maldives' most isolated islands.
Vaadhoo Island
Raa Atoll in the Maldives is one of the most well-known atolls in the world and one of the greatest locations to visit in the Maldives if you enjoy the beach! Vadhoo Island is amazing, with some of the most gorgeous beach resorts and breathtaking scenery. A natural phenomenon known as the 'Sea of Stars' happens here, capturing everyone's attention and providing a sight to see.
Gan Island
Gan Island, the Maldives' southernmost atoll, is one of the must-see destinations. This island, which is part of the Addu atoll, is a jewel where you can experience some wonderful water activities. If you want to attempt snorkelling, diving, or anything else, this island in Maldiuves is the place to do it! You may also have cultural and heritage adventures here, or stay at a resort.
Thulusdhoo
Thulusdhoo, located in the Kaafu Atoll, is one of the nicest sites in the Maldives to visit. The location is regarded as the greatest in the Indian Ocean for adventurous sports such as surfing and snorkelling. Thulusdhoo is regarded as the "surf land" because of the prominence of these sports. Another great feature of this location is the vivid coral reef that you can see here. If you're seeking for less-crowded areas to visit in the Maldives, Thulusdhoo is an excellent choice.
Fuvahmulah
Fuvahmulah is located at the southernmost part of the Maldives and is surrounded by natural beauty. A glimpse at this site makes you question if it was drawn from a storybook. This spot will steal your heart with its golden sand and azure waves. Do you want more? Fuvahmulah, on the other hand, offers more, such as thrilling activities and delectable cuisine. It is without a doubt one of the nicest spots to visit in the Maldives.
Hanifaru Bay
Hanifaru Bay, also known locally as 'Vandumaafaru Adi,' is designated as a marine protected area. It is situated inside the Baa Atoll UNESCO Biosphere Reserve. The keyhole shaped bay ensures enormous delight and tranquillity to tourists' eyes with its attractive view of white sand beaches, clean blue lagoons, and placid navy blue ocean seas. This Maldives tourist destination is primarily renowned for the world's largest manta ray feeding station and underwater experiences such as scuba diving and snorkelling.
Kudahuvadhoo Island
The capital island of Dhaalu Atoll, Kudahuvadoo, is well renowned for its architectural significance due to the existence of mystery mounds known as 'hawattis.' These prehistoric mounds, which date back to the Islamic period, are really surviving locations of excavated Buddhist temple ruins. With the ruins of an ancient mosque sculpted with coral stone yearning, it provides an expansive sight to an amazing antique masonry, making it a wonderful spot for a family holiday. The island's pristine blue seas make it ideal for diving. The venture would assist travellers in discovering authentic Maldivian tradition and culture. Kudahuvadhoo island welcomes your visit if you are seeking for top Maldives tourism attractions.
Ukulhas Island
The island is located in the Maldives' Alif Alif Atoll, 70 kilometres east of Male, and is surrounded by coral reefs and azure lagoons. It is the island nation's first environmentally friendly and sparsely inhabited isle. It is well-known for its cleanliness and garbage disposal system. It is a popular destination for families and children who wish to see rays, turtles, large mantas, zebra sharks, and reef sharks. The island's attractive sight is its bikini beach, which is adorned with sun loungers and sprinkled umbrellas and assures the visitor tranquilly and quiet away from the rush and bustle of city life. Include it on your schedule since it is one of the greatest spots to visit in the Maldives.
Huraa Island
Huraa Island, located in the Kaafu Atoll, is also on the list of Maldives tourist destinations. Because of its small population, it is ideal for those looking for a real Maldivian vacation. As a result, an island becomes a fantastic place to meet locals. If you want to obtain a flavour of Maldivian traditional culture, you should go here. Other remarkable things that draw travellers' interest include diving with manta rays, various fishes and turtles, snorkelling, and dolphin spotting trips.
Guraidhoo Island
The island in the Kafu Atoll is a haven for those seeking to escape the crowds and be immersed in nature. Its colourful buildings and coral fragments make it a relaxing spot to visit. The picaresque island is well-known for its aquatic sports, including surfing, turtle, dolphin snorkelling, and diving. A magnificent semibikini beach and an exciting seasonal burf beach may be found while wandering through the island's sandy alleys. The island offers a stirring experience to tourists with its stunning scenery.
Kurumba Beach
Kurumba beach, located 7 kilometres from Male and accessible by a short boat trip, is one of the nicest sites in Maldives. It's the ideal place to get away from the stresses of everyday life. The beach allows you to explore the white sand, coral reefs, and engage in a peaceful Maldivian spa treatment. Because of its beauty and isolation, it is a perfect location for couples. The dive in the crystal clear lagoon adds to the visitor's excitement and satisfaction. If you want to connect with the beauty of nature and spend some time with yourself, this is a great place to start.
The Muraka
The Muraka is placed in the Conrad Maldives resort, which is an underwater residence on two levels. Under the crystal clear sea of the Indian Ocean, you will be able to enjoy an excellent manner of dining, living, and sleeping. If you are seeking for a luxurious stay, the Muraka is one of the greatest Maldives tourist destinations.
Addu City
Addu city is one of the most beautiful sites in the Maldives and should be on your itinerary if you intend to visit the country. Addu is the second biggest city and is shaped like a heart, with tall coconut palms and breathtaking vistas.
Bikini Beach
Bikini Beach is not only one of the best spots to visit in the Maldives, but it is also a stunning sight. The location, which is dotted with palm palms, is a unique attraction that draws travellers from all over the world. Soak in the warm sun rays and enjoy beach activities such as snorkelling, swimming, and more.
National Art Gallery
The art gallery, which opened in 1999 in Male, is often regarded as the greatest site to visit in the Maldives. It serves as a showcase for some magnificent and astonishing local and international artworks. Aside from that, the gallery hosts regular exhibits and promotional activities for the artistic community. It contains incredible collections of Islamic artefacts, local, royal, and traditional Maldivian attire. It is an appealing and worthwhile resource for art enthusiasts and artists. If you want to explore the world of creative colour, here is the place to go.
Tsunami Monument
The Tsunami monument, as the name suggests, is a tribute to the victims of the 2004 tsunami, located in Boduthakurufaanu Magu in southeast Male. It serves as a tribute to the victims of the 2004 tsunami, which killed 74 Maldivians, and the tsunami monument serves as a light of hope after sorrow. As a result, it becomes an appropriate calm area to dwell on the events of that fatal day. The surrounding beach is also a famous surfing location. If you want to learn about particular historical events, you should go there. The 20 steel spheres around the monuments represent the country's atolls, while the rising pillars represent tsunami waves. 
China Maldives Friendship Bridge
Your Maldives tour would be incomplete unless you see this 2 kilometre long bridge that connects Male, the capital city, to Hulhule, an airport island. The bridge was built as part of China's Belt and Road Initiative and is seen to have increased connections between the two countries. It is also known as the Sinamale Bridge and is one of the most beautiful spots in the Maldives.
Male Friday Mosque
The Male Old Friday Mosque, one of the Maldives' oldest surviving mosques, is a popular tourist destination. The mosque, also known as the Male Hukuru Miskiy, was erected in 1658, and its peculiar architecture and exquisite carvings on the walls lead to the mosque being nominated as one of the tentative UNESCO World Heritage Cultural Sites in 2008.
Presidential Palace
The Maldives' Presidential Palace is the President's house and is located in front of the Hukuru Miskiiy. So far, four presidents have lived at the Presidential Palace. It was erected for Sultan Md Shamsuddeen III's family and showcases distinctive colonial architecture. You can see the outside splendour of this magnificent edifice, which is also on the list of the finest tourist destinations in Maldives.
Grand Friday Mosque
The Grand Friday Mosque is one of the most popular mosques in the Maldives, attracting visitors from all over the world. It is a component of the Islamic Center and is located near Male's major jetty. It was built in 1984 and is named after Sultan Muhammad Thakurufaanu-Al-Auzam, who oversaw the construction of this beautiful infrastructure. The mosque has a capacity of almost 5000 people, making it the largest mosque in the Maldives.
Majeedhee Magu
Majeedhee Magu is another prominent Maldives tourist site. Street shopping is an activity that people of all ages love, from children to adults. When visiting the Maldives, you should go to the Majeedhee Magu, which is just a short walk along Male's main road. You may get anything from the newest fashion clothes to a vast variety of local delicacies here. The greatest souvenirs to take home are the locally handcrafted objects, which are ideal for gifting and self-possession. You may come down here between 9 a.m. and 11 p.m. to pick up some delicacies to take home.
---
Frequently Asked Questions About Snorkeling In Maldives
Where is the Maldives?
The Maldives are an island republic comprising 26 natural coral atolls (over 1,000 islands) scattered over almost 35,000 square miles 400 miles southwest of India. Despite the fact that the Maldives is made up of 26 natural coral atolls, the country is divided into 19 atolls (areas) for administrative purposes. So, if you looked at a map, you'd see 19 zones. Topside, the Maldives provide some of the most stunning views you will ever see in your life. The sea covers more than 95 percent of the Maldives. It is also one of the world's lowest countries, and due to rising sea levels, it is in danger of being drowned one day.
Is snorkeling safe in the Maldives?
The Maldives is often regarded as one of the safest destinations on the planet for snorkeling and other watersports. In the Maldives, you can easily get a good and licensed snorkeling instructor as well as high-quality equipment such as a snorkel, fins, and mask.
How much does snorkeling cost in the Maldives?
If you arrange a snorkeling tour through your hotel in the Maldives, you should expect to pay USD ($40) per person.
Are there sharks in the Maldives?
The Maldives is one of the few places in the world where visitors may witness these beautiful beings all year. The best part is that all of the species found here are completely harmless! On a regular whale watching excursion, you'll see plenty of hammerhead sharks, spotted leopard sharks, and blacktip reef sharks.
What is the cheapest time to go to the Maldives?
The off-season in the Maldives runs from May to October, and it's a wonderful time to go if you want to save money on flights and accommodations.
When is the best time to visit Maldives?
The weather in the Maldives is hot and sunny all year. The best months to visit Maldives are November through April, with December being the busiest. The monsoon season lasts from May through October. I went in September, and the weather was just perfect: hot, with a bit of air that made it truly nice and never oppressive, and excellent enough to appreciate all of the Maldives' attractions.
---
---