Maldives Snorkeling, Fishing Diving and Water Sports Activities
Maldives Activities
Are you looking for Maldives activities? Well, you are in the right place. We do arrange snorkeling, diving, and other water sports activities in the Maldives. Before we jump into any suggestions, we want to tell you that, the Maldives activities are primarily water-based. In the Maldives, there is just 1% of land and 99 percent of it is ocean water. The average island size is 2 km2, and the water separates all of the islands, making it difficult for tourists to visit other islands in a short period of time. The Maldives are also known for its crystal blue water, abundant marine life, and white sand beaches. In the Maldives, there are very few activities/ Yes, we know in a tourist destination like this, there should be many types of activities available. Sadly it's not the case, because of the dispersity it is not easy to travel around the Maldives, it requires lots of time money. That's why we do all the activities from Male and Hulhumale city. So let's go through some of the activities available with us in north Male Atoll.
Quick Navigation (Topics covered)
---
Water sports and excursions in the Maldives
Water sports in Maldives activities are mostly best for young people because it requires some level of fitness. If you are a young traveler with good fitness, there are some water sports activities that you should try, among them windsurfing, jet-ski, catamaran riding, surfing and water ski are among the most famous water sports and can be available from many places. These sports require talent and if you are a beginner, it is highly recommended to do with all safety measures. Apart from these, there are also some low-level activities which you can do with elderly peoples and children like (fishing, excursions and kayaking etc...)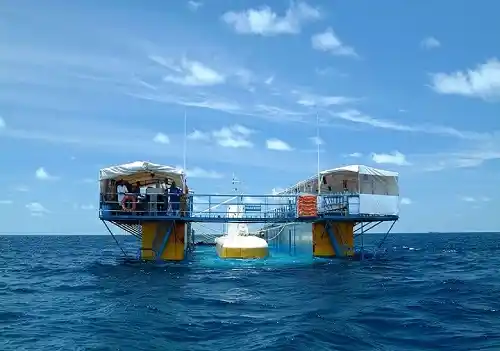 15 best Water Sports to Enjoy in the Maldives in 2022

Are you seeking the most significant water activities in the Maldives? Perfect beaches and thrilling water sports activities may be found in the beautiful island country. Here's a list of the most significant water activities to try in the Maldives during your visit to the stunning islands. Please take a peek to learn more about the greatest among them!

The island's natural surroundings, including pristine white beaches with blue lagoons surrounding them and lush palm trees, provide a relaxing scene. The magnificent coral gardens below the Indian Ocean make the island even more stunning.

Not only that, but the island intends to keep you occupied while still providing a relaxing environment. There are a plethora of water activities to choose from.

1. Wakeboarding

Have you ever wondered how it might feel to stand atop a wave? Have you really thought about it? If you've experienced this fantasy as well, there's excellent news! Wakeboarding is a sport that can help you achieve that goal. Wakeboarding is a perfect Maldives water activity that requires walking on water while hanging onto a rope. Maintaining balance is the most critical aspect of the activity. This is one of the most popular water activities in the Maldives. The best months to participate in this sport are April through October.

Try to grasp better your center of gravity and how to stay balanced.

2. Catamaran Sailing

As you relax aboard a gorgeous catamaran, let the quiet, lilting seas of the Indian Ocean serenade you! These sailboats provide seclusion, elegance, and excellent vacation moods while you relax with a loved one and take in the breathtaking views of the Maldives. If you view the sunset from a catamaran, you'll get bonus points!

From November to April is the best time to enjoy this pastime. Catamarans are available for hire at all of the country's main ports. In addition to agencies, resort islands provide charters.

The average cost is USD 50-80 per person for one hour, including a guide and staff. Sailing lessons are also available for USD 60 per hour per person.

3. Flyboarding

It's hard to discuss water sports in the Maldives without mentioning flyboarding. Flyboarding is for you if you dare to try something that not everyone is doing, including danger (TBH). It is an intense sport that was only recently developed. Flyboarding is one of the most popular water sports in the Maldives because it includes getting on a flyboard connected to a jet ski via a hose and propels it into the air.

May through October is the best time to participate in this sport. If you're a newbie, don your safety gear and stay balanced because this is one of the most difficult Maldives adventure activities.

The average cost is USD 150 per person for half an hour, including a guide and staff. USD 75 per person for a pro ride for 15 minutes.

4. Kayaking

This is one of the Maldives' most popular adventure sports, and for a good reason. As you become one with the flowing waves, explore and experience the shoreline at your speed, and watch your worries go away!

April through October is the best time to enjoy this activity. Location: Kayaking facilities may be found on practically every beach in the Maldives, including little beaches on local islands

Kayaks are frequently provided free of charge to guests at resort islands. In addition, a kayak may be rented for as little as USD 10 - USD 50 per individual. Kayak rentals are also available for free at several public beaches.

5. Fun Tubing

Isn't the name enough to pique your interest? The word "fun" is in the name of this pastime, and we don't think anyone needs more reason to like it. Contrary to many other water activities in the Maldives, fun tubing entails boarding an inflatable, unpowered tube that will propel you through the water at a high rate. The finest part is the rough ride you'll have on the lake. Believe us when we say it's well worth it. This is one of the top water activities in the Maldives.

The best time to participate in this sport is from April through October. It is preferable to wear old sneakers or water shoes.

Estimated cost: USD 130 for two individuals for 20 minutes.

---

---

6. Hydrofoil Experiences

Imagine yourself like a marine bird soaring above the waves. With the advent of four groundbreaking hydrofoil experiences: Kite Foiling, Wake Foiling, Lift Foiling, and Naish Wing-Surfer, Four Seasons Resort Maldives at Landaa Giraavaru is now the first hotel in the Maldives to make flying fantasies come true.

Kite Foiling is kitesurfing with the inclusion of a hydrofoil under the surfboard, allowing surfers to "fly" over the water's surface at incredible speeds. With the Resort's cutting-edge North Pro hydrofoil kiteboard, riders may experience genuine synchrony with the water.

For those who wish to surf the waves behind the Resort's Master Craft ski boat, the Slingshot Wake Foil combines the pleasure of wakeboarding with the added thrill of operating a hydrofoil.

The electric foil board employs a hand controller synchronized with an electric engine so riders may pick their own pace and learn the skill of "flying" over the water's surface.

Wing-Surfer Naish: The wing-surfer is an excellent option for anyone searching for fresh wind-powered excitement. It's the ultimate portable inflated board riding wing with no gear or strings connected, and it's a hybrid between a windsurfing sail and a kiteboarding kite.

7. Parasailing

Parasailing is one of the most significant water activities in the Maldives because it allows you to fly away and forget about your concerns for a bit. It gives you a bird's eye perspective of the gorgeous nation, and you will have the time of your life since you are up in the sky. Of course, we understand that flying with a parachute while tethered and pulling a speedboat is risky, but what is life if you don't take chances?

The best time to participate in this sport is from May to October.

Check the weather forecast and pay attention to your teacher because this is one of the most dangerous water sports in the Maldives if not done correctly.

Parasailing will cost you 90 USD per person for 10 minutes in the Maldives.

8. Surfing

Regardless of your skill level, the Maldives is the finest spot to surf the waves. The Maldives cover a broad region in the Indian Ocean, and some of the atolls have excellent surf breaks. The ideal months to go surfing in the Maldives are April through October. As high-end Maldives resorts have built-in distant locales near formerly difficult-to-access breakers, luxury surf excursions to the Maldives have grown increasingly popular.

The Maldives' surfer community comprises skilled and inexperienced riders looking for a piece of the action. Pros should travel to the Northern Male Atolls' outer reef breaks, while beginners should stick to the lagoons' smaller waves. If you are a complete novice, you may learn to surf in Thulusdhoo, Himmafushi, or Guraidhoo, where several surf schools are.

9. Windsurfing

Windsurfing, for example, provides you the good exhilarating sensation of surfing in those cold breezy breezes above the waves while still allowing you to enjoy the trip through them. That's correct; if you book the proper resorts, windsurfing in the Maldives may be one of the top water activities in the country. Even if you don't book via an alternative, you can always find a place to ask around and communicate with the locals or hotel staff.

From May through October is the best season to enjoy this sport. However, if you're a newbie in windsurfing, it's critical to find a safe environment where you may practice and learn.

10. Big Game Fishing

The Maldives are one of the most popular fishing destinations globally, thanks to the best blend of crystal clear seas, white-sand beaches, and a diverse range of marine life. Fishing is a huge part of the Maldives experience, and many anglers dream of chartering a boat and catching a monster fish that will actually move you! Maybe you've heard lots about this beach resort but have no idea what fishing looks like or what the most popular fishing tactics are. The Maldives boasts some of the world's most significant fishing areas, and you don't have to go far from the beach to set new records.

The Maldives is a fantastic fishing location for expert and amateur anglers alike, featuring spectacular prize sailfish and marlin, as well as shark, GT, gigantic barracuda, rainbow-runner, and wahoo.

11. Jet Skiing

One of the most popular activities in the Maldives and a thrilling adventure not to be skipped is Jet Skiing. Today, Jet Ski Safari is getting increasingly popular. Explore the Maldives' other islands, snorkel a secret coral, and visit the lovely areas that are only viewable by Jet Ski.

The newest boats with minimal emissions and noise levels are used in an ecologically friendly approach to jet skiing. Get up and personal with the island's natural beauty while maintaining its tranquility. This slow-paced, interpretative encounter respects the environment and provides a fresh viewpoint on the Maldives. It provides visitors with an adventure with a professional guide and the opportunity to swim on a distant coral and view other Maldives islands.

12. Banana Boating

This delightful pastime involves riding on a big boat that you are harnessed to so you don't fall over while you speed across the ocean's deep blue seas. This adrenaline-pumping team activity is a must-do in the Maldives. So keep holiday hunger at bay with a banana a day, minions!

April through October is the best season to visit. This is available at practically every resort beach across the country. Malé, Baa Atoll, Ari Atolls, and Kaafu Atoll are the most popular.

For 20 minutes, the average cost is between $50 and $80 per person.

13. Stand-up Paddleboard

Take a seat. Stand-up paddleboarding or paddleboarding is a new worldwide sport with roots in Hawaii. It's also a fantastic way to glide across the stunning seas of the Maldivian reefs. With these boards, the possibilities are infinite because you may do several activities by yourself or with others. SUP boards may be used for a variety of activities. While paddling, you can either stand on the board or sit. While your pal's paddle, relax on the board's tip. On a shallow day, explore the water snorkeling.

14. Whale Submarine Tour

During your 45-minute dive, you will find yourself gliding through a tropical fish-filled aquatic terrain. The whale submarine will take you 45 meters beneath the surface to an underwater reef. The seafloor and several varieties of reef fish were seen throughout the descent. The sub is usually met by a swarm of blue or reddish Snapper fish during its dives.

The Whale Submarine Maldives is the world's largest and deepest diving passenger submarine, capable of transporting 50 passengers and three crew members to depths of up to 150 meters.

The Maldives submarine tour transportation boat will pick you up from Male city or the airport and transport you to the submarine diving spot where your Maldives submarine tour will begin.

15. Dolphin Cruise

The Maldives is regarded as one of the best spots to see dolphins. So nature enthusiasts who go out into the vast blue ocean to pursue these lively marine creatures will be in for a treat.

Muli Channel in the Meemu Atoll is a little-known and little-discussed location. It is, nevertheless, without a doubt one of the top dolphin sites in the Maldives. Medhufushi Beach Hotel and Hakuraa Hura are the only resorts in Meemu Atoll. The atoll's lack of alternatives may be one of the reasons it's not well-known among travelers.

The dry season in the Maldives is the finest time to visit, especially between January and April, because dolphins prefer to visit when the weather is favorable.
---
---
Today's primary focus is snorkeling, which is the most convenient method to discover the Maldives' aquatic life. Listed in the top ten list of the best world destinations because of their magical paradise setting and extraordinary luxury resorts, the Maldives are relatively well known for their deep ocean beautiful things, where diving and snorkeling are vital attributes in the search for an unforgettable experience in the archipelago. Snorkeling in the Maldives may reveal anything from yellowfin tuna, clownfish, and parrotfish to eagle rays, turtles, and even white tip sharks.
All the islands in the Maldives are surrounded by a reef and ocean. that's why in Maldives snorkeling is accessible for all the visitors freely, you will have to bring a snorkel, mask, fins, and life jacket with you, then you can do your own snorkeling tours around your island reef, but this is only recommended if you good swimmer and you have previous experience in the Maldives, because of the channels strong ocean current even good swimmers fail to swim against the current, and many sad incidents happened with tourists due to lack of experience and knowledge. Thats where we come to handy, We will arrange snorkeling tours to some best reefs, where you can see many fishes.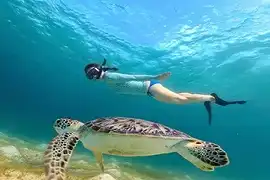 Snorkeling in the Maldives
When visiting the Maldives, you will undoubtedly encounter most of the island's famous activities, including snorkeling. It is the ideal destination for those who enjoy underwater experiences, with around 2500 reefs. About 900 of the 2500 reefs are house reefs. It goes without saying that snorkeling in the Maldives is unparalleled. The island's crystal clear seas and the azure oceans that surround it provide a wonderful experience. So, if you're planning a snorkeling excursion in the Maldives, here's what you should know.
Best spots for snorkeling in the Maldives
I know by now you must be looking for an unforgettable experience of snorkeling in the Maldives. The following are some of the places you can indulge in snorkeling:
Banana reef – kuda kalhi
The gorgeous banana shape of Banana Reef earned it the name, and it is home to some of the most beautiful marine animals. It provides a home for gorgeous fish, coral, and marine life, all of which you may swim with. Bannerfish, rays, black snapper fish, sharks, barracudas, huge squirrelfish, oriental sweetlips, soldierfish, and grub fish are among the species available.
HP reef – Male Atoll
In the Maldivian language, it's called "Girifushi Thila." Small reef fish and huge pelagic species such as grey reef sharks, eagle rays, tuna, and barracudas can be found on the HP reef. Apart from the fish and other sea critters, the reef's bright colors, which have earned it the label "rainbow reef," will astound you.
North Male Atoll
You don't have to travel far to find spectacular shipwrecks on North Male Atoll. The Victory was a cargo ship that went down in the ocean in 1981. It is located between Male and Hulhumale on the southwestern edge of Hulhule Airport Island. Angsana Ihuru, north of Baros (which also has a great house reef for snorkeling), has its own wreck. It's called the Rannamaari, and it's an old sand-dredging ship that was submerged in 1999 to make wreck diving easier.
South Male Atoll
South is more tranquil. Divers will enjoy the tough topography of Male Atoll. The many caverns and six main thilas (channels) there support a large amount of marine life, including a variety of sharks. Cocoa Thila (also known as Cocoa Corner) is a towering deep-water pinnacle in the center of the Kandooma channel with multiple ravines. Guraidhoo Kandu South (also known as Guraidhoo Corner) is known for its varied topography, while Vadhoo Caves hide a swarm of aquatic life from the powerful current. Beginner divers can explore the Kuda Giri shipwreck, which is located between the islands of Maafushi and Dhigufinolhu.
If you're on a budget, Maafushi, a touristy local inhabited island, is a great place to go scuba diving. The lodging is modest, and there are numerous diving centers that offer visits to the various places. Snorkeling expeditions to sites like Maafushi Corner are also organized by guesthouses.
North Ari Atoll (Alifu Alifu Atoll)
Scenic and convenient West of Male is Ari Atoll (also known as Alif or Alifu Atoll). It's a dream destination for divers and snorkelers because it's both accessible and boasts a plethora of spots teeming with large pelagic fish. Rather than vast sections of coral barrier reef, the atoll's topography comprises thilas.
North Ari Atoll dive sites are more technically challenging than South Ari Atoll dive sites. The most well-known location is Maaya Thila, which is located northwest of Ukulhas Island. It has one of the best night dives in the world, as well as a fantastic opportunity to swim with sharks. The Fish Head area, located in Mushimasmingili Thila's southeastern portion, is another great dive location with a variety marine life. At Hammerhead Point, advanced deep divers can see elusive Hammerhead Sharks.
South Ari Atoll (Alifu Dhaalu Atoll)
Is it on your bucket list to swim with whale sharks, the world's largest fish? One of the best sites in the world to do so is the South Ari Atoll! Year-round on the outer reef, especially in the Maamigili Marine Protected Area near the southern extremity of the atoll, these unusually tranquil creatures can be spotted. From May to November, they visit Dhidhdhoo Beyru Feru more than any other location. Because of its shallow plateau, Sun Island's house reef is ideal for viewing whale sharks. Snorkelers can also participate in the fun.
South Ari Atoll (Alifu Dhaalu Atoll)
Baa, Lhaviyani, Noonu, and Raa are among the northern atolls. The Baa Atoll's Hanifaru Bay is one of the region's most popular tourist destinations. It's the world's largest known manta ray feeding aggregation location, and it's a UNESCO Biosphere Reserve. During the southwestern monsoon, from May to November, tens of thousands of mantas and whale sharks congregate there to feed on plankton. Diving is no longer permitted, so all you can do is snorkel! In Baa Atoll, the house reefs at Reethi Beach Resort and Vakkaru Resort are good.
Manta point – Lankanfinolhu Island
This is a must-see reef for snorkelers seeking novel but exciting underwater adventures as well as encounters with the gentle and enormous manta rays. You'll need to keep your cool if you want to view these peaceful beings up close. The reef, also known as "Emas Thila," is about a kilometer long and is home to manta rays. Masked bannerfish, squirrelfish, spangled emperor fish, napoleons, and sharks are among the other animals you can engage with here.
Best resort islands for snorkeling in the Maldives
No matter what time of year you visit, the Maldives are always stunning. The finest months for snorkeling, swimming, and diving are January and April. This is when you'll get the greatest weather and clearest water, both of which are essential components of a memorable snorkeling adventure. The following are the greatest snorkeling islands in the Maldives.
Bandos Maldives resort
For those planning a Maldives snorkeling holiday, Bandos has a variety of options. Turquoise lagoons, verdant foliage, and pearl white beaches, among other magnificent qualities, will leave you speechless. The resort is located 7 kilometers from Male International Airport in the North Male Atoll. Bandos has a variety of nice accommodations in various categories. Wrasses, parrotfish, angelfish, and clownfish are just a few of the colorful tropical fish you'll see at this enticing resort's house reef. You may also see octopus and manta rays on occasion.
Baros Maldives resort
The Maldives are made up of over a thousand islands spread across 26 atolls, although they are not all coral islands, hence not all are surrounded by coral. If you're looking for the top snorkeling resorts in the Maldives, make sure the site you pick has a house reef where you may explore the colorful marine life of the Indian Ocean's best coral reefs.
Baros Maldives Island is one of the sites where snorkelers will find optimal circumstances. It's easy to get to, but it's private enough for an active Maldives snorkeling vacation. It is situated in the North Male Atoll's central-southern region.
The Baros Maldives has a magnificent coral reef with excellent marine life. Large schools of tropical fish, reef sharks, and turtles are just a few of the animals you'll see in the area. You'll also have the option of touring the shallow coral gardens on your own. The greatest snorkeling resorts in the Maldives regularly take care of their coral reefs. A team of trained marine biologists, for example, is working hard to keep the reef safe and healthy on Baros Island.
Biyadhoo island resort
It is not necessary to spend a lot of money to stay in the greatest Maldives resort. Biyadhoo Island, located just a few miles from Male and about 30 minutes away by speedboat, offers basic accommodations surrounded by beautiful scenery. Biydhoo is known for its rich vegetation and beautiful beach, which has an amazing house reef. You'll also get to meet fantastic performers like Napoleon wrasses, eagle rays, and a large group of fish. You might even see dolphins and manta rays if you're lucky. Biyadhoo is popular among snorkelers who want to experience Maldivian style at a low cost.
Centara Grand Island resort
Centara Grand Resort is the real deal when it comes to the best snorkeling in the Maldives. Diverse marine life may be seen on this world-class house reef, which also includes a sunken shipwreck. Green fins certification is available at the resort. The United Nations Environment Programme and the Reef-World Foundation founded it. As a result, the resort encourages safe Maldives snorkeling. Fish, turtles, and reef sharks abound on the amazing home reef.
Constance moofushi resort
>
Another beautiful house reef. Despite the abundance of activities available, you'll find yourself snorkeling on a regular basis at the resort. It's an enthralling seascape teeming with fish. You'll see Nemos, Dorys, Turtles, and reef sharks, among other things. The island is known as "the jewel of the Indian Ocean," since it is a perfect blend of elegance and simplicity, with everything in its place.
Maldives Snorkeling cost
If you're intending to spend a couple of days snorkeling in the Maldives, you don't need to fret since you can save a lot of money by doing the math for a couple. All resorts provide guests with top-of-the-line snorkeling packages and well-maintained equipment for roughly $8 per person per day. The cost of snorkeling in the Maldives is determined by the number of days you plan to go snorkeling and the number of people who will be participating in the activity.
Maldives Diving
The Maldives is famous for its beautiful beaches, clear water, and underwater marine life. Therefore scuba diving in maldives is a famous activity among the visitors. If you are a marine life lover, you must experience Maldives diving in best reefs. Now you might think isn't diving require some skills?  Yes, it requires skills and an open water certificate if you want to dive below 18 meters. It will take around 3-4 days of training to get you an open water certificate. the certificate is international and can be used anywhere else in the world. So what if you don't have 3-4 days for training, then you join our non-certified ding activity which is above 18 meters.
Experience the Maldives' stunning underwater environment with daily exciting dive tours at sunrise, noon, and night, from thila and waterways to wrecks and reefs. They have substantial coral reefs and a diverse fish population. In addition, piranhas, turtles, stingrays, whale sharks, and a kaleidoscope spectrum of tropical water species are regular on dive sites.
Aside from these, there are other best water sports that you can enjoy during your stay in the Maldives. The beautiful Indian ocean surrounds the country of Maldives, and most of the fun things in this country are related to water sports. So, make sure you know a bit about swimming and pack your water-friendly clothing and shoe items. In the end, do not forget to ask for precautions and safety considerations because your safety is the utmost priority.
The Maldives is a 1,200-island archipelago, with only 200 of them inhabited. This beautiful island is known for world-class scuba diving due to its 26 atolls, coral reefs, and coral islands. Diving is a fantastic way to discover a new world, and it is one of those talents that everyone should have. That is, if they are at ease diving to depths below the water's surface. While floating at least 10 feet down, witnessing new surroundings and creatures that your buddies have never seen, a sensation of tranquility sweeps over you. Scuba diving in Maldives is also a fantastic recreational activity for people who prefer more active vacations rather than spending their days lounging by the pool.
Marine Life in the Maldives
The Maldives is known for its coral reefs and marine life, as well as its currents, wide-angle photography, and abundance of pelagics like manta rays, reef sharks, and whale sharks. Early in the year, visibility can reach well over 100 feet. During the middle and end of the South West Monsoon, which runs from April to November, manta rays and whale sharks can be found in Hanifaru Bay, on the Baa Atoll. During this season, mass feeding events in the Bay Area occur only a few times when plankton has accumulated to a specific amount. Many people believe it is always present, although it is not.
When to dive in the Maldives?
The sea temperature in the Maldives is usually between 80 and 86 degrees all year. As a result, diving is enjoyable virtually all year. As a result, the best months to go scuba diving in the Maldives are January through April, when the weather is dry and pleasant. In May and July, the weather is continually changing, making visibility difficult. Because of an increase in plankton in the ocean, the months of August to November are the greatest for exploring sea species like manta rays and whale sharks. Currents induced by the southwest monsoon are responsible for the tremendous growth of plankton. In December, divers should expect strong winds and rain, which will reduce visibility.
Where to dive?
Divers of all skill levels can enjoy the Maldives' diverse dive settings, which include reef dives, drift dives, and wreck dives. Pinnacles (thila) and underwater formations such as tunnels, overhangs, and swim-throughs can be found while diving in and around the tolls. Wreck diving in the Maldives is frequently less about the wreck itself. It is, however, about the artificial reefs that have grown up around the undersea constructions.
The Maldives have multiple canals where the atolls meet the ocean. These places are ideal for drift diving due to the currents that travel through them. The strong current attracts large marine species such as sharks, tuna, and manta rays. Finally, lagoon settings can be found on the interior of the atolls. They are usually current-free and often relatively shallow, making them ideal for scuba diving practice and classes.
Maldives Dive Environment
The Maldives provide a variety of diving environments to choose from, including:
Faru
One of the Maldivian names for a reef is faru. It's possible that this is the outer reef of atolls and island reefs.
Giri
A giri is a circular reef with a top that reaches the surface, especially at low tide. Giris can be found both inside and outside the atoll, as well as in huge lagoons. These locations provide a diverse range of marine life and are frequently suitable for novice dives.
Wrecks
The Maldives have a few noteworthy wrecks, however they're mostly frequented for the fish at the site rather than the wreck itself.
Channel
A channel, sometimes known as a pass, connects the atoll to the ocean and serves as the atoll's entrance. A drift dive is the most typical way to do it. Sharks, manta rays, and tunas are attracted to the powerful currents. It is recommended to dive at channels when there is incoming current for most life, although some sites can offer wonderful dives when there is outgoing current. The geography of some channel reefs, which includes tunnels, swim-throughs, undercuts, and overhangs filled with colorful sponges and invertebrates, will appeal to underwater photographers.
Lagoons
While there isn't much in the way of marine life, most islands and large reefs have their own sandy bottom lagoon that is protected from the current and ideal for beginners learning to scuba dive.
Thila
Thila is similar to a Giri, except it is located further beneath the surface - it is essentially a seamount. There is a diverse range of marine life here, including soft coral, gorgonians, and an abundance of fish, including reef sharks. A Thila can be large, however most north-worthy thilas are modest peaks that are occasionally influenced by strong currents.
Best dive spots
There are several dive sites in the Maldives. The following is a glimpse of what you'll get:
Ari Atoll
It is well-known for its ease of access and crystal-clear water. It is home to some of the Maldives' top dive spots. Maaya Thila, for example, is located on the Atoll's southern tip and is considered one of the top diving spots in the vicinity. The pinnacle is about 20 feet deep and continues down to 100 feet, and the area is home to barracuda, stingrays, and other marine creatures.
Baa Atoll
Sites for both beginners and advanced divers can be found in Baa Atoll. Divers should be able to spot manta rays and whale sharks, which are always popular. They should also be able to appreciate the Atoll's overhangs and swim-throughs. The Dhonfanu Thila location is a popular swim-through that levitates to its exit just about 60 feet beneath the surface of the water. Hanifaru Bay is one of the few spots on the planet where whale sharks mate and divers can dive alongside gigantic manta rays.
Fuvamulah Atoll
This Atoll is known for its rare shark species. Lucky divers may see tiger sharks, thresher sharks, whale sharks, and even hammerheads.
Male Atoll
The North Male Atoll and the South Male Atoll are the two portions of the male atoll. The North Male Atoll is one of the most popular diving destinations in the country, whereas the South Male Atoll appears to be less popular. The Cocoa Thila is about 1,000 feet long and nearly 100 feet deep and is located on the South Male Atoll. Because of the strong currents in the vicinity, this site is only suitable for experienced divers, however it is rich in marine life.
Vaavu Atoll
Divers of all levels will enjoy the Vaavu Atoll's outstanding channel diving. Fotteyo Kandu is one of the Atoll's most well-known attractions. Several big overhangs and caves may be seen on Fotteyo kandu.
The Maldives resorts for diving
There are more than 150 resorts to select from in the Maldives, so you won't be short on options. However, not all resorts cater to divers, so make sure you arrange ahead of time. Oblu by the environment at Helengeli, the Park Hyatt Maldives hadahaa, and Banyan Tree Vabbinfaru are some of the most well-known dive resorts. The most intriguing aspect is that accommodations are available to fit practically any budget, as these dive resorts range from the most basic to the most luxurious. Even if the resort you chose does not provide diving, you can still book dive excursions through neighbouring resorts and dive shops.
Liveaboard dive vessels
You can also choose to spend your trip on a liveaboard dive vessel. Divers who dive on a liveaboard get the most out of their time below the surface. It also allows them to visit more remote areas that are not easily accessible on day trips. The liveaboards Ocean Divine, Nautilus One, and Maldives Grandezza are all highly regarded. Depending on the boat, daily rates range from $150 to over $1,200. While this may appear to be expensive, keep in mind that moving across the Maldives' many islands can be fairly costly due to distances and modes of transportation, such as seaplane and speedboat. A liveaboard is an excellent option if you want to visit a variety of dive sites and explore more distant places.
I'm sure after reading this piece you'd wish to go diving in the Maldives and enjoy the tropical climate. Divers will find a vast playground to explore on the island. Between the islands, there are other channels. The lagoons are connected to the Indian Ocean by these waterways, making scuba diving popular among the locals. With all of the amazing aspects highlighted, I'm sure you're encouraged to visit the Maldives and dive into the azure waters while admiring the amazing fish species. It's now your time!
Diving Map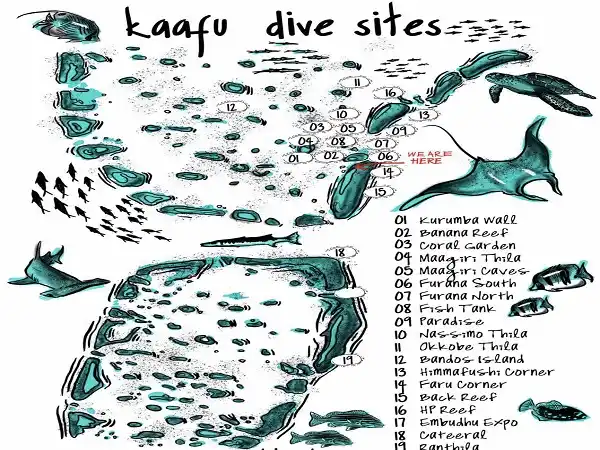 Things To Do In Maldives
Island hopping and City Tours
The Maldives is a small country with a smaller population, but it has a vast history, being the top 20 poorest countries of the world in the early 1980s, the Maldives was also attacked by many invaders and budhism also were a religion followed by maldivian in early days. To find out about these stories, cultures, traditions, and lifestyle, you need to visit local islands. There are a total of 200 inhabited islands in 22 atolls.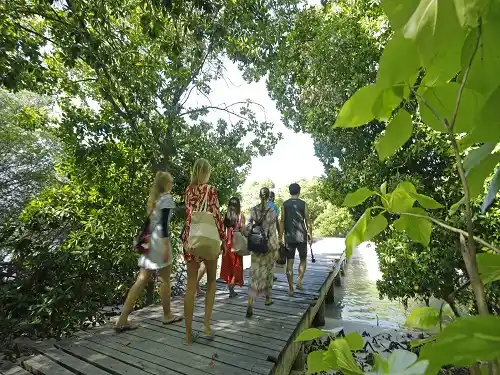 Sandbank Visiting
The islands in the Maldives are formed in different shapes and sizes. The islands from erupted volcanos, which later changes to a coral reefs and then form a sandbanks on top of the reefs. These sands banks later becomes islands. Some sandbanks get entirely submerged at high tide and surface only at low tide. There are many sandbanks across the country, to visit these sandbanks you need a boat transfer.
Sky Diving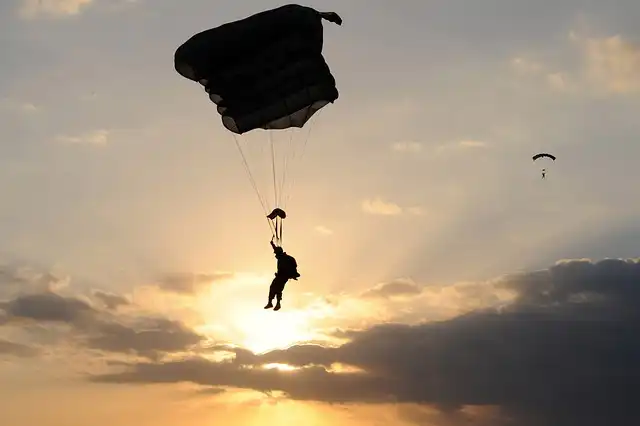 At 120 mph, skydive Maldives allows you to feel the exhilaration of free-falling over the gorgeous sky above the Maldives. The thrilling descent lasts roughly a minute, followed by a stunning and tranquil decline to the landing location or drop zone. As you glide down for a safe landing, take in the views of the archipelago country's various islands.
Tandem skydiving is an excellent opportunity for novices and first-time skydivers to get a taste of the exhilarating sport. You will be joined by highly trained experts whose gear will be attached to yours for a secure and thrilling experience while skydiving in the Maldives.
SPA Treatment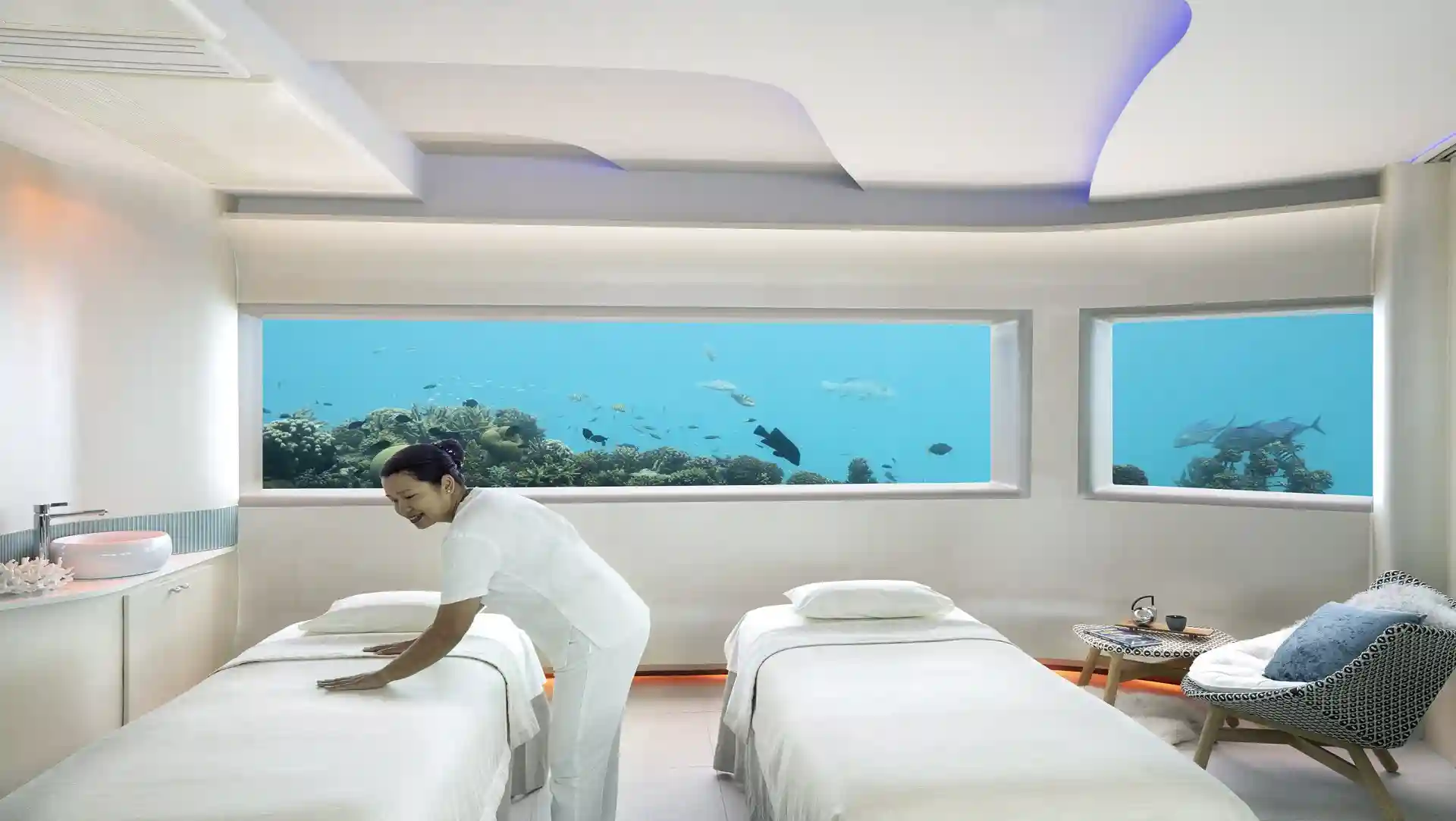 A spa treatment is one of the things to do in the Maldives. Adaaran Prestige Vadoo, for example, has an SPA where you may get a variety of treatments, including a Balinese massage. Facials and manicures are among the other services available.
Visiting Male
The Maldives capital city isn't exactly a popular tourist destination, but if you're looking for a true local experience, make it a point to visit. The local fruit and vegetable market, as well as the adjoining fish market, are the most interesting sites to visit since you can see a lot of action and get a peek of the primary items of local cuisine. The extraordinary talents that fisherman demonstrate when cutting fish piqued my interest.
Day Visit to Resorts
The overwater villas with direct access to the sea are one of the Maldives' most well-known attractions. All I can say is that staying in one is a fantastic experience and one of the best things to do in the Maldives. The rooms are enormous, with the most luxurious beds; there is a plunge pool and a sundeck, as well as a jacuzzi in the back. The water and the breeze are the only sounds one can hear. Furthermore, the view is breathtaking.
Reef Fishing in Maldives
Maldives reef Fishing is a fun activity especially to do with family or friends. Fishing is the second source of income for the Maldives. Tuna is the most famous and common type of fish caught. There are two methods of fishing allowed in the Maldives and they are pole and line fishing. An estimated 500 tones of fishes are caught by Maldives fishermen daily and they the most exported product of the country. To catch Tuna fishes it requires a big boat which can travel far distance as tuna are spotted in the far distance. That's why we focus on reef fishes which can be caught from house reefs, if we are lucky, that's why these Maldives fishing trips are always called lucky reef fishing trips.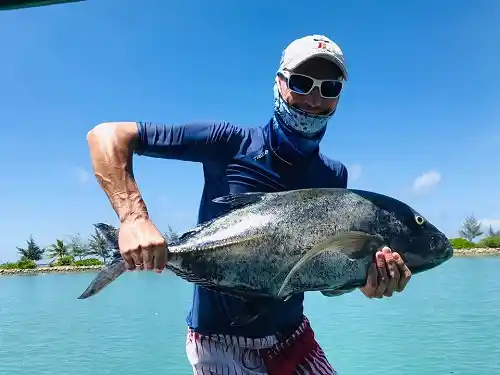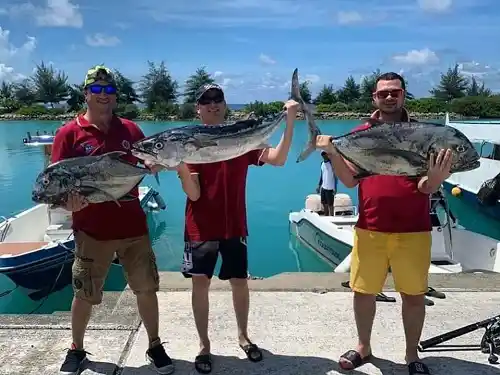 Frequently Asked Questions About Snorkeling In Maldives
Which Maldive Island is best for snorkeling?
The following are some of the greatest resorts for a great snorkeling experience: The Anantara Kihavah Villas on the Baa Atoll are number one. 2. The Laamu Atoll's Six Senses 3. North Malé Atoll, Baros Maldives On the Gaafu Alifu Atoll, the Jumeirah Dhevanafushi Maldives Luxury Resort is number four.
Where is the Maldives?
The Maldives are an island republic comprising 26 natural coral atolls (over 1,000 islands) scattered over almost 35,000 square miles 400 miles southwest of India. Despite the fact that the Maldives is made up of 26 natural coral atolls, the country is divided into 19 atolls (areas) for administrative purposes. So, if you looked at a map, you'd see 19 zones. Topside, the Maldives provide some of the most stunning views you will ever see in your life. The sea covers more than 95 percent of the Maldives. It is also one of the world's lowest countries, and due to rising sea levels, it is in danger of being drowned one day.
Is snorkeling safe in the Maldives?
The Maldives is often regarded as one of the safest destinations on the planet for snorkeling and other watersports. In the Maldives, you can easily get a good and licensed snorkeling instructor as well as high-quality equipment such as a snorkel, fins, and mask.
How much does snorkeling cost in the Maldives?
If you arrange a snorkeling tour through your hotel in the Maldives, you should expect to pay USD ($40) per person.
Are there sharks in the Maldives?
The Maldives is one of the few places in the world where visitors may witness these beautiful beings all year. The best part is that all of the species found here are completely harmless! On a regular whale watching excursion, you'll see plenty of hammerhead sharks, spotted leopard sharks, and blacktip reef sharks.
What is the cheapest time to go to the Maldives?
The off-season in the Maldives runs from May to October, and it's a wonderful time to go if you want to save money on flights and accommodations.