Male City Is The Capital Of Maldives
Quick Navigation (Topics covered)
Male Maldives
Male Maldives is the capital and the Maldives' major island. With a population of 133,412 residents and an estimated 50,000 employees in an area of 1.92 square kilometers, the city is one of the world's most densely inhabited cities. Male is situated on the southernmost tip of the North Male' Atoll (Kaafu Atoll), directly across from the Maldives International Airport. Male Maldives is a fantastic spot to visit for a short time. It houses several of the country's most prominent icons and landmarks. Among these, one of the most well-known among visitors is: (Old friday mosque, Stingray point, Fish -market, Artificial beach, Victory monument, Male Square, Museum, Souvenir Street etc...). During peak hours, the streets are quite narrow and congested. 
Male City Tour
If you have some spare hours while waiting at Male internattional Airport for your cennections, you can visit for a short sightseiing Male city tour
Overview of the maldives capital city
While Malé island is geographically part of the Kaafu Atoll, it is not administratively part of it. The island of Malé forms the city's central region. Hulhulé, Hulhumalé, Vilimalé, Gulhifalhu, and Thilafushi are among the city's five additional islands. On the central island, a commercial harbor acts as the hub of the country's commercial activity, The central island is densely populated, with the built-up area occupying almost the entire landmass. [nine] The capital city houses slightly less than one-third of the country's population, and its population has grown from 40,000 in 1987 to 100,000 in 2006 and today 350,000.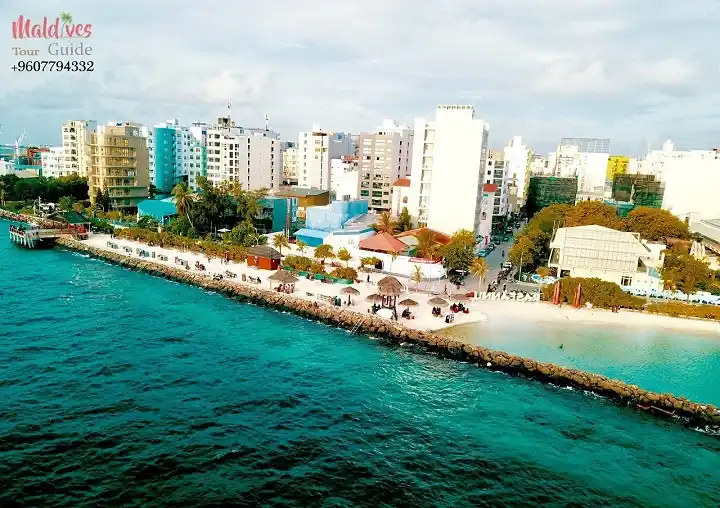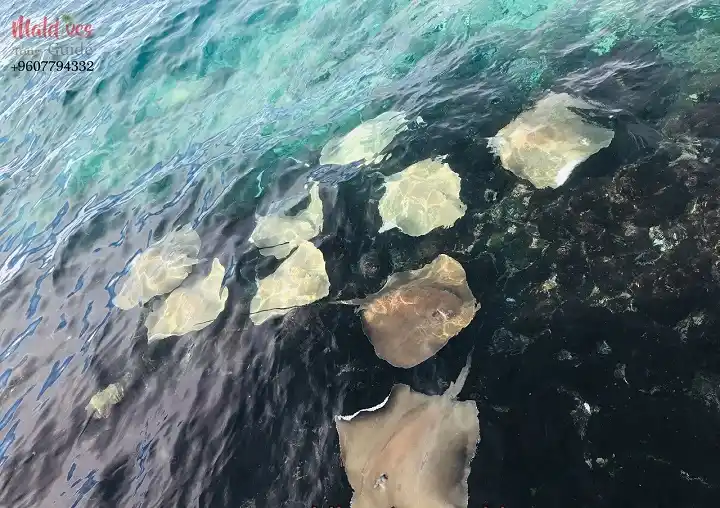 History of Male
The Maldives is the name given to the entire island group. "The islands (dives) of "Malé male maldives" is how the term "Maldives" is translated. The first settlers in the Maldivian islands were Dravidians who came from the modern Indian Subcontinent's neighboring shores and coastal Ceylon. From ancient times, comparative studies of Maldivian linguistic, oral, and other cultural practices, as well as folklore, point to a deep Dravidian influence on Maldivian culture, centered on king's island.
The Giraavaru people of Giraavaru claim to be descendants of the Maldives' first Tamil settlers. Early Tamil settlers dubbed the islands Malaitivu, which translates to "Garland Islands" or "Chain Islands." Giraavaru fishermen used to go to a certain big sandbank at the southern end of their atoll on a regular basis to clean tuna fish after a successful catch, according to legend.
When Ibn Battuta visited Malé Maldives in 1343, he wrote a detailed overview of the city as well as the Maldives Islands as a whole. He stated that the Queen, Rehendhi Khadeeja, had a home in Malé island, which, based on its description, could be the same palace as that of the later sultan rulers in the island's center. Several pits inside the palace grounds held stocks of cowrie shells ready to be sold. Ibn Battuta also listed a number of wooden mosques.
Male Island
Capital Malé island had 2,148 residents in 1888, but rapid population growth necessitated the search for new housing spaces. Under Muhammad Shamsuddeen III's reign, the old forts and crumbling walls were demolished and reconstructed on a smaller scale in 1925-1927. Roads were also straightened and widened. Former broad cemeteries had also been demolished to make way for more houses. When the city was remodeled under President Ibrahim Nasir's rule in the aftermath of the monarchy's abolition in 1968, the Royal Palace, along with the picturesque forts and bastions, were demolished. Only the National Museum and the Malé Friday Mosque remain, as well as the last sultan's residence. Malé's population swelled to 11,453 in 1967 and 29,522 in 1977. By 1986, the shallow lagoon around Malé had been reclaimed to accommodate the increasing population.
Land
The Maldives are a group of coral atolls formed by the submerged crowns of an ancient volcanic mountain range. The islands are all low-lying, with none rising above 6 feet (1.8 meters) above sea level. The islands are protected by barrier reefs from the damaging impacts of monsoons. The southwest monsoon produces rain from May to August, whereas the northeast monsoon brings dry and mild breezes from December to March. The average yearly temperature ranges from 76 to 86 degrees Fahrenheit (24 to 30 degrees Celsius). The annual rainfall averages about 84 inches (2,130 mm). Sand beaches, lagoons, and a lush vegetation of coconut palms, breadfruit trees, and tropical shrubs may be found on the atolls. The reefs, lagoons, and seas are teeming with fish.
People and Community
The Maldives' population is almost completely made up of Maldivians, who are the product of numerous peoples settling in the islands over the course of the country's history. Tamil and Sinhalese peoples from southern India and Sri Lanka are thought to have been the initial settlers. Through the years, traders from Arab countries, Malaya, Madagascar, Indonesia, and China visited the islands. The official language is Dhivehi (or Maldivian), an Indo-European language; Arabic, Hindi, and English are widely spoken. The state religion is Islam.
---
---
Climate and Weather
According to the Köppen climate classification, Malé has a tropical monsoon climate. The city experiences both rainy and dry seasons, with the wet season spanning from April to January and the dry season lasting from February to March. Unlike many other cities in this climate, Malé has reasonably stable temperatures throughout the year, with an average high of 30 °C or 86 °F and an average low of 26.5 °C or 79.7 °F, which is comparable to the average year-round daily mean of many equatorial cities. Annual precipitation in the city is slightly more than 1,900 millimetres (75 inches). The Maldives have the lowest median elevation of any country in the world, hence the weather is always hot.
Economy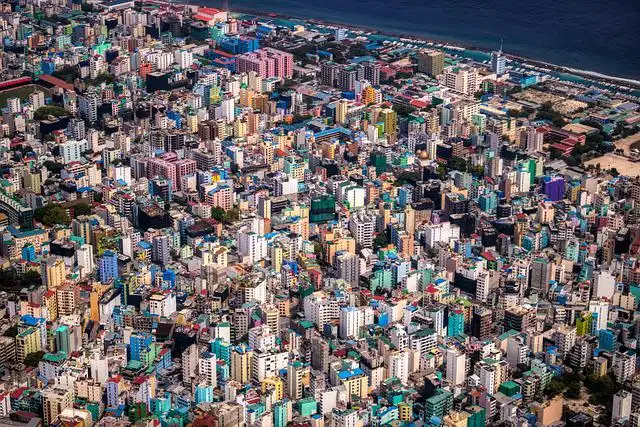 Tourism is the Maldives' most important industry, accounting for 28 percent of GDP and more than 60 percent of foreign exchange earnings. In the 1980s, GDP per capita increased by 265 percent, and in the 1990s, it increased by another 115 percent. Import duties and tourism-related taxes account for more than 90% of the government's tax revenue. Malé, the capital, offers a number of tourist sites and resorts nearby. Maldivian, the Maldivian airline, and FlyMe, the Maldivian airline, both have their headquarters in Malé.
Malé is home to the Maldives' principal harbour and port, as well as the country's commercial hub. The Maldives Transport & Contracting Company was established in 1980 to help the Maldives build its infrastructure and transportation services. The port is part of the 21st Century Maritime Silk Road, which connects the Chinese coast to the Mediterranean via the Suez Canal, and then to the Upper Adriatic region, which has train links to Central and Eastern Europe.
Agriculture, forestry, and fishing
Fishing, which has long been the economy's foundation, has been superseded by tourism as the primary source of gross domestic product (GDP). While it still accounts for the majority of the country's exports and is growing (albeit at a slower rate than tourism), it employs fewer than one-fifth of the workforce and provides less than one-tenth of GDP. The most common fish obtained is tuna, which is traditionally fished using a pole and line, however a large portion of the fishing fleet is now mechanized. The majority of the fish caught is sold to firms in other countries for processing and export.
Dress code in Male
Because Islam is their official religion, they have some particular regulations that apply to the inhabited islands, as we described in our Maldives entire guide. And because the clothing code on Male, the archipelago's most populated island, is stricter than on other islands, make sure you cover your breast and thighs.
---
---
Subdivisions
The names of Malé Island's main four wards or divisions are said to have been provided by the original Giraavaru fishermen: Maafannu (big) and fannu (a place where a village path meets the sea), Henveiru (out where fishermen got their bait), Galolhu (stone groove), and Macchangolhi (matchi-angolhi) (windward path-fork).
Mulee Aage
Malé Island is the world's eighth most densely inhabited island, and the world's 160th most populous island. Because there is no countryside nearby, all infrastructure must be situated within the city limits. Desalinated ground water is used to produce drinking water; the water works pumps brackish water from 50–60 m (160–200 ft) deep wells across the city and desalinates it using reverse osmosis. Diesel generators are used to generate electricity throughout the city. Sewage is dumped into the sea untreated. Solid trash is transferred to other islands and utilized to fill lagoons. This is how the airport was created, and the Thilafushi lagoon is gradually being filled in.
Transport
The country's transportation between islands and atolls is critical. China and India, battling for dominance over the strategically positioned Maldive Islands, have invested heavily in infrastructure to connect the islands. Between the atolls, boats are the most common mode of transportation, and scheduled shipping routes connect the nation to Sri Lanka, Singapore, and India. Passengers are transported between several airports around the country as well as abroad by the national airline. Although there are other airports that service limited international travel, Male's airport handles the majority of foreign traffic.
Road
Each of Malé's islands is connected by a network of paved roadways known as magu (road or street), hingun, and goalhi (small road or alley). The road network is congested, particularly on Malé Island. The Sinamalé Bridge, which opened to traffic in October 2018, connects Malé and Hulhulé Island, while a causeway connects Hulhulé and Hulhumalé, allowing the three islands' road networks to be connected. There are various bus routes that run inside the islands as well as between the three islands for public transportation.
Air
Velana International Airport, which is located on adjacent Hulhulé and serves as the city's and Maldives' primary airport, is located on the island of Hulhulé. The airport is now accessible by road from Malé, thanks to the building of the Sinamalé Bridge. Prior to the bridge's inauguration, the only way to go from the airport to Malé was to take a ferry. Since the creation of Hulhumalé, Hulhulé and Hulhumalé have been joined by a causeway, providing vehicle access to the airport from the latter.
Sea
Because roads connect Malé, Hulhulé, and Hulhumalé, inter-island travel between the three islands is now possible. Inter-island transportation is provided by ferry for the other islands.
Manufacturing
From the mid-1990s until 2010, when an import quota regime in international textile commerce expired, textile and garment manufacture was one of the most lucrative businesses in the Maldives. The industrial sector is dominated by construction. The production of coir (coconut husk fibre) and coir goods, as well as fish canning and boatbuilding, are all handcraft or cottage industries.
Trade
In 2006, the Maldives joined the South Asian Free Trade Area (SAFTA), and in 2017, a free trade deal with China was concluded. Consumer items such as food (mostly rice), clothing, medications, and petroleum products are all imported. The majority of exports are fish, primarily dry, frozen, or canned skipjack tuna. The largest commercial partners are China, India, the United Arab Emirates, Thailand, Sri Lanka, and Singapore.
Services
The services sector is supported by the tourist industry, which was non-existent prior to 1972. More than a million visitors visit the Maldives each year. Its more than 130 resort islands are home to high-end hotel brands, and its marine geology provides unique diving and water sports options, as well as underwater rooms, restaurants, and spas. The service sector accounted for four-fifths of the country.
Justice
The Supreme Court is the highest legal authority. The president appoints the judges after consulting with the Judicial Service Commission, which is made up of ten members appointed or elected from various levels of government and the general public. All other judges are appointed by the Judicial Service Commission, which is an independent body. There are no term limitations for judges, although they must retire at the age of 70. Sunni Muslims must make up all of the judges. The Supreme Court makes judgements based on the constitution and Maldivian law; in circumstances where there is no relevant legislation, Shariah (Islamic law) is considered. The High Court and trial courts are two other types of courts.
Health and welfare
Male' boasts several hospitals and clinics with expert physicians. Indira Gandhi Memorial Hospital (IGMH) and Dharumavantha Hospital are the government hospitals in Male'. Other hospitals include ADK Hospital and others.
Aside from that, Male' has a plethora of clinics with excellent physicians and the majority of amenities. Please keep in mind that ADK Hospital, IGMH, and Dharumavantha Hospital are all open 24 hours a day, seven days a week.
Cardiovascular disorders, cancer, diabetes, and renal failure are the most common health issues. Hepatitis and typhoid are two food- and water-borne infections that provide a small risk. Malaria was eliminated in the Maldives in 1984, and the country was the first in the area to be declared malaria-free by the World Health Organization.
Education
98% of Maldivians can read write. The Maldives provide three forms of official education: traditional schools that teach the Qurn's reading and recitation, Dhivehi-language schools, and English-language elementary and secondary schools. The only schools that teach a conventional curriculum and provide secondary education are English-language institutions. Almost all children between the ages of 6 and 15 are enrolled in primary or lower secondary school, although enrolment in upper secondary education is much lower. Higher education is provided by a small number of private institutions. In Male city, the Maldives National University was the first public institution to provide a bachelor's degree program; throughout the years, a limited number of degree programs became accessible. The Maldives today has one of the highest literacy rates in the world.
Things to do in Male City, Maldives

Shopping in Maldives Capital

Are you a shopper? Me too! There are several stores in and around Male', particularly in Majeedhee Magu, where various things are offered on a single road. Shopping in Male' is not very taxing, however it might be difficult if you are alone. Majeedhee Magu has various grocery stores, shoe stores, and clothing stores at reasonable costs. Make a shopping list and satisfy your shopping needs in the Maldives.

Sightseeing in Maldives Capital

There are several sites to visit for sightseeing in Male' Capital. As you begin your sightseeing tour, make sure your cameras/phones are fully charged so you can capture the greatest images of Male', Maldives. Sightseeing with multilingual tour guides is undoubtedly worthwhile because they can give you with crucial and valuable information about sites. The views you'll witness will leave you speechless!

Picnics

A beachside picnic? Can be accomplished in the one and only Male' as well! Rasfannu Beach and Artificial Beach in Male' are beaches where you may picnic with your loved one or children as they enjoy the white sandy beach. Pack your picnic necessities and set off on a memorable lunch with breathtaking vistas and appreciative beach memories.

Surfing

Many Maldivian surfers satisfy their daily surfing needs in Raalhugandu, a surfing area in the Maldives. Surfing at Raalhugandu is absolutely spectacular with the view of the Maldives' Sinamale' Bridge as the massive waves build. What a beautiful sight to behold! Furthermore, there are several guesthouses and surf stores surrounding Raalhugandu of Male; city, making everything simple and adaptable for everyone who enjoys surfing. If you are one of them, don't miss out on this opportunity!

Visit to Hulhumale'/ Villingili

Both of these islands are near to Male' City and will undoubtedly provide a memorable experience for everybody! Hulhumale', a growing island, is a nice place to visit. Many apartments and structures are under development on the island, with fresh air and greenery all around. Hulhumale' is accessible by bus, boat, and vehicle and offers a variety of enjoyable activities. A barbeque area and limitless water sports trips are available. Villingili, on the other hand, is a very other tale. Villingili uses environmentally sustainable solutions and has a fantastic public beach for swimming. Furthermore, both islands are accessible by ferry and have a large population.

Salon visits

Looking for a radiant facial or a new hair colour for your vacation? Male', the Maldives' capital, has a plethora of salons to cater to your beauty needs throughout your visit. Many salons provide amazing facials for radiance and hydration at moderate prices.
Tourist Attractions in Male City, Maldives

The Maldives capital is famed for its wonderfully designed mosques, colorful architecture, magnificent fish markets, exquisite local food, and, most significantly, its rich Asian culture, which can be found practically everywhere.

There are a few things you must do to make your vacation to the Maldives more entertaining, whether you are visiting for a short or lengthy amount of time. Local tour guides in Male, the capital of the Maldives, are the finest in this respect, since they can assist you pick or tailor your trip based on your budget and length of stay.

The capital of the Maldives awaits your visit, packed with sights that will leave you speechless! The tourist attractions in Male' are primarily free and represent historical sites in the Maldives. In any case, the tourist sites are more attractive and closer together, saving time and energy!

Grand Friday Mosque and Hukuru Miskiiy

If you are staying in Capital Male City for an extended amount of time, you must pay a visit to Hukuru Miskiiy, a magnificent coral stone mosque. If you want to learn more about the Maldives' rich culture and history, this is the place to go.

Grand Friday Mosque, like Hukuru Miskiiy, is a large and well-known mosque located in the centre of Male. The Hukuru Miskiiy is now more of a historical site, and the Grand Friday Mosque is where the majority of people go for daily prayers and other religious activities. Both inside and out, the Grand Friday Mosque is stunning. This mosque's architecture and arrangement are enough to attract passers-attention. 

Henveiru Beach

Although the Maldives has several beaches, Henveiru Beach, an artificial beach in Male, is regarded for having the most stunning vistas and a tranquil atmosphere. This beach, located on the island's eastern edge, is a great place to spend your last few hours or days.

Because it is generally peaceful and deserted, it is also one of those areas in Capital Male City where you can rest and enjoy life away from the rush and bustle of everyday life. This location is most active in the afternoons and on weekends. As a result, you can truly appreciate the tranquil ambiance of the ocean in the Maldives capital city in the morning hours and on weekdays.

Sinamale Bridge

If you're going on a bike or automobile excursion, you may include a visit to Sinamale Bridge in your itinerary. You wouldn't want to miss out on the most stunning sights the Capital Male City has to offer, would you? Male, Hulhule, and Hulhumale are the three islands connected by the Male Bridge.

The best thing about Male Bridge is that it is close to Male International Airport, so if you need to get to Male quickly, all you have to do is call us and we will provide you with an amazing ride to and from this bridge, complete with scenic views of the Indian Ocean beneath you and Male Island all around you.

Victory Monument

The Victory Monument is an excellent place to learn about the Maldives' history, particularly when the Indian government assisted this lovely country in fighting and defeating the onslaught of Sri Lankan rebels. Because of its gorgeous angelic white marble all around and the center white, green, and red colored circular sign, the Victory Monument is well worth a visit.

As the Victory Monument is located away from the proud city life, people often visit there to find peace and tranquility, a rare thing to find in the capital male.

Tsunami Monument

Another must-see tourist site in Maldives Capital is the Tsunami Monument, which is within walking distance of the Jetty. Almost every sort of local tour guide, such as walking tour guides, bike tour guides, and auto tour guides, includes the Tsunami Monument.

The Tsunami Memorial was erected to commemorate the lives lost by several nations in the 2004 tsunami. It's a lovely, clean, and peaceful location. This place is also ideal for sea views, since the wide space provides a stunning view of the Indian Ocean, which is a lovely sight to behold in a tranquil setting.

Male Fish and the Local Market

Almost every traveler's bucket list includes a visit to the Maldives Capital's seafood and local markets. Instead of visiting monuments and mosques, most visitors and those waiting for ferries or planes frequent these markets to pass the time. The reason for this is the dynamic and energetic lifestyle of the citizens in these markets.

The local market isn't large, but it's known for its vast selection of fruits, vegetables, and other locally produced items such as coconut oil, coconut-honey sweets, and so on.

The Fish Market is an excellent place to learn about how fish are offloaded and transported to the market. Early morning visits to the Fish Market will give you an impression of how hard fisherman work every day to deliver fresh fish to both residents and visitors.

The Nation's Capital In the Maldives, Male city has a combination of contemporary and classic culture. While travelers may easily witness skyscrapers with beautiful resorts and hotels, the Maldives' history and traditional culture are also readily available for tourists to learn about the country and its capital, Male. A city tour in Male is the ideal way to make the most of your time; tour guides know the greatest and most interesting places to see.

National Museum

The National Museum of the Maldives, located in Male', is a massive structure that is closely watched. A ticket is required before entering the museum, which provides an excellent overview of Maldives history. With historical treasures and antiques, the museum will undoubtedly provide you with a wealth of information on the fascinating history of the Maldives, including the Maldives' kings.

Rasrani Bageecha (park) & Winter park

The Rasrani Bageecha, formerly known as Sultan Park, has reopened after being refurbished and is a sight to behold. The Rasrani Bageecha is a great place to spend an evening with your children because it has several play spaces as well as fish ponds. You may unwind in the Rasrani Bageecha for free while your children play. Rasrani Bageecha's photographs are equally stunning! Furthermore, Rasrani's winter park is a wonderful experience in Male'. You may skate and play with snow at the Male' Winter Park, which is quite unique! You will be charged to participate in these activities in Winter Park!

Local Market in Maldives Capital

The Local Market, located only a few metres from the Male' fish market, is brimming with fresh fruits and vegetables from the Maldives' several local islands, all of which are tropically cultivated in the Maldives. From mangoes to watermelons, the fresh fruits in the Male' local market are both inexpensive and delicious. Eating these fresh fruits on a hot sunny day may help you cool down!

Hukuru Miskiy (Old Friday Mosque)

The Hukuru Miskiy, built in the early 1600s from of limestone obtained from coral reefs in the Maldives, is certainly well-maintained and spectacular. Furthermore, the sculptures on the monument and the mosque itself will wow you due to the brilliant Maldivians of old. There is also a cemetery on the grounds of this mosque, where you can see how individuals are buried in the Maldives. Don't forget to take a picture with the lovely monument at Hukuru Miskiy.
Day Tours From Male Maldives
Whale Submarine Tour
This tour includes a 45-minute dive in the Maldives' only submarine, giving you the opportunity to observe the splendour of the undersea world! The Maldives submarine trip will feature mantas and sharks feasting and enjoying their home, as well as dinner provided during night cruises. You will remember this for the rest of your life if you see it with your own eyes.
Resort Day Trips
On a tight budget but still want to visit a Maldivian resort? Day trips to Maldives resorts are completely satisfying! The resorts are located in adjacent Male' and provide a tropical atmosphere with crystal blue seas. Furthermore, these resort day tours include return transfers by speedboat, lunch, and a variety of resort activities.
Sand bank and sunset cruise
This excursion is ideal for a calm and romantic escape from the city. Sand bank excursions for a fantastic picnic or just tan time, where you may rest while the sun beams on your bare skin. Furthermore, the sandbanks are breathtakingly lovely, ideal for a romantic dip or a picture session with your significant other. After the sand bank experience, the sunset sail in search of dolphins will leave you speechless with the golden sky reflecting on the Indian Ocean. You are also quite fortunate to see dolphins on this tour, which is an unforgettable sight. Return transports to Hulhumale' jetty are included in this tour, as well as a safety briefing, buoyancy assistance, water bottle, and snorkelling.
Half day snorkeling tour Maldives
Someone who enjoys the sea? What about snorkelling? Then this is the tour for you! Half of the day, get aboard a motorboat for a snorkelling excursion. This tour takes you to the greatest snorkelling areas near Male'. You could see sting rays swimming about or lovely turtles in their natural habitat at these snorkelling spots. Discover the aquatic creatures and be amazed! Take note of the sights to visit based on the weather and tides. This excursion is accessible both in the morning and in the afternoon.
North Male' Island Hopping Tour
The North Male' Island Hopping Tour includes visits to the nearby islands of Himmafushi and Huraa. During these visits, you will see how Maldivians live on the nearby islands, as well as the Maldivians' hospitality and the true Maldivian lifestyle. The boat construction yard excursion in Huraa will provide you with an insight into how boats are produced in the Maldives as well as the outstanding ability of people who create them! Huraa's mangroves and freshwater lakes provide for an excellent picture opportunity! In Himmafushi, you may eat at a local restaurant and visit several souvenir stores to bring home a few souvenirs!
South Male' Island Hopping
The south of Male', Gulhi and Maafushi Islands are fantastic places to explore! These islands are included in the South Male' Island Hopping tour and provide personal knowledge about the Maldivian way of life. Visits to these islands will offer you with information of Maldivian history, culture, and hospitality. It will wow you! Get a sense of how Maldivians live in Gulhi, and in Maafushi, you may eat at a local restaurant and browse for souvenirs. You can even pay a visit to the house of a local family if you desire!
Questions and Answers
Is Male Maldives worth visiting?
Yes, it is well worth the effort. It's a magnificent and one-of-a-kind place with excellent services. Obviously, price does not equal quality, but by following the above suggestions, you may make your vacation a good value for money. Last but not least, you do not need to stay for a long period of time.
Is Male a city in Maldives?
Male, also spelled Male' or Malé, is an island and atoll in the Indian Ocean that serves as the capital of the Maldives. It is located on the Male Atoll, approximately 400 miles (645 kilometers) southwest of Sri Lanka.
Do they speak English in Maldives?
While Dhivehi is the official language, most Maldivians are fluent in English. Many employees at various Maldives resorts are fluent in French, German, Mandarin, and other other languages.
Which country is Male Maldives?
Male is the capital city of the Maldives country
Can you drink alcohol in Male Maldives?
In Male and Huhulemale, there is no alcohol accessible. A resort island is the only spot where you can get an alcoholic beverage. It's also forbidden to transport alcohol from a resort island to Male, so you wouldn't be able to go on a day excursion to a resort and bring a bottle of wine back with you.
Where is Male, Maldives?
The city of Male is located in the Kaafu Atoll, right next to the airport's island (Hulhumale).
How long should I stay in Male, Maldives?
In my opinion, 2-3 days of touring around Male is more than plenty, but if you plan on doing day trips from Male, it makes more sense to stay longer.
How to go from Maldives International Airport to Male Island?
Maldives capital, with a small land area, is easily accessible. Because heavy traffic is uncommon, getting to your destination will take little time.
TAXI: Taxis In the Maldives, acquiring a cab may be difficult owing to factors such as time and location. However, most of the time you may hail a cab off the road or phone a taxi centre and get at your location for MVR 25/-.
BUS: Although there are few bus stops in Male' City, you may get a bus from Greater Male' Terminal near Bodu Thakurufaanu Magu. If you wish to go by bus, you may acquire a card at the bus terminal or even give the money to a local who has a card, and after recharging it, you can begin your voyage!
FERRY: The Villingili Ferry Terminal is where you may purchase tickets to travel to Villingili. You can reach Villingili after a 10-minute ride from the boat. It would cost around MVR 5 one way.
Where to eat in Male
You can find nicer places to eat in Male when compared to other islands. Here is a list of some well recommended places
Belle Amie Bistro
Sala Thai Restaurant
Seagull Cafe House
City Garden
The Sea House
---
---