Please Watch Maldives transfers explained Video
---
Maldives Transfer Guide
Maldives is one of the most dispersed country in the world, each island is sperated by the sea, therefore Maldives Transfers are one the most challenging part for the visitors and locals. There is no transportation system that connects the Maldives as a whole. A portion of the nation is connected by aircraft, while another is connected by water. A ferry boat or an aircraft transfer are required to access an island. One of the most used transportation in maldives the ferry boat transfers, as these are the cheapest maldives transfers (1-5$ PP), which are fine for a short distance and good weather. Boats take up to 3-24 hours to get from one atoll to another, even though a speed boat takes just 1-6 hours, and many boats are unable to proceed due to inclement weather. As a result, there are no reliable boats for cross-country transit. There is, however, an internal ferry network for each atoll, which runs one ferry daily in certain locations and one or two weekly in others (these internal ferry boats also take around 2-5hrs to the most distant islands in the atoll). there are some private speed boat transfers, which are fast and convenient, costs around (20-50$ PP) takes around 30-50 minutes to the most distant island in the atoll.
You Must Book Your Transfer In Advance
Keep in mind there are no Maldives resortS transfer service providers at the International Airport. All island transportation, whether to a resort or a local island, must be reserved before you arrive in the Maldives (apart from public ferry) (budget accomodation). There are No public ferries, boats, or water taxis available to take you to your accommodation from Velana International Airport (Male). Coming to the Maldives and arranging on-site transportation from the airport to the island on your own is quite challenging. To guarantee a seamless transfer procedure and avoid unwelcome airport delays or even an extra night in Male, all transfers must be scheduled in advance. There are no shared timetables for public ferries (slow boats) or speedboats to or from resorts in the Maldives.
Types of Maldives Transfers
1. Maldives Speed boat Transfers
In Maldives, Speedboat transfers are the most convenient way to travel by the sea, however there are no scheduled boats in most part of the Maldives. it is mostly used for private hires. it is fast and comfertable and the ride it self is enjoyable during the calm sea.
2. Maldives Domestic Flight Transportation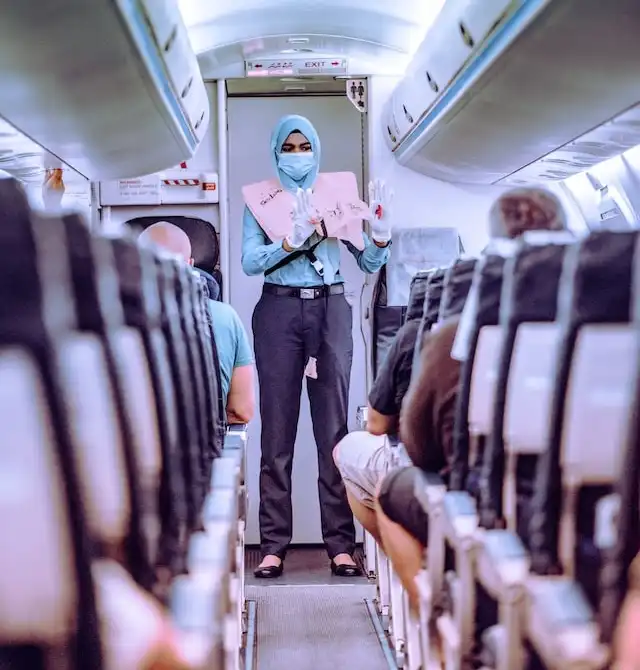 There are only very few islands that can be visited by domestic planes. The Maldives flights are operated to transfer between Atolls, most of the domestic airports are located in uninhabited islands, then again from the domestic airport you will need another boat transfer to the islands located in the Atolls. There are 3 domestic maldives airlines operated and ticket price costs around 100-200$ per way per person. To book maldives flight tickets you can click on the above domestic transfers button
3. Maldives Seaplane Transportation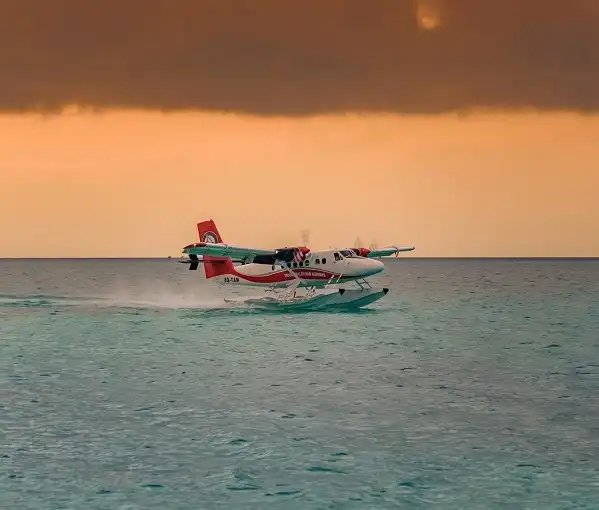 Maldives international Airport holds the biggest seaplane port in the world. Maldives Seaplane transfers are one of the most convenient ways for far distant resorts, as it can take off from international Airport and land directly to most resorts and islands. Private charters are also available. The cost for seaplane tickets depends on the travel destinations (to the nearest Atoll, maldives seaplane cost price is around 500-600$ PP) and private charter seaplane can be around 10000$ for the close by atolls.
4. Maldives ferry transportation
To understand the Maldives public ferry schedules, you will have to fully understand the Atoll names and island names. You will find same island names in different Atolls. Each Atoll has an internal transportation ferry network, We call them (provincial ferries), and they function similarly to a metro system. The only difference is that our ferries are slower and can only make one voyage every day, but it works just the same. It starts from one island and it will make a round with stops to some islands on the way. The same ferry will return to the starting point after completing round. 
Now you understood the internal ferry system, so you can view the above Maldives transfers ferry schedules and try to visit some islands, but the problem is, how do you travel from one Atoll to another atoll? Sadly there are very few public ferries connecting Atolls, mostly the domestic flights are operated to travel between Atolls and many airports are built on uninhabited islands, that sit separate from other islands, so again another boat is required to get to your island. There are 15 Airports operated across the Maldives and all of them will have daily scheduled flights connecting Male airport. 
5. Maldives Taxi Service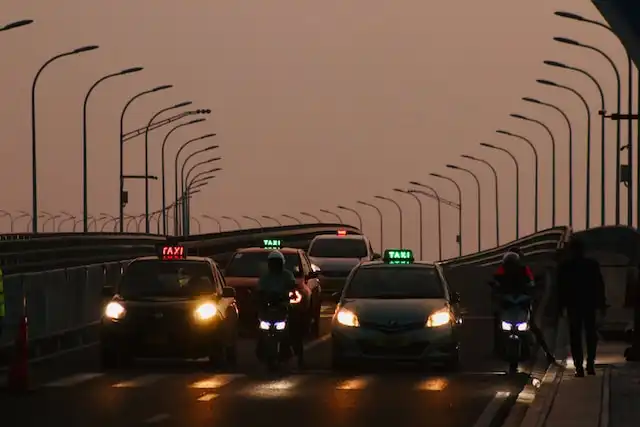 Taxi can be used from the Velana International Airport to visit Male city and Hulhumale city. Airport Taxi transfers are only available to these two lands and takes a 15-minute ride. The cost of the taxi is around 7$. The taxi queue will be in front of the speedboat jetty.
Maldives Resort Transfers
Visitors visiting Maldives resorts are needed to schedule private shuttles from Male Airport to resorts since they are isolated by the ocean and have no connection to the public transit system. While some of the nearby hotels may be reached via speedboat, others require domestic flights. Our list of transfers is available above, and you may reserve one online.
Useful Tips for Booking Transfers in Maldives
To guarantee that transportation to and from the resort are properly scheduled, an arrival/departure date, time, or flight must be provided.
You must make reservations at least three days before to your arrival with your hotel or the transfer provider because domestic flights, seaplane transfers, speed boats, and ferry boats are frequently completely booked on the day of your arrival.
By domestic flight, each passenger is permitted to check in 20 kilogrammes of baggage and 5 kg of carryon.
The length of the island transit varies on the hotel chosen. Transfers by speed boat might take about 10 minutes or up to 3 hours. Transfers by seaplane typically last 30 to 60 minutes.
Don't overlook Friday! In the Maldives, today is a holiday, thus no ferries are operating.
Typical Seaplane Transfer Times: During daylight
From the airport's arrivals area, it takes around 2 minutes to walk to the transfer departure location. Just beyond the arrivals hall is the ferry port for quick boat transfers.
Ferry boats are only operated in good weather, so incase the weather changes suddenly, these ferries can get cancelled without any prior notice. These ferries will only stops in inhabited islands, to go resorts you have to hire a private boat.
Other Modes of Transportations in Maldives
1. Bus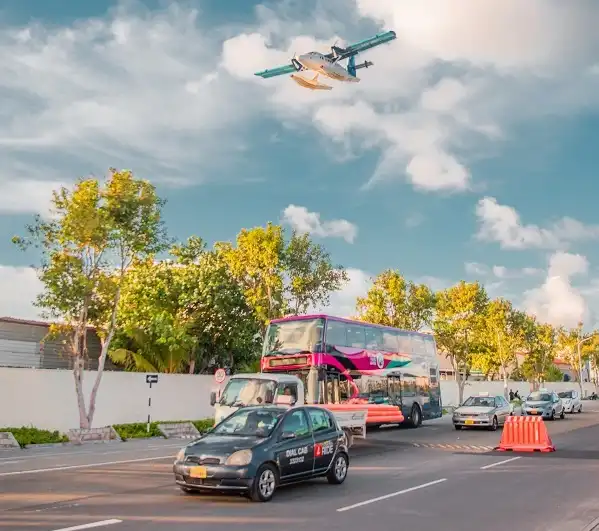 Maldives Transport and Contracting Company runs a bus service that is less expensive but only available on a few islands. Bus service between Male and Hulhulmale has a starting charge of MVR 10. Just 50 metres from the airport exit, visitors planning to stay in Male or Hulhumale City may board a shuttle bus for MVR 20. Every half an hour is the frequency, albeit this is only an approximate estimate because timing is highly dependent on traffic density. During the wet seasons, anticipate packed buses; if you have a lot of luggage, avoid taking the bus.
2. Cycles
Due to the small roads and lack of parking spots on the islands, motor and auto cycles are the most often utilised land vehicles in the Maldives. Additionally, the heavy traffic in the city of Male makes driving a car quite challenging.
3. Yatch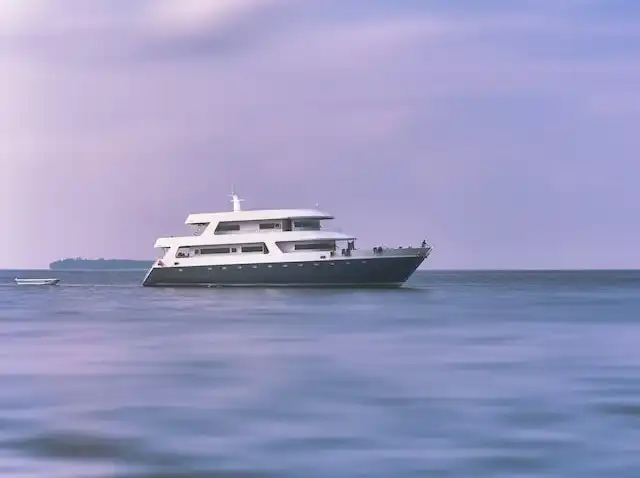 In the Maldives, a boat is unquestionably the greatest means of local transportation if you have a lot of money to spend since it gives you access to distant islands and lonely reefs. When you're here, you may rent a yacht for a pleasant, opulent experience that also gives you the flexibility of living outside at sea. Bring your own boat or hire a private charter to get your broker to create the ideal route for your group. The size of the yacht, the amenities offered, and other items all affect the prices.
4. Maldivian 'Dhoni'
The traditional and handcrafted "Dhoni," one of the oldest known sea vessels of the Maldives, will make your island-hopping adventure much more interesting. A dhow, a classic Arab sailing boat, is similar to a dhoni. The Maldives islands have seen substantial use of it. Many Dhonis are waiting in the harbour if you go along the coastline from the airport ferry jetty to Boduthakurufaanu Magu's eastern end. Private rents can go from MVR 1,000 to MVR 1,500 per day.
---
---
---
---
---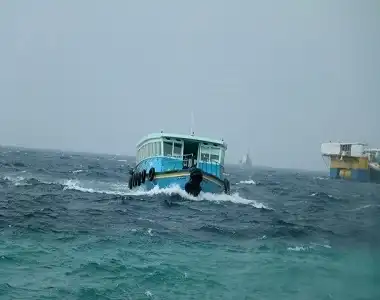 ---
Maldives Ferry Schedules
Upper North Province Ferry Schedule
North Province Ferry Schedule
North Central Province Ferry Schedule
Our Transfer Destinations
Male Atoll Speedboat Transfer Destinations
---
GA. Atoll Speedboat Transfer Destinations
Questions and Answers
Is there transfer service available at the international airport on arrival to book?
No, everything needs to be pre arranged before your arrival. But if you are staying in Male or Hulhumale city yes you can grab a taxi from the airport. All other islands need either a speed boat or air transfer.
Is it possible to visit islands by the domestic flight?
Thetotal 200 inhabited islands and 158 resorts are divided into 20 atolls and 15 atoll holds domestic airport on mostly unhabited islands, so again in many atolls you will require a speedboat transfer after you arrive to the domestic airport.
What types of hotels are there in Maldives?
Mostly there are village hotels and city hotels with 3 star and 4 star services
Is it possible to book shared seaplane for any island?
No. Shared seaplane are operted on the request for some resorts only. So only those resorts have the rights to book these seaplanes, however we can arrange private seaplane to any island
Is it safe to travel by sea?
I can tell you its safer than flights, you will have floating life jackets on speedboats, but during the stormy weather it is not recommended to travel by very very small boats. some incidents have occuered, but so far not with any toursit transfer. becaue we usually arrange bigger boats for toursits.
Why is the maldives transfer so expensive?
Because of the small populations and dispersity, its very difficult to organize daily schedules on different times for an island, and the speedboat consume a lot of fuel with high horse powered petrol engines to reduce the travel travel time.
When is the best time for sea transfers?
During the North east monsoon its mostly very calm and flat sea (January to March) but during the other monsoon also we have many calm and quite days. It is very difficlut to predict a rough sea in advance.
More Questions?