The Maldives on World Map
Quick navigations (Topics covered in this guide)
16.2 Where is Maldives Islands

16.4 Is it Safe to visit Maldives?

16.5 Where is Maldives islands

16.6 What are the best places to visit in the maldives islands?

16.7 Which activities are best recommended?

16.8 Which country is the maldives in?

---
Maldives Location On World Map
This map depicts the location of the Maldives within the area. Asia is separated into three major regions. Afghanistan, Bangladesh, Bhutan, India, Nepal, the Maldives, Pakistan, and Sri Lanka make up South Asia. Southeast Asia consists of Indonesia, Malaysia, Singapore, the Philippines, East Timor, Brunei, and Christmas Island, as well as Cambodia, Laos, Myanmar (Burma), Thailand, and Vietnam. China, Hong Kong, Macau, Taiwan, Japan, Mongolia, North Korea, and South Korea make up East Asia.
---
1. The Maldives Map 2022
The Maldives island location on world map for visitors provides information about where is Maldives located, and with best places marked, in case if you think of where to stay in Maldives? There is also a lists of the islands with name in this guide. There are total 26 atolls and 1192 islands, 185 of them are inhabited by 447,137 people. The country is located in the Indian ocean equator line, which is the centerline of the world, within the distance of a 1-hour flight from Colombo, Sri-lanka. Being in the centerline is the reason why the Maldives has 2 climates and temperature is average of 30-32°C. To find more interesting facts about the Maldives please read the full content.
The Maldives maps is for tourists who are visiting for holidays, located in Indian Ocean, close to the equator (center of the world). This map of the maldives, will show best places for diving, surfing and excursions. It will help visitors to decide where to stay and what to expect in the area.
---
World Map Maldives
If you are planning a vacation on one of these islands, you may find out which islands are nearest to your selected destination and schedule travels appropriately. If you have reserved more than one resort, you may check the location of the other resort and predict what you could view throughout your travel.
The above maldives in world map shows direct flight destinations.
---
Airport Location Map Of Maldives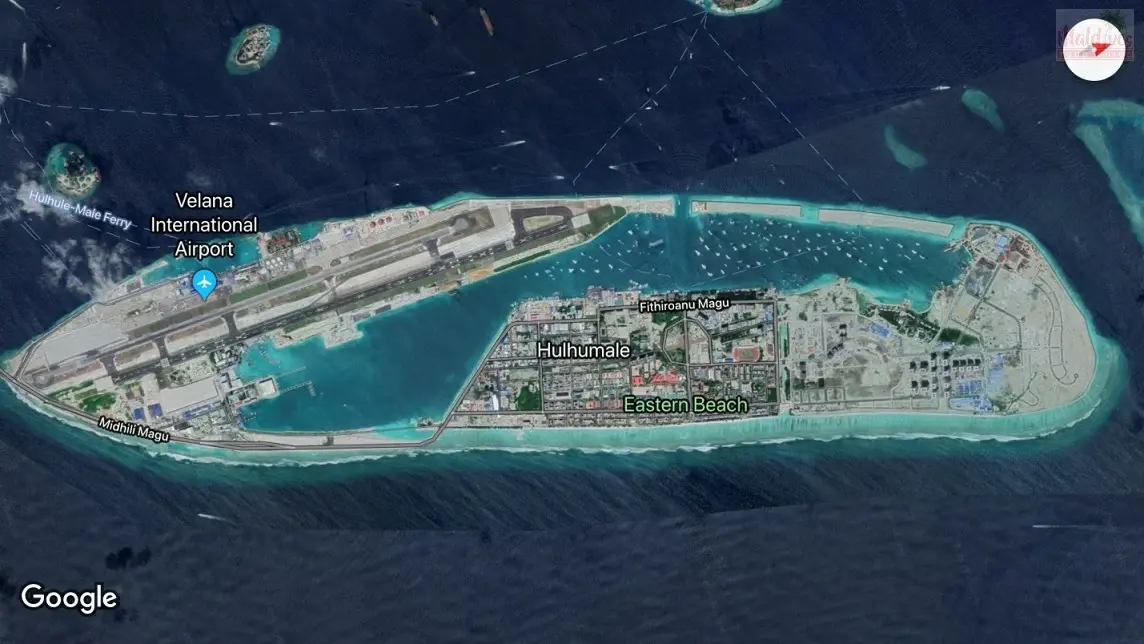 To visit Haa Alif Atoll, take a local aircraft from Male' International Airport to Hanimadhoo. There are various resorts in Noonu Atoll and Baa Atoll if you are looking for islands in the north that can be reached by seaplane. Noonu Atoll is roughly an hour by seaplane from Male', while Baa Atoll is around 45 minutes, depending on the island.
Few of the five star resort near Male' or airport
Kurumba Maldives - 5 minutes.
Velassaru Maldives - About 15 minutes from airport.
Sheraton Fullmoon Resort - About 15 minutes.
Jumeirah Olhahali - About 50 minutes from airport.
One&Only Reethi Rah: About an hour from airport.
Taj Exotica - Just 10 minutes from airport.
Few of the four star resort near Male airport
Paradise Island Resort - About 15 minutes.
Bandos Island Resort - About 15 minutes.
Meeru Island Resort - About 30 minutes.
---
Map of Maldives Atolls
Maldives atoll Map – It is divided into 26 atolls, 'Atolls' the English word came from the local language "Atholhu". Huvadhoo is the largest atoll and it is also 2nd largest in the world. Gan is the largest island. This is readily visible on the map. The government has separated it into only 20 atolls for administrative considerations. Scroll down to discover the international airport at Hulhule' on Kaafu Atoll. Because of the location of the major airport, Kaafu Atoll is the busiest tourism zone. Tourists has been expanding in Noonu Atoll in recent years, particularly premium tourism. The map displays several islands near together, which may be one of the reasons for attracting both investors and visitors in the luxury industry. Click for Maldives Ferry Schedules
---
Maldives Island Map
Maldives island map for visitors provides informations about where the islands are located. Some sandbanks have been turned into islands throughout the years. There have also been some reclaimed islands constructed for tourism purposes. There are now several land reclamation initiatives underway in Kaafu Atoll, near Male', with many of these projects including recovering land in the lagoon and so generating new islands. As a result, the current island count in the Maldives would very probably surpass 1200.
Maldives Finest recently found that the islands to the north of the Maldives receive much less rainfall throughout the year. Haa Alif Atoll is the furthest north, followed by Haa Dhaalu. The islands and atolls are particularly easy to find because they are at the very top of the chart. Scroll up to find the first atoll. Yes, it is the country's northern regions. Capital Male' sits in the middle, with southern atolls towards the bottom.
Now you now know where the Maldives are, and the map above shows the location of all islands, including local home islands. It is difficult to find the location of a certain island among the 1192 islands. However, if you are familiar with the atoll, it is simple.
---
2. Equator
Maldives Location map for travel routs with distance shows the exact location of the Maldives in world map. The country is located in indian ocean, 1000km disntance from kerala state of India. The Maldives is one of several nations positioned on the equator, which separates the North and South Poles. The country is closely extended from north to south of the globe, with the equator crossing between Fuvahmulah and Gaafu Dhaalu Atoll in the south. Each of the Maldives' 1192 islands has distinct features in terms of topography and people's lifestyle. Fuvahmulah is one of those rare islands with local fish and a bird seen nowhere else in the Maldives. But nothing appears to be noticeably different just because of the equator, save that the inhabitants speak a separate dialect of the local language that the majority of the other locals do not comprehend. In reality, the equatorial atolls of Addu, Fuvahmulah, Gaafu Dhaalu, and Gaafu Alif Atoll (together known as Huvadhu Atoll or Huvadhoo Atoll) each have their own dialect. The dialects are similar, but sometimes quite distinct. Huvadhoo is a big natural atoll that unites Gaafu Dhaalu Atoll and Gaafu Alif Atoll for simpler government management.
---
3. Male the capital of Maldives
Capital city Male' city is the capital and most populous city of Maldives country. With a population of 133,412 citizens and estimated 50,000 workers in an area of 1.92 square kilometers, makes Male city one of the most densely populated place in the world. The city is geographically located at the southern edge of North Male' Atoll (Kaafu Atoll). The city holds Maldives's 1/3 of the population and its most important landmarks including a stingray feeding point and a surfing view. Male City tour is also a great way to learn and discover the history of Maldives.
Male Activities
Male' (with an apostrophe) is the capital of the Maldives, and it is pronounced Maaley. On the internet, it is occasionally spelt Male (no apostrophe), which is incorrect. The map of Male (or Male') is shown below.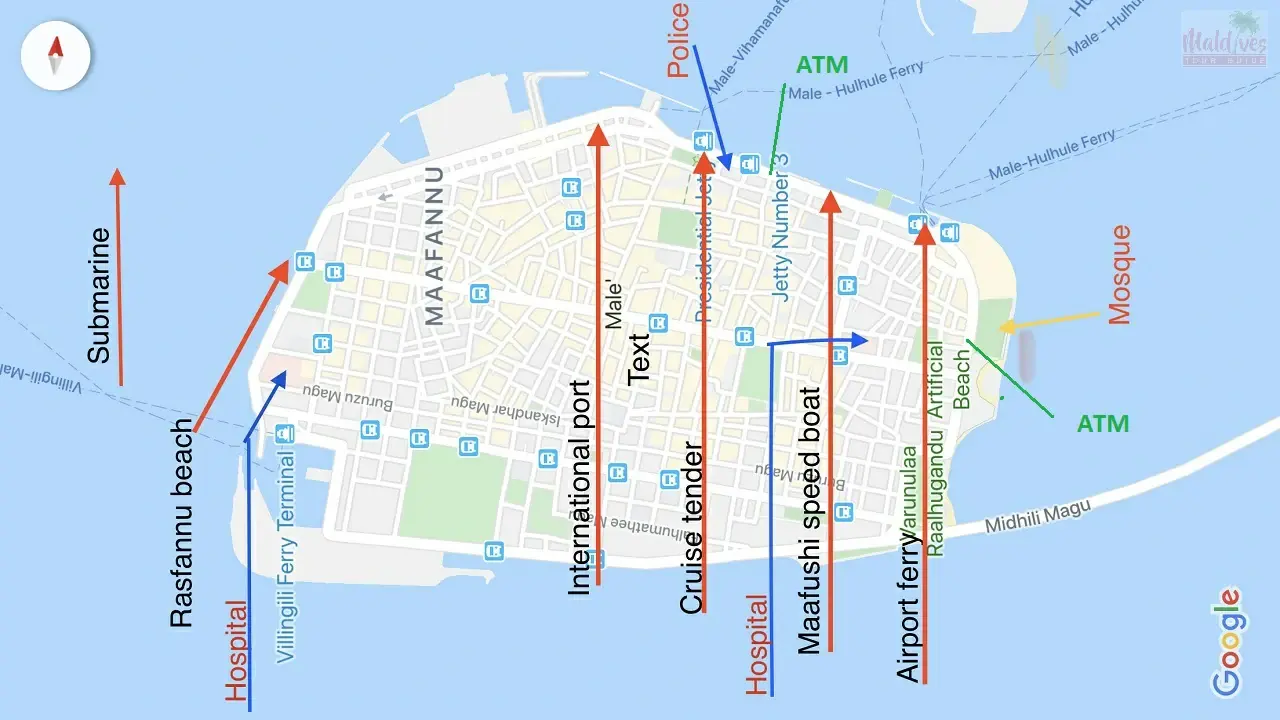 Ferries run every 10 minutes between the airport and Male' from 5 a.m. until midnight; after that, ferry operations cease until the following morning. Taxi services are also available 24 hours a day, seven days a week.
---
4. Geography
Maldives is made up of 1192 coral islands spread across 90000 square kilometres in the Indian Ocean. The islands are divided into 26 atolls by nature. Because each island is surrounded by water, visiting the island will necessitate the use of a boat. Many islands share the same lagoon, however there are also independently isolated islands in the same region. Most islands have their own house reef to protect their beaches, while some atolls have an outside reef to defend the entire atoll. Learn more about the geography and geology of the Maldives.
The Maldives are thought to have developed on extinct super volcanoes; each atoll is such a volcano, with islands created on the rim. That might explain why the islands in each atoll have a roughly round form.
---
5. History of Maldives
The Maldives is a small yet ancient country, with historical evidence indicating that it dates back more than 2500 years. Maldives has always been autonomous, with the exception of a few brief foreign invasions. For the last 1000 years and more, the country has had a ruler; a king, queen, sultan, or president.
People utilised stars to navigate in ancient times. People travelled from island to island, atoll to atoll, and even worldwide despite the lack of maps and GPS. Month-long sea voyages, particularly to Saudi Arabia, were a feature of seafaring life. According to historical accounts, a Maldivian messenger travelled to Rome with presents for the Emperor. Learn more about the Maldives' history.
---
6. Things To Do in Maldives
If this is your first vacation, you might be wondering what you can do. Scuba diving, snorkelling (see top reefs for snorkelling), watersports, in-land sports, and tours are among the primary activities available. Scuba divers often dive every day, then relax and spend their nights at bars. The same trend holds true for snorkelers, who spend hours and hours doing nothing but that. Watersports enthusiasts are not always consistent; guests who enjoy watersports frequently participate in a variety of other activities in Maldives. The most prevalent watersports include banana riding, catamaran sailing, waterskiing, wakeboarding, windsurfing, paddling, jetskiing, and so on. Some resorts also provide parasailing and kite surfing. The most intriguing are the excursions. Sunset fishing, dolphin viewing, snorkelling expeditions, island hopping, shopping trips, romance getaways, sunset cruises, and other activities are available.
---
7. Maldives Hotels and Resorts
Maldives Resorts
These are private islands that have been leased by the government of the Maldives to private companies for the purpose of tourism-based activities. Therefore the entire island is leased for one company most. Unlike local island guesthouses, you can find bars, clubs, DJ parties, massage parlors, diving schools with many activities, and bikini is allowed on these islands. There are mainly 3 categories of rooms on these islands and are (Garden rooms, beach rooms, overwater rooms). The number of rooms on each island varies, an average 80-120 rooms. These islands are full of privacy and less crowded. That's why it's the best place for relaxing, especially for those who live in busy cites, this is a place you need. That is also why many famous celebrities, athletes, and royals visit these islands. Like I mentioned each island is separated by the ocean, so even the government authorities need a special warrant to enter these private islands.  There are over 132 resorts in the country and the prices to stay in a resort will cost you an average 600$ per night. Most of these islands are 5-star properties, but there are some 4 star and 3-star islands.
Maldives Resorts
Island Guest Houses or City Hotels
These guest houses or hotels are located on the local islands. Until 2010 there were no hotels in the local islands as it was prohibited by the law of the country. but as backpackers, students, and many people cannot afford these resorts the government decided to allowed them to visit and stay with locals with special conditions. That is to obey and respect the law and local culture of the country. Which means no, no alcohol, no public kissing, no pork, and no pets are allowed on these islands. The first island to open with this project is called Maafushi island and today we have more than 70 (3-star hotels) in Maafushi. Having those restrictions, all these local island hotels are categorized as 3 star properties Travelers who travel for (Budget, Family, honeymoon, and Local stays) can choose these local islands. The most famous local islands to visit can be (Maafushi, Gulhi, Dhiffushi, Guraidhoo, Thulusdhoo, Huraa). These islands are also in Male Atoll, which saves some traveling expenses and time. The average hotel rates are between 60-100$ per night. These hotels are the best for long staying guests and culture explorers. Book a city hotel.
Maldives Island Hotels
---
8. Airport Guide
There are a total of 17 airports across the Maldives, and the Main international Airport is called Velana International Airport, which is also located next to the Maldives capital city. Now if you are first-time visitor things might not be the same as you expected, the airport is a separate island only used for the airport. So yes most of the Maldives transfers are arranged by sea. for more details of the airport services and check-in process please read the Maldives international airport guide. For the flight schedules visit FIS
---
9. Maldives Religion
Now you might think about why this topic! It is important to know the religion and law of every country before visiting, without proper information, sometimes travelers have been in trouble in the past. It was a Buddhist country before the 12th Century. Yoosuf Thabrezi is believed to be the person responsible for the conversion to Islam in 12th Century, since then it is 100% Muslim Country. the country has some rules which are different from other tourist destinations in the world. Drinking or carrying Alcohols in the city or any local island is illegal, bikini, some foods (ham, pork), public kissing again in the city and local island is against the Law and culture of the Maldives.
Maldives Historical Tour
---
10. Dhivehi Language
The official language of the Maldives is called Dhivehi ((ދިވެހި, similar to Arabic, Dhivehi is also written and read from right to left. The Maldives has a 98% literacy rate, which is one of the highest in the world. Also, modern day community 80% of people can understand and speak in English, so for travelers find easy to communicate with local.
---
11. Maldives Currency
The currency of the Maldives is called As Rufiya and at the moment the currency value to USD is 15.45. Everywhere in the country US dollars are accepted. But the one-dollar bill is less value if exchanged to currency. Many places 1 dollar bill will be taken as 10mvr. There are 2 USD ATM in the mainland, one is located in the Male international Airport. The other one is in Male city.
---
12. How to travel around by public transportations?
There is no transportation network that connects the entire Maldives. Part of the country is connected by planes and another part is connected by sea transportation. To visit an island, you need either a ferry boat or a plane transfer. The most used transportation is the ferry boat transfers as these are the cheapest (1-5$ PP), which are fine for a short distance and good weather. To travel from one atoll to another atoll the boats will take up to 3-24 hours even the speed boat takes 1-6 hours and during the bad weather, many boats will not travel. That's why there are no reliable boats to travel across the country. However, there is an internal ferry network for each atoll, which in some regions operates daily one ferry, and some regions weekly one or two (these internal ferry boats also take around 2-5hrs to the most distant islands in the atoll). Also, there are some private speed boat transfers, which are fast and convenient, costs around (20-50$ PP) takes around 30-50mn to the most distant island in the atoll.
Click here for
Maldives Transportation
.
There are only very few islands that can be visited by domestic planes. The domestic flights are operated to transfer between Atolls, most of the domestic airports are located in uninhabited islands, then again from the domestic airport you will need another Speed boat transfer to the islands located in the Atolls.
Taxi
Taxi can be used from the Velana International Airport to visit Male city and Hulhumale city. Taxi transfers are only available to these two lands and take a 15-minute ride. The cost of the taxi is around 7$. The taxi queue will be in front of the speedboat jetty.
Seaplane
Maldives international Airport holds the biggest seaplane port in the world. Seaplane is one of the most convenient ways for far distant resorts as it can take off from international Airport and land directly to most resorts and islands. Private charters are also available. The cost for tickets depends on the travel destinations (to the nearest Atoll is around 500-600$ PP) and private charter seaplane can be around 10000$ for the close by atolls.
---
13. Tourist Attractions
There are some interesting tourist attractions across the country. Because of the dispersity, it is not easy to access all the attractions. Few attractions are located in Male city and others are indifferent islands. At the moment there are very few public transportations from Male to those islands. Please visit Maldives tourist attractions list to find the proper information.
---
---
14. Best Islands In Maldives
Island Hideaway Beach Resort & Spa
Hideaway Beach Resort & Spa is excited to announce the introduction of an iconic brand for the world's most discerning visitor looking for authentic luxury experiences. On the far Northern Point of the 33-hectare island, "The Signature Collection by Hideaway" will offer private luxury and villa-style living. A'resort inside a resort' is a revolutionary concept in one of the world's most sought-after, award-winning destinations: the Maldives.
---
Malé Island
Male City, the Maldives' capital, is located on the southern margin of North Malé Atoll. Male Maldives is undisturbed by human footprints and is the most popular destination for honeymooners, couples, and water sports enthusiasts. It is a natural wonderland with thick island canopy and photographs of stunning scenery that are a visual and sensory feast. This natural refuge with palm-fringed lagoons and the most tranquil setting allows you to escape the hustle and bustle of the world.
---
Hulhumale Island: Maldives Artificial Island
Hulhumal- is a reclaimed artificial island located quite near to the Maldivian capital that was meant to decongest the population of Male. It may not be the most picturesque hamlet, but its lovely shoreline and lack of visitors make it a good alternative for a Maldives honeymoon. It is one of the top Maldives honeymoon islands.
---
Utheemu Island
Utheemu is an important historical site in the Maldives. The island is the birthplace of Maldives national hero Sultan Mohammed Thakurufaanu, who ousted Portuguese occupation in 1573. His palace still stands and is in great shape after more than 500 years, treasured and preserved by the island inhabitants.
---
Biyadhoo Island
This is the ideal Maldives honeymoon island because of its tropical environment and stunning vistas that appeal to couples. It is densely forested with bananas, coconuts, mangoes, cabbages, and cucumbers, and it is studded with various eateries and beach shacks where you may sample the greatest seafood dishes. Divers, canoe paddlers, scuba divers, and snorkelers may also enjoy themselves here.
---
Fihalhohi Island Maldives: Beauty And Romance
It is one of the most beautiful spots to visit in Maldives for honeymooners, located in the Kaafu Atoll in South Mal-. The Fihalhohi Island Resort, which features a variety of overwater bungalows to stay in, is one of the most romantic Maldives island resorts. In addition to its well-equipped overwater apartments, the Fihalhohi Island Resort's Palm Groove, Aeolus Dive Centre, and Anggerik Spa make it a fantastic place to visit. And the island's gorgeous beaches, covered by coconut palm palms, are wonderfully lovely.
---
JA Manafaru Island
JA Manafaru is a spiritual sancutary and beautiful private island resort at the far northern end of the Maldivian archipelago. JA Manafaru is idyllically located at the peak of Haa Atoll, where the Arabian Sea meets the vast Indian Ocean, affording privacy and distance from adjacent islands.
---
Maafushi Island
This is one of the most gorgeous islands in the Maldives, surrounded by magnificent resorts, beach shacks, and seaside eateries. The best part is that you may appreciate the scenic splendour of this island by taking a boat excursion. Sunbathing and snorkelling are also available for a fun-filled activity.
---
Alimatha Island: Eastern Edge Of Maldives
Alimatha Island, located on the eastern tip of the Maldives in the Vaavu Atoll, is one of the top Maldives honeymoon destinations. It is one of the top honeymoon islands in the Maldives due to its crystal clear seas, sun-kissed beaches, turquoise lagoons, and wellness facilities. The Alimatha Aquatic Resort on the island provides luxurious accommodations in the form of beach bungalows and overwater villas, as well as a variety of watersports.
---
Hondaafushi Island Resort
Hondaafushi Island Resort is a private Maldives getaway. Hondaafushi, like many other islands, is simply stunning, with rich flora and excellent beaches spanning an area about 2.5 kilometres in length and 700 metres in breadth. While the south side of the island is home to a spectacular coral, the west side is where tourists may swim in the crystalline waters of the lagoon and participate in a range of water sports. Diving will take place on the south side of Hondaafushi Island, where manta rays and sharks are expected to emerge.
---
Veligandu Island
This island, known for its glistening water and unending areas of vegetation, provides guests with a calm getaway from the hectic life. It boasts lovely lagoons where you can go snorkelling or scuba diving. At the coastal restaurants and cafés, you can also enjoy delectable treats and cool drinks. It also offers some of the most opulent spas where you may indulge in massages and cosmetic treatments.
---
Nalaguraidhoo Island: Natural Beauty
The main attraction of the Maldives' South Ari Atoll is Nalaguraidhoo Island. The island is well-known for its scenic environment and natural beauty. The Sun Island Resort & Spa on the island assures that honeymooners have a pleasant stay.
---
The Barefoot Eco Hotel
The Barefoot Eco Hotel adheres to the Ecotourism concepts of sustainability and conservation, incorporating the local community into its operations. The Barefoot has optimised its sustainability, with the goal of having the least possible influence on the local environment and lowering its carbon footprint. It is a Natural Health Retreat that nurtures and restores both the body and the spirit.
---
Vaadhoo Island
Get ready for a once-in-a-lifetime adventure as you board a boat to this lovely island, which emanates the amazing phenomenon of bioluminescence, resulting in neon blue blotches on its coastlines. It also features some of the most gorgeous beaches where you can rest, unwind, and soak up the rays of the sun. Catamaran rides, snorkelling, and scuba diving are some of the water sports activities available here.
---
Villingili Resort Island
The Shangri-Las Villingili Resort Island & Spa is the ideal Maldives honeymoon island. The resort, located on the Addu Atoll, features magnificent villas, white sandy beaches, an infinity pool, and a spa.
---
Fairmont Maldives Sirru Fen Fushi
The Fairmont Maldives Sirru Fen Fushi is a 120-villa luxury resort that delivers precisely what its name implies - Secret Water Island. Dive into the resort's unique, captivating underwater sculpture park developed by visionary artist Jason deCaires Taylor, explore the gently sloping 9 kilometre house reef, castaway for a day, shoe-less and carefree, and dine on gourmet food by the light of the moon with nature and art as your guides.
---
Milaidhoo Island
This island, located in a UNESCO biosphere reserve, is an ideal hideaway for couples seeking seclusion and quiet. The crystal clear turquoise ocean, sandy beaches, and lush flora make this a traveler's dream. It also features excellent diving and snorkelling options for adventurers and adrenaline seekers.
---
Kuredu Island Maldives
Kuredu Islands is home to a top-rated and popular resort where a couple may unwind while taking in the breathtaking views of the ocean. The resort features a private swimming pool that flows directly into the ocean. Enjoy a romantic supper on the beach while watching the sun drop into the sea. The plane journey over the island will leave you speechless with awe and respect.
---
JW Marriott Maldives Resort & Spa
JW Marriott Maldives Resort, a new up and coming Maldives resort, is best described as a refuge of casual luxury. Guests may take confidence in the assurance that JW Marriott Maldives Resort's attentive and personal service will make their stay even more memorable when it opens in January 2019. Furthermore, their exquisite rooms and outstanding dining options cater to the most discerning guest.
---
Mirihi Island
As it is filled with lush foliage and gorgeous flowers, this is one of the tiniest Maldives islands where you may have a laid-back holiday with your sweetheart. It is home to some of the most enticing eateries and beach shacks where you can enjoy delicious seafood and cool drinks. It also offers some of the most beautiful beaches for spotting sharks.
---
Olhuveli Island
Come to Olhuveli if you want time to stand still while you and your sweetheart spend romantic moments on your honeymoon. The white sandy beaches at Olhuveli beach & spa in Maldives, one of the top Maldives islands for honeymoon, are made to put your feet up, lay back, and relax as you gaze out over the limitless vistas of the ocean.
---
Soneva Jani
Soneva Jani is a collection of water villas and island retreats nestled in a lagoon of crystal blue seas surrounded by gorgeous beaches and lush tropical foliage. The 5.6-kilometer private lagoon that surrounds the resort's islands is the main attraction. It's an awe-inspiring azure beauty that instils peace.
---
Baros Island
This is the ideal Maldives honeymoon island, with exquisite villas, private pools, and overwater bungalows. You may also participate in some of the most daring water sports activities such as snorkelling, scuba diving, and jet skiing here. It also offers several exquisite spa centres where you can relax with massages and spa therapies.
---
Thoddoo Island
This oval-shaped island, located 67 kilometres from Male, is famed for its watermelon production and is one of the top Maldives honeymoon destinations that couples would want to explore and plan a vacation to. This is the ideal island to visit in Maldives for honeymoon if you want to experience the true Maldivian culture. The island offers amazing sea cuisine as well as the top honeymoon resorts in the Maldives.
---
The Sun Syam Iru Fushi
In the heart of the Maldives, the Sun Siyam Iru Fushi combines elegance and extravagance. Prepare to be wowed by sleek, contemporary places, smart interiors, and stunning gardens. The days are long and sun-filled at Sun Siyam Iru Fushi, while the nights are vibrant and dynamic - the ideal combination for a luxurious family holiday in the Maldives. Relax on the beach, see spectacular marine life beneath the surface, and learn about the true definition of luxury in this setting.
---
Ukulha Island
This is a lovely island in the Alif Alif Atoll with a reputation for having the cleanest environment and stunning vistas. It is the finest location to learn about the local culture, meet people of all nationalities, and sample local cuisine.
---
Asdhoo Island
With crystal blue seas, white sand beaches, and dreamlike sunsets, the beaches of Asdhoo island are a slice of heaven, and one of the greatest islands in the Maldives for honeymoon. The magnificent hotels on this island are ideal for rekindling romance while taking in the breathtaking ocean views. This island is one of the greatest Maldives honeymoon hotels to improve your holiday experience.
---
Velaa Private Island
This private refuge, an elegant combination of Maldivian tradition and contemporary luxury, is dubbed "Turtle Island" in the local language, after generations of sea turtles that have come here to mate and hatch. An island that offers true solitude to its visitors while yet being adaptable enough to offer a variety of first-rate entertainment options.
---
Dhidhdhoo Island
This island's quiet and tranquil atmosphere provide the ideal respite from the crowds and the hustle and bustle of daily life. It features a diverse choice of hotels and resorts that provide guests with the ideal staycation. You may also have a candlelit supper at one of the coastal restaurants, or go night fishing.
---
Feydhoo Island
Feydhoo, a well-known Maldivian island, has an intriguing story behind its origin and development. During WWII, the British attacked Gan Island about this period. As Gan was transformed into an airfield, the residents of the island were relocated to the island adjacent to it in the Seenu Atoll. Feydhoo became the name of the island where the residents were dumped off. Amid the present day, one may observe real and authentic Maldivian life in densely packed apartment complexes and lush streets. Feydhoo is one of the top Maldives honeymoon islands because of this experience.
---
Cheval Blanc Randheli
Set on the pristine Noonu Atoll, Cheval Blanc Randheli is a small and modern retreat for everybody, guaranteeing guests have a one-of-a-kind experience. An entire island dedicated to spa routines and well-being. Providing one-of-a-kind designs and service to every guests.
---
Robinson Club Noonu
Whether you're barefoot in the beach at the lovely sundowner bar on the headland, elegant at the Teppanyaki restaurant on stilts in the ocean, or on a diving tour in the stunning Noonu Atoll. Robinson's all-inclusive package and easy access to Male make the island ideal for families.
---
Maradhoo Island
This is one of the most scenic and calm Maldives islands, surrounded by coconut and palm tree groves. It also boasts some of the greatest cafés where you can drink excellent coffee and eat amazing sandwiches. The island is also well-known for its colourful markets, where you can get the finest deals on anything under the sun.
---
Noku Island
With 50 contemporary private villas, Noku Maldives provides unparalleled comfort, spaciousness, and tranquillity. The beautiful blue lagoon is home to a varied aquatic population, including our resident sea turtle. Sail in our Dhoni to see spinner dolphins and enjoy the globe on a platter with our delectable foreign food. Noku Spa's health therapies will pamper your senses. Noku Maldives provides a serene and exclusive escape beyond the soft powdery sands and crystal blue ocean.
---
Siyam World
Siyam World is a stunning fresh perspective on the Maldives' diverse natural and cultural treasures. A carefree playground full with intriguing, diverse, and limitless adventures. Siyam World provides a variety of accommodations, including Beach Villas, large Beach Suites and Residences, and beautiful over-water accommodations such as a Water Suite and a Grand Water Residence.
---
Thulusdhoo Island
Thulusdhoo Island, the most gorgeous island in the Maldives, exudes Caribbean vibes and spirits. Thulusdhoo Island, a totally unexplored island with massive coconut trunks springing from the sandy floors, is ideal for those seeking pathways less travelled. The picture of the gorgeous beaches with seafood barbecue put up on them is quite enticing and enchanting.
---
Emerald Maldives
View the first drawings of Emerald Maldives Resort & Spa, a NEW 5 star resort set to open on the relatively unspoilt Raa Atoll. Set to open in December 2018, this resort will provide you with the ideal vacation experience with its exquisite rooms and facilities, as well as a very rich Platinum All Inclusive Package to enjoy to the utmost!
---
Faarufushi Maldives
Faarufushi Maldives is a small but opulent island resort surrounded by its own jaw-dropping house reef and elegant overwater villas that blend into the horizon. Faarufushi is a startling embodiment of contemporary design in the middle of a naturally gorgeous coastline. It is an experience that simultaneously fits with nature and is notable for its definition.
---
Fuvahmulah Island
If you want to be somewhere that has beautiful weather all year and a terrific sense of quiet and peace, this island is the place to be. It includes a lovely interior lake that is home to a diverse range of aquatic animals. The island also features some of the most stunning beaches where you can wander about and participate in daring sports such as scuba diving.
---
Hithadhoo Island
Hithadhoo, Maldives' finest island, is one of the largest and most populous. With its southern portion covered with mangroves, marshes, and bushes and its northern side covered in a plethora of cafés and bakeries selling delectable foods, this Island provides tourists with the best of both worlds. Unlike other resort-savvy islands, this island exudes lovely and laid-back sentiments where one can genuinely appreciate a lived-in air.
---
Furaveri Island Resort & Spa
Furaveri Maldives is a five-star premium hotel where the open ocean meets the lagoon and the warm sunset yellow of wonderful evenings by the beach lulls you to sleep in a tree-forested refuge. An island abounding in life, as seen by the white herons that can be found across the island, the vivid screwpine trees, the numerous turtles in our reef, and the gentle mantas that visit us on occasion.
---
Adaaran Select Meedhupparu
Adaaran Select Meedhupparu, one of the greatest resorts in Maldives, offers heavenly accommodation for the discriminating tourist to the Maldives with the promise of an exceptional experience in the tropics. Bask in the healing sun and take in the tempting sights and sounds of a really wonderful tropical island. Adaaran Select Meedhupparu provides calm settings that are oozing with elegance. Set your sights on a vacation filled with stunning adventures that will leave you with memories to last a lifetime.
---
Bandos Island
This is an eighteen thousand square metre private resort island that provides a calm and soothing setting. It is surrounded by forty diving locations where you may engage with the underwater wonders. On Bandos Island, you may also go parasailing, windsurfing, catamaran sailing, skiing, and wakeboarding.
---
Dhigurah Island
TThis is one of the Maldives' lesser-known islands. Dhigurah Island, located on the Alif Dhaal Atoll, is one of the Maldives' sparsely inhabited islands. This is one of those locations that stands for disconnecting from the outside world. Dhigurah's surrounding seas are teeming with marine life. A trip to this island provides you with a once-in-a-lifetime opportunity to embark on a shark tour. This is an ideal destination for thrill seekers and divers. If that's too much for you, then spend your holiday lounging on the resort's exquisite white sand beaches.
---
Heritance Aarah Maldives
THeritance Aarah Island Resort is ideal for couples, families, or groups of friends searching for a tranquil island escape. A chance to unwind on a beautiful Maldivian island while experiencing one of the world's best diving sites. Heritance Aarah is the ideal spot to unwind whether on honeymoon or for a particular event.
---
Brennia Kottefaru
The island is a cornucopia of pleasant experiences for every discriminating guest, representing the calming aura of a warm and welcome home, created to be a snug domicile.
---
Bandos Island
---
Funadhoo Island
This island gets its name from Dhivehi, which is the name of a tree that grows on the island's coasts. It is the most populated island in the Northern Maldives and is three thousand metres long. Lake Goni is located in the northern portion of the island, and the southern region is rich in fauna.
---
Meeru Island
This island is a tropical paradise for travellers, with blue lagoons and beautiful beaches. It also features some of the top diving locations to assist you discover the beauty of the underwater world. There are also several golf courses and waterside eateries serving delectable cuisine.
---
Joali Maldives
JOALI Maldives is located in one of the world's largest and deepest atolls, and it is home to an abundance of sea life. Brilliant blue seas and gorgeous white-sand beaches bordered by softly swinging coconut palms await visitors.
---
Intercontinental Maldives Maamunagau
The InterContinental Maldives Maamunagau Resort is spread on a private island with lush tropical foliage, effortlessly blending with the island's awe-inspiring natural beauty. Providing butler service to all residents of this island for a wonderful journey till they go.
---
Dharavandhoo Island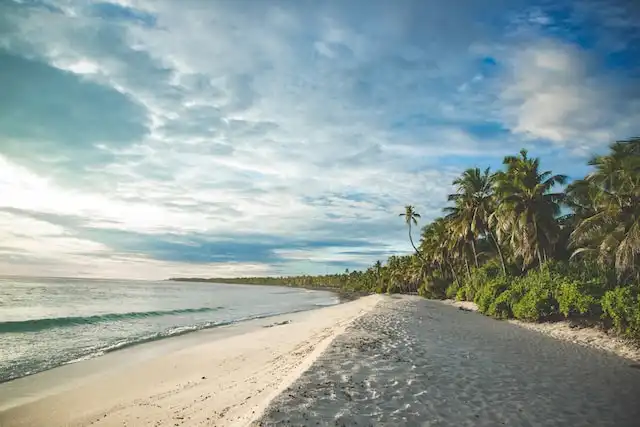 This is a small yet stunning Maldive island recognised for its picturesque beauty and tranquil environment. It is a UNESCO Biosphere Reserve with world-class diving and snorkelling opportunities. It also boasts some of the top eating establishments and cafés, as well as the nicest accommodations.
---
---
16. Questions and Answers
Where to stay in Maldives?
Choosing a place or a hotel to stay can be a very difficult decision for first-time visitors. As a guide, I always receive these questions. What are the best places to stay? Which is the cheapest place to stay? Where is the best budget hotel? The answer to all these questions is: It all depends on the purpose, length, budget of your travel, every place, hotels, and islands has its advantages and disadvantages. Before we jump to any conclusion, I want to tell you that, you will find almost everywhere in the Maldives it is the same type of white beaches, sandbanks, clear water, rich marine life, corals and clear sky. Having that still, some atolls and islands can be little better than one another in terms of sea creatures, coral reefs, and location. Examples (Baa Atoll is considered as the biosphere reserve (a cleaning station for the whales and mantas). Whale sharks are most commonly found in Ari Atoll, the deepest and best diving spots are in Faafu Atoll, The best place for fishing, Huvadhoo Atoll and for surfers, it is Kaafu Atoll. Bio luminous planktons (glowing beaches) are common in Raa Atoll.) Note* The Maldives is divided into 26 geographical locations also called Atolls.
Now you might think ok that's not a problem I will visit all these Atolls! Well, it is not possible to move between the atolls unless you have along vacation and lots of money? First of all, there is no transportation network that covers the entire Maldives. I will focus on this on the topics on" how to travel around by public transportations?"
In the Maldives the word "Hotels" is mostly referred to as city or island accommodations, in other words, island guest houses and resorts are called to the private islands also managed by hoteliers. These are the main two types of accommodations. The difference is between them is huge and vital to know before you make a decision.
---
Where is Maldives Islands
The Maldives islands are located in the Indian Ocean, it consists of 1,200 coral islands grouped in chain formation of 26 atolls, along the north-south direction, spread over roughly 90,000 square kilometers, this is why it is called one of the world's most dispersed countries. Almost every island is separated by ocean water. Out of 1200 islands only 200 islands are inhabitant rest all are called inhabitant islands. The best islands to visit can be (Vaadhoo, Fuvahmulah, Hulhudhuffaaru, Thoddoo
---
Why visit Maldives?
If you are looking for the best vacation, then you are in the right place. There are many reasons why you should choose Maldives for your holiday. We Maldives Tour Guide a local company here provides all the services and can arrange everything you need. The first reason why you should choose Maldives is because of:
Its uniqueness
The Maldives holds 5% of the world's coral reef. There are an estimated 700 types of creatures in the country. The white sandy beaches, clear water, geographical identity, and marine life makes it completely unique experience for the visitors. There are many astronomical experiments that can be done during your vacation in the Maldives. few we will try to highlight (3 planets on the same sky can be seen through naked eyes, Green layer of the sun can be visible during the sunset, you can reach to 0 latitudes and 0 longitudes in the equator line (center of the world) in other words you can cross the equator line, you can easily see the glowing sea planktons, flying fish or swim with the whale sharks, manta rays etc...apart from that the ocean breeze and the healthy (Green) environment of the islands also can be considered to choose the Maldives.
Tourist-Friendly Country
Yes, it has gained the reputation of being one of the most tourist-friendly and safest countries in Asia for tourists. It is hard to find any tourist attack case in the history of Maldives. and being a local that's something I am proud of. Yes yes it is 100% Muslim country and there are some restrictions and laws, but most of them apply in Local islands and the city. Private islands and resorts have almost all the facilities and few restrictions. like drinking alcohol, foods like pork and bikini are not allowed in the local islands but allowed in resorts. out 1200 island local islands are only 200 islands and all others are private islands and resorts. The police, locals and the government shows a huge respect for the tourists and the whole country warm welcome and appreciate visitors. Everybody understands the country is depending on tourism. in some cases, if a tourist makes a mistake like smoking in no designated area, police always show them the right place, but if a local is seen smoking in the area gets fined immediately.
Enviorement
Even today, it is listed in one of the most isolated countries in the world. being separated by a huge ocean from the rest of the world, there was a very limited connection to the outside world, The Maldives was listed in the 1980s world bank report as the top 20 poorest countries n the world. After the tourism was introduced the country has started developing and before that, the country was mostly relying on free donations. The Maldives is also the lowest the country in the world and at great risk of being submerged into the ocean. the picture on the right side was taken from the capital Male city, during high tide when the ocean reaches like 6 inches to the ground level. There are different islands with different heights and thanks to the Japanese Government and its people who aided for making Male city a safe island by building higher concrete sheets surrounding the islands. So the Maldives government is trying to the same project for the endangered other local islands, and your visit is the key to achieving it.
Weather
The highest temperature recorded was 36°C   and the lowest was 17°C. We have 2 monsoons and both monsoons have sun. The first monsoon (North East) is from November to May and the (South West) is from June to October. North-East monsoon is considered as most sunny days and the best time for fishing, snorkeling, activities and for visiting. South West is considered as less sunny and more raining days. when the weather is bad, the sea also becomes rough and difficult for water-based activities, that's why we recommend all travelers to check the weather when you plan your holiday in Maldives.
Is it Safe to visit Maldives?
Yes, it is a very safe place. According to some reports, it is the safest place in Asia for tourists. Despite being a 100% Muslim country, the government is very flexible with tourists, every day you can find tourists who don't follow the rules and law, but no actions are taken. in fact, the tourists are more protected than the citizen. if a citizen is caught in a nonsmoking area, there will be immediate fine, while tourists are always advised to stop smoking in the area, public kissing and many other behaviors are against the culture and law, yet you will find some tourists these behaviors in public. Even its mention very clear bikini is not allowed in city or island beaches, but there are some tourists who doest follow these rules. That's all because the entire economy of the country depends on tourism and if the government is strict on these no wonder tourists will not feel happy.
However there is something to keep in mind, and that is the weather and ocean current. If you are a non swimmer, do not go to the sea for your self and even if you are a good swimmer its highly recommended to wear life jackets. The current inside the channel can take you out of the atoll within few minutes. SO you must daily check the tides and current flow of the sea, before you jump in. You dont have worry abouts sharks or other creatures in the sea, current is the most dangerous.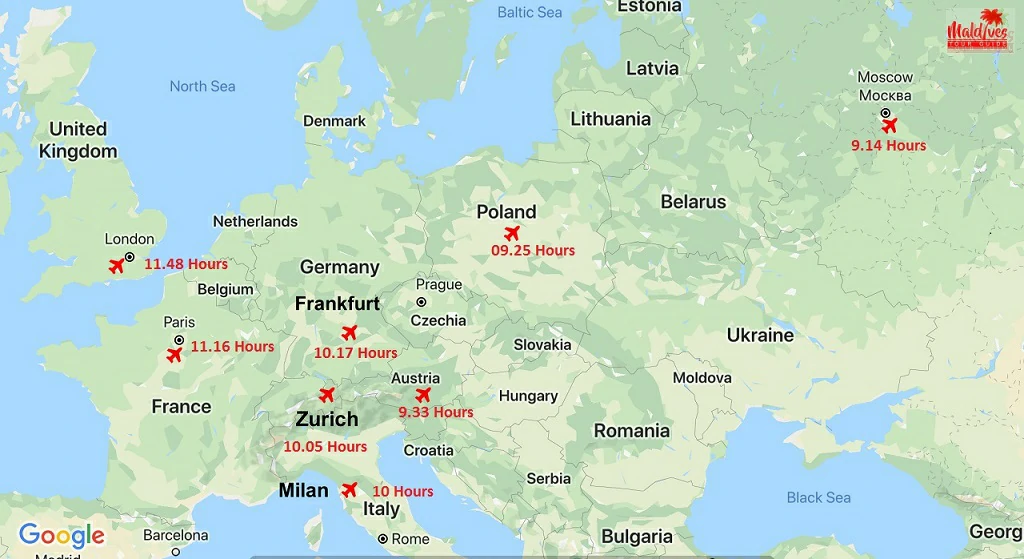 Europe Direct Destinations to Maldives Map.
Asia Destinations to Maldives Map.
Middle East (Arab World) Destinations to Maldives Map.
Where is Maldives islands located
The Maldives islands are a very unique tourist destination that can cause confusion for first-time visitors. Some visitors make horrible mistakes because they are not aware of certain things. I have seen a family came with 2 hotels booked close by each other, hoping they will meet each other on daily basis, but because they were 2 different islands, they couldn't meet each other. Some tourists try to take alcohol from duty-free shop with them to some islands and they were held by the police. These types of mistakes can cause unnecessary troubles. That's why I will try to provide some vital information for your trip and will try to answer your all questions. If I fail to answer any of them, don't hesitate to chat with me from the below link on the right corner.
Maldives islands are so unique that there is no second place that can be compared. First of all the Maldives is a 100% Muslim country. The country is formed on tiny small islands, which are separated by the ocean and each island is about an average of 0.6km length. 99% of the country is ocean and 1% is the land. It is the lowest country in the world and the smallest in Asia. It also holds 5% of the total corals in the world and is a home for 1000s of rare species. The white beaches, sandbanks, crystal clear water, blue sky, and equator, the list can go on. So if you want visit first thing you need to do is ask some questions like the following
---
3. What are the best places to visit in the maldives islands?
Because of the dispersity, it is not possible to visit many islands and even if you have enough monay and time, it is not recommended to visit as many islands as possible, since they all looks the same. But there must be some places to visit right? If you can afford I would suggest you consider this: Remember the Maldives is full of surprises anywhere you go on an adventure trip, there are almost 80-90% chance you will find something amazing.
List of places to visit in Maldives
1. A Desert Island
2. A Sandbank
3. An underwater reef (Diving)
4. A local island
5. Biosphere reserve (Baa Atoll)
6. Bio luminous beach (Raa Atoll)
7. Capital City (Kaafu Atoll)
8. The Marina Bay (Kaafu Atoll)
9. Underwater Restaurant ( 6 locations)
10. Kooddoo Sky Jump (GA.Atoll)
---
Which activities are best recommended?
As mentioned above the countries 99% is the ocean and, therefore most of the tourist activities are water-based activities. So if you are a swimmer you can do (snorkeling, diving, kayak riding, surfing, jetski riding etc…) if you are non-swimmer you can still do some activities too like: (whale submarine tour, sunset cruise, dolphin cruise, city tour, island hopping, day visits to resorts etc…)
Maldives Activities
---
Where is maldives located?
Maldives is located in the indian ocean in Asia
Which country is the maldives in?
Maldives is a independant country in Asia
Maldives is in which continent?
Maldives is in the Asia Continent
Where is maldives resort located?
Maldives is a country and there are 157 resorts located in Maldives
Where is maldives beach located?
Maldives beaches are located in every island
Maldives is located in which ocean?
Maldives is located in indian ocean
---
17. Maldives Island Videos
Maldives snorkeling reef ozen bolifushi
Snorkeling Reef in Maldives
Maldives Snorkeling with sharks
Biyadhoo Island snorkeling in Maldives
---
---
---
More Questions?