Snorkeling
The Maldives offers some of the most spectacular snorkeling in the world. This is due to the abundance of coral reefs in the region, as well as extremely clear waters. There are, in fact, close to 70 distinct species of coral reefs and more than 700 species of marine life. This means when you snorkel here you are sure to see an amazing variety of flora and fauna. Just some of the species you are likely to see include reef sharks, various kinds of turtles, rays, napoleons and morays. Whether you are an expert on marine life or not, you can still appreciate the colorful array of creatures you will be able to observe. Snorkeling highly recommended thing to do in Maldives.
Diving
The Maldives has become one of the world's best scuba diving destinations because of the white sand beaches, coral reefs, clear warm waters, numerous scuba diving sites and rich marine life.
Most holiday resorts in the Maldives have a scuba diving facility and there are a number of liveaboard operators offering scuba diving cruise holidays that take guests to many dive sites all over the Maldives. Many scuba divers are keen to dive in the Maldives because of the presence of whale sharks, manta rays, eagle rays, reef sharks, hammerhead sharks and moray eels, as well as many smaller fish and coral species. Diving is one of the best thing to do in Maldives.
Fishing
Renowned for being one of the best big game fishing destinations in the world, the Maldives is home to an abundance of pelagic fish such as tuna, dorado, wahoo, barracuda, and swordfish. The Maldives has strict fishing regulations that are widely enforced to maintain fish stocks for the livelihood of the local people.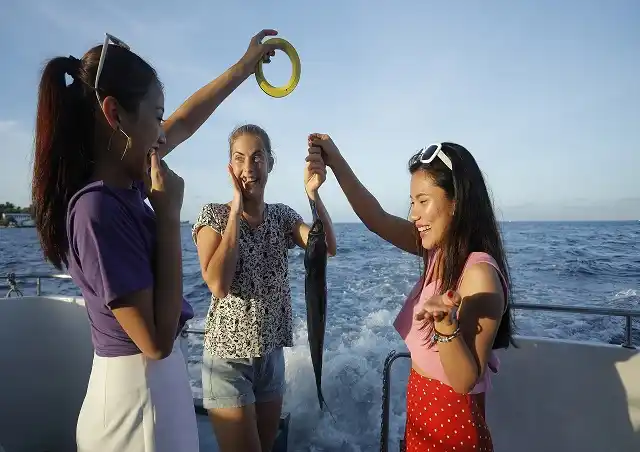 Beaches
Maldives beach are famous for its whiteness and crystal clear water. Some part of Maldives the beaches can glow in during the night, this is cause by sea planktons. Fuvahmulah beach is famous for its shining stones.
Yoga
Yoga is a group of physical, mental, and spiritual practices or disciplines which originated in ancient India. Yoga is one of the six orthodox schools of Hindu philosophical traditions.[2] There is a broad variety of yoga sessions provided in Maldives resorts, the best time for yoga is during the sunrise and sundown.
Spa
Many types of body massages are offered by almost all resorts in Maldives. Many international famous spa brands are also available in Maldives.
Underwater Dining
Maldives has the first underwater restaurant in the world. Total 6 underwater restaurants are available in different areas. Built feet below the ocean, offering gorgeous views of the marine life through glass ceilings, these restaurants truly redefine the experience of underwater dining in Maldives.
Island Hopping
Island hopping is the best way to discover the local culture and history of Maldives. There are 200 local islands across the Maldives and almost all resorts and hotels offers the excursions for tourists to visit these local islands.
Male city is the capital of Maldives and a great place with lots of important and interesting sites, if you are staying in a resort, the best way to visit the capital city is on you departure day, arrive Male' International Airport earlier and take the 10 minute ride from the Airport. This is one of The best things to do, if you have waiting time at the Male' Airport.
Whale Submarine
Whale submarine is best thing for non-swimmers and non-divers. Maldives Marine life is the richest property of Maldives. If you are not able to dive or go underwater by any reason, Not to worry Maldives offers whale submarine excursions.
Surfing
Surfing in the Maldives is tempered by the North-East and South-West monsoons. During the North-East monsoon (from March until April), conditions are optimal in the Southern Atolls. From May to October, during the South-West monsoon, the best surfing area is in the Northern atolls or the Central atolls.
Shopping in Maldives
Souvenir shopping in Maldives is famous amongst the visitors, Souvenir shops offers local made items, corals, shells and many handmade items, Male city the most noticeable place for souvenir shopping, Online shopping and delivery is also available.
Excursions & Water Sports
There are many types of other excursions and water sports offered in Maldives. Below are some of the most common excursion list.
Excursions:
Manta ray watching
Whale Watching
Dolphin watching
Shark feeding
Stingray feeding
Sunset cruise
Sunrise cruise
Equator trip
Water sports:
Jet Ski riding
Banana riding
Kayak riding
Wind surf
Parasailing
Water ski
Katamarani ride