Vilamendhoo Island Resort & Spa Maldives
Your vacation journey begins at Vilamendhoo Island Resort & Spa, located in the South Ari Atoll and following the Maldives' famed 'One Island, One Resort' idea. This island is around 55 acres in size, 900 metres long by 250 metres broad, and is encircled by a stunning house reef a short swim away from the large sandy beach. Vilamendhoo is the ultimate diving and snorkelling adventure.
Property Facilities and Services
Pool
Free
Bar
Laundry
Spa
Meals
Shop
Dive & Sports
Gym
Clinic
---
| Mode | Adult | Child (2-12y) |
| --- | --- | --- |
| Speedboat (Male intl.Airport - Vilamendhoo Island Resort & Spa Maldives) | 350$ | 175$ |
Garden Villa
400$ (2person)
Including All taxes 469$
King - Max 3
Garden Rooms are situated in the natural island gardens, each with its own privacy screen. This tropical lodging provides leisure and comfort in between fun-filled island experiences. These accommodations provide convenient access to the island's services, including the main restaurant and bar.
Jacuzzi Water Villa
792$ (2person)
Including All taxes 792$
King - Max 3
Extend your love of the sea to your vacation living area by booking the Jacuzzi Water Villa. The over-water villas in the Maldives are designed for adventure seekers, romance, and water enthusiasts, and have a private sundeck with stairs going into the sea. The Jacuzzi Water Villas at Vilamendhoo are only available to visitors over the age of 18.
ACCOMMODATION
The island is divided into two sections: one for adults exclusively (including an Overwater Villa) and one for families. Beach Villas with additional beds are offered for small families with young children, as well as exclusive and romantic Water Front Villas for couples seeking privacy. All villas are outfitted with the most up-to-date conveniences and are divided by a screen to offer optimum seclusion.
Location
This snorkelling and diving paradise is only a 25-minute seaplane ride away. The Vilamendhoo Island Resort is surrounded by a gorgeous lagoon, an outstanding house reef, and extensive lengths of immaculate dunes, making it an ideal position to see the sought whale sharks that migrate through the Maldives.
Dining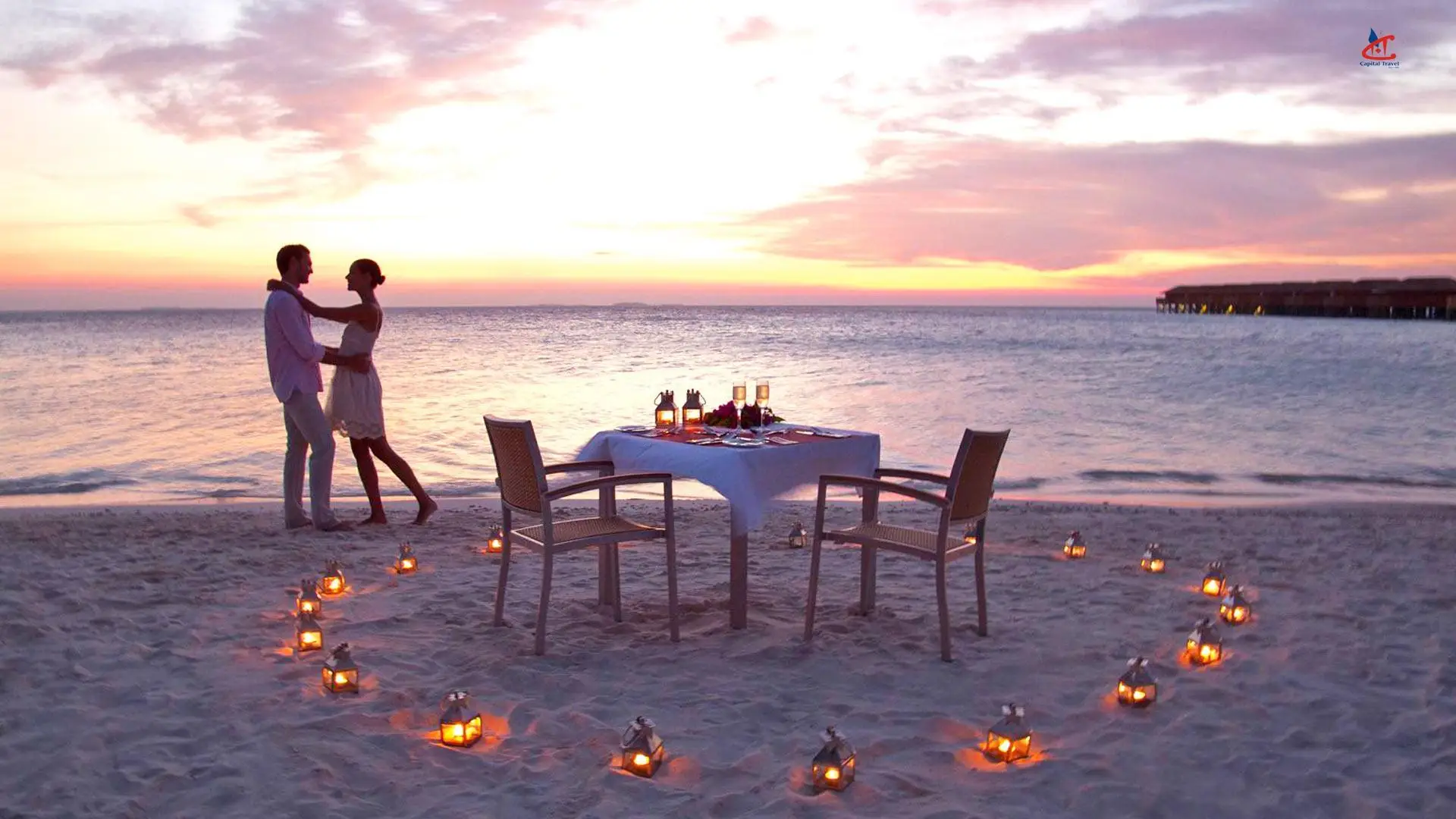 Before embarking on your travels, or after a day of fun on the island, stop for a bite to eat or a refreshing drink at any of the island's restaurants and pubs. Vilamendhoo provides one-of-a-kind dining experiences in the Maldives, with a delectable selection of regional and international cuisines. The two buffet restaurants, one family-friendly and one for adults-only, contribute to the island's laid-back atmosphere. The restaurants are open-air with sand flooring, reflecting Maldivian customs and offering a relaxed dining experience. Enjoy à la carte eating experiences, whether on the lake at Asian Wok or on the beach at Hot Rock. Reserve a table for a private al fresco supper on the beach for a totally unique and romantic experience.
Spa
As you approach the award-winning Duniye Spa at Vilamendhoo Island Resort & Spa in the Maldives, you are greeted by a wave of tranquilly. The spa staff of skilled and professional therapists gives holistic spa treatments guided by an energising high-touch and low-tech approach, with the promise of nurturing your body, calming your mind, and inspiring your spirit. Duniye Spa's treatments are inspired by ancient and modern therapies from throughout the world, with a focus on Asian and African healing practises. To achieve remarkable results, the Healing EarthTM and PURETM products used in treatments are designed in accordance with the most recent scientific research and include only the finest organic components.
Expereiences
Vilamendhoo Island Resort & Spa is your playground in the Maldives, with a plethora of things to do. There's something for everyone, from energetic land activities to enjoyable water sports, nighttime entertainment to unforgettable trips and big undersea adventures. Vilamendhoo provides a great diving and snorkelling experience. Our island is surrounded by a wonderful house reef, with easy access from practically every location on the island. Throughout the year, our ideal position in the South Ari Atoll puts us near to manta ray and whale shark hotspots. You are well equipped to experience the fascinating underwater world with a range of regularly organised tours and a competent diving centre on-site.
Excursions
Our trips take you out into the open sea, to the nearby islands, and farther. Vilamendhoo offers a variety of excursions for you to thoroughly immerse yourself in during your Maldives trip. There is something for everyone, from swimming with manta rays and whale sharks to drifting along the Indian Ocean at sunset. Our regularly scheduled excursions are the ideal way to see the Maldives and everything it has to offer.
Diving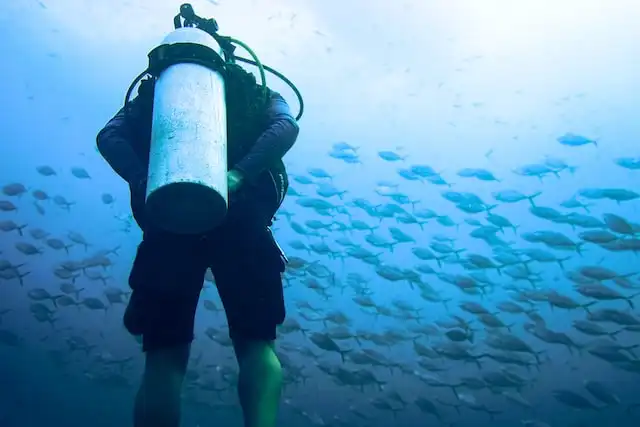 The Maldives are well-known for having one of the most diverse marine life populations on the planet. Scuba diving is an excellent way to see fascinating aquatic life up up and personal. Vilamendhoo is ideal for Manta Ray and Whale Shark diving all year and has some of the best channel and Thila dives in South Ari Atoll. We have a wide range of programmes and courses to help you get started with diving or develop your diving abilities.
Snorkeling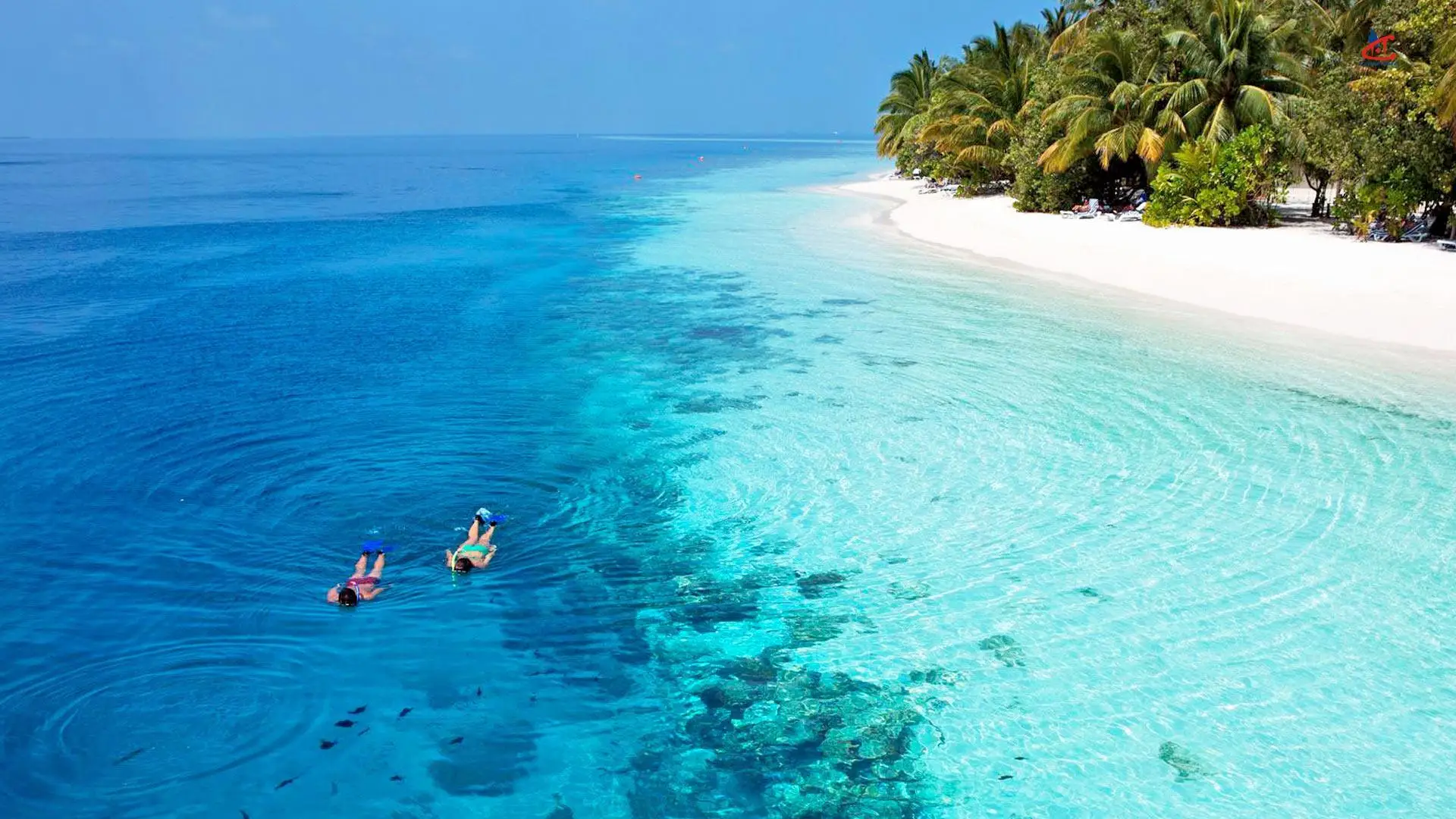 The Vilamendhoo house reef is one of our key attractions, making Vilamendhoo a popular bucket list excursion. Turtles, schools of jacks, Napoleons, black tip reef sharks, blue eagle rays, and many more species may be found on the reef. The home reef allows you and your friend to just come and dive anytime you want. We will familiarise you with the layout of the reef entry and departure point during the Orientation session.
Water Sports
Our skilled water sports team will arouse your daring spirit! Spend the day sailing on a catamaran or exploring the water surface on a kayak, paddleboard, or windsurfing in Vilamendhoo's crystal clear seas, which provide the ideal atmosphere for the most popular water sports activities.
Fishing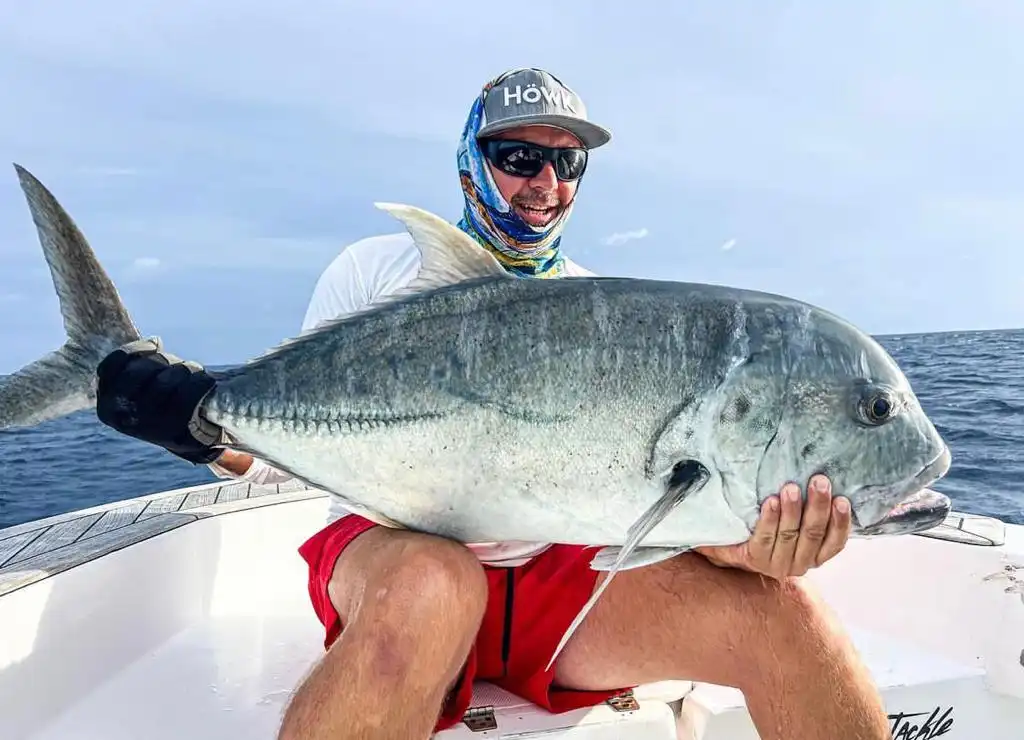 Add a Vilamendhoo Jigging Fishing Excursion to your list of exciting things to do in the Maldives. Learn new techniques while admiring your catches! Jigging fishing is a popular technique that produces excellent results. This fishing approach employs a variety of strategies, including speed and vertical jigging; the method includes a pole and line for sustainable fishing while depending on small, metal jigs to lure fish in the ocean's depths. Enjoy a 4-hour morning or afternoon fishing excursion on a classic Dhoni, complete with fishing gear. This enjoyable excursion includes breakfast tea, coffee, soft drinks, water, and sliced fruits.
Dolphin Trip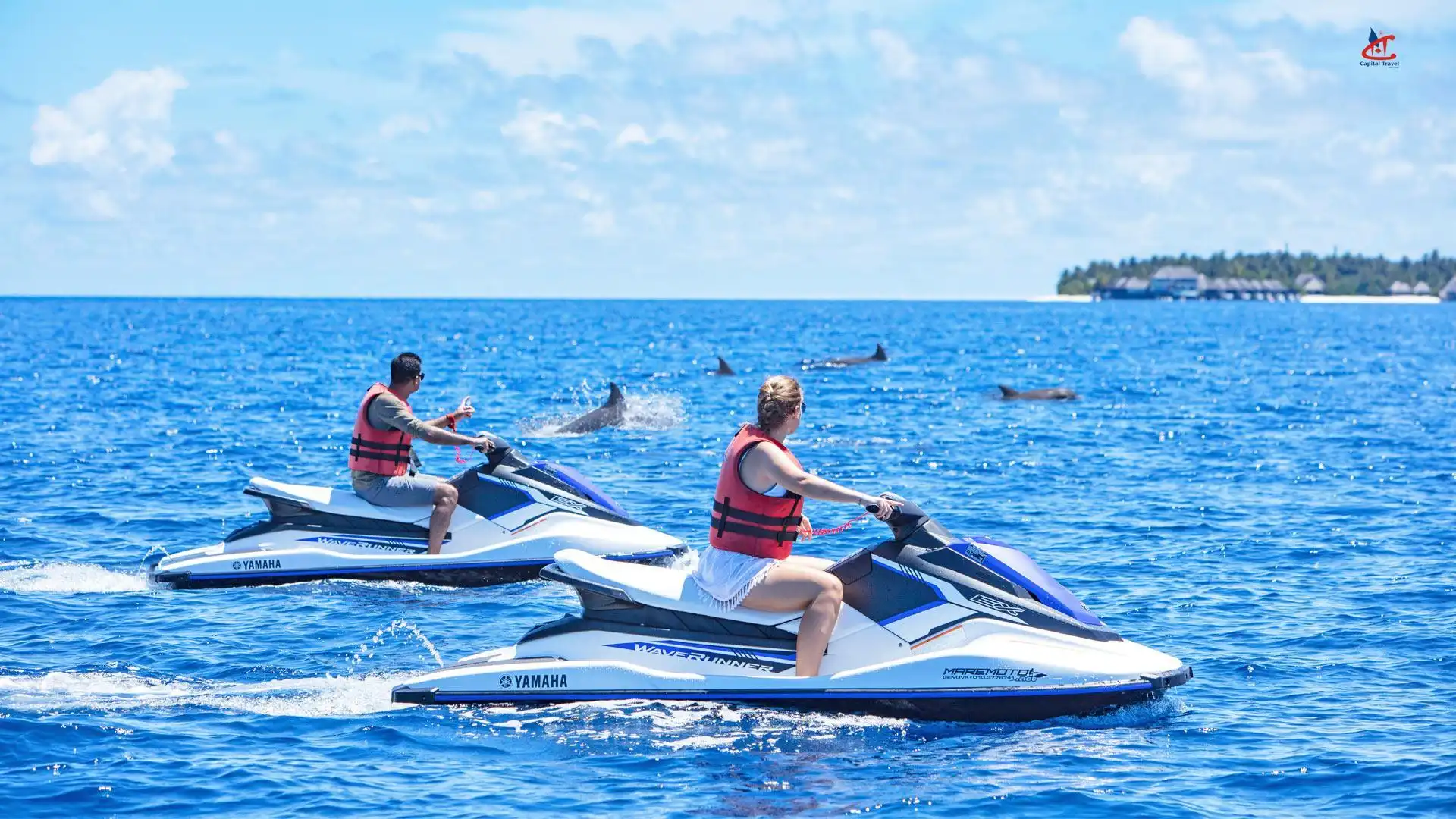 One of the best activities for couples to do on their honeymoon in the Maldives is a gorgeous late afternoon sail around the South Ari Atoll. The Sunset 'Punch' Cruise at Vilamendhoo offers visitors a remarkable experience that includes views of the magnificent sunset, the excitement of being out at sea, and the possibility of spotting a pod of dolphins at play! On board, enjoy a special punch, mingle with other resort guests, and remember to bring your camera. Every minute spent on the voyage is worth documenting.
Wedding
In the Maldives, you may recreate the tropical island wedding of your dreams. Vilamendhoo is the location for symbolic vow renewal rituals. Choose your own ceremony or allow us to organise a traditional, symbolic Maldivian ceremony performed by our island's headman. Under tropical sky, you and your spouse will be united with a special blessing by the headman before saying your wedding vows and exchanging rings, before cementing the relationship with the traditional wedding kiss and signing of the wedding certificate.
Fitness and Recreation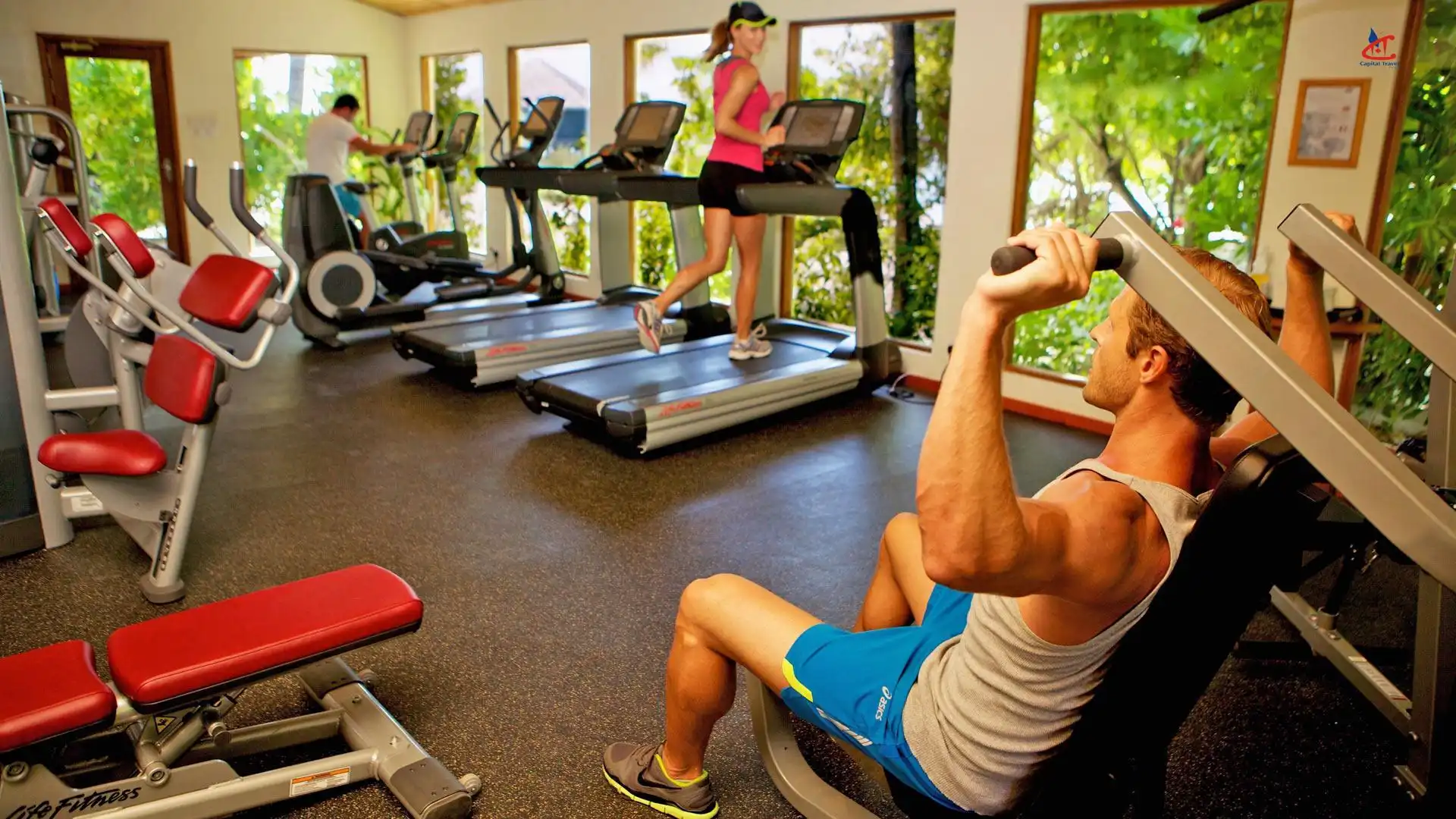 Evenings in the Maldives are pleasant, with much to do in Vilamendhoo. The daily event schedule includes informative lectures on the resort's outstanding marine life, cultural dances, entertaining disco evenings with our resident or guest DJ, karaoke, and live band experiences.
360 Views
Images
Cancellation Policy
| Time Period | Penelty |
| --- | --- |
| 30 Days before arrival date | No Charges |
| 17 - 28 days | 50% Charged |
| 16 days, No Show or early checkout | 100% Charged |
---
---